Australian Open title can be balm for Djokovic after deportation saga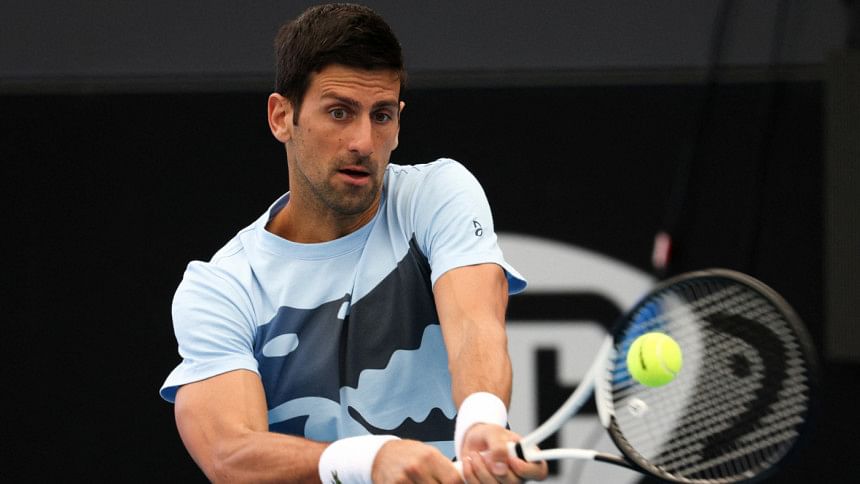 Novak Djokovic may never forget his deportation from Australia over his refusal to be vaccinated against COVID, but the Serb will hope a record-extending 10th major in Melbourne provides closure to his storied career's most controversial chapter.
The 21-time Grand Slam winner will take on Spanish Roberto Carballes Baena in the first round to get his title bid underway. 
The vaccine sceptic former world number one found himself in a political inferno last year after he said he had received an exemption to play in the Australian Open, as angry citizens who endured some of the world's toughest COVID lockdowns lashed out.
After being held in a hotel with asylum seekers following his arrival, Djokovic was eventually denied the chance to defend his title when a federal court dismissed his appeal to stay in the country which resulted in an automatic three-year visa ban.
But with the removal of COVID-related border restrictions in Australia, including a requirement to provide vaccination proof to enter the country, Djokovic's ban was waived in November to clear the way for his return.
However, the 35-year-old said this week that the bitter saga had taken its toll. 
"I was really drawn into a storm in media worldwide that was related to anything to do with COVID and the vaccine," Djokovic told Channel Nine. "All of a sudden I became the villain of the world which is a terrible position to be in as an athlete.
"There wasn't a great narrative in the media about me at all. I stayed for several weeks at home, didn't really go around too much. I just hoped the situation would calm down, which it did, but the traces stayed there.
"I didn't know it was going to affect my game and the way I play. It wasn't easy... mentally to regroup and restart again.
"In every press conference I was asked at least one or two questions about Australia and what happened. Even if I wanted to move on, people were reminding me of that."
Djokovic missed prestigious hardcourt events in the United States last year, including the U.S. Open, over his refusal to take the vaccine but won the Wimbledon crown to take his Grand Slam tally to 21 titles - one behind his rival Rafa Nadal.
Ahead of Djokovic's return to action at Melbourne Park, where he will look to draw level with Nadal, the world number five was warmly received by supporters in Adelaide last week as he won the title in his first tournament back in Australia.
While a similar reaction from Melbourne fans would not be beyond the realm of possibility, Australian Open organisers are not taking any chances with potential tournament bans in store for any fans who target Djokovic during matches.
But Djokovic said he hoped to win them over.
"The reception was fantastic (in Adelaide). I had an amazing tournament, tremendous support - a packed house every match," Djokovic said.
"I don't know (about Melbourne), but I hope (it will be) positive. I hope the crowd will be receiving me well. That's something I can't predict, I don't know.