Boxers Sura Krishna, Al Amin make Bangladesh proud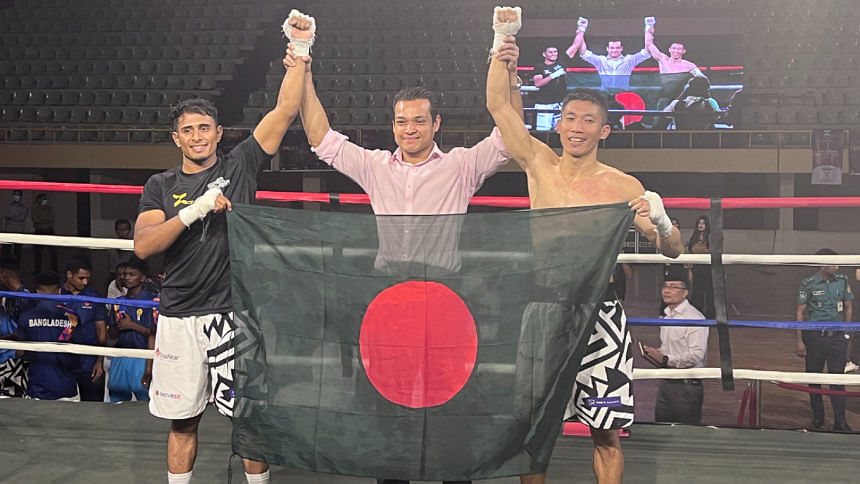 Boxers Sura Krishna Chakma and Mohammed Al Amin made dream starts in their first-ever professional boxing tournament in Bangladesh as they beat their respective Nepalese opponents on Thursday night.
Sura Krishna, who had participated in professional boxing competitions in India, defeated Mahendra Bahadur Chand, champion of Nepal, in the lightweight category while SA Games gold-medallist Al Amin beat Nepalese boxer Bharat Chand in the welterweight category to mark their journey memorable.
Under the title 'Xcel presents South Asian Pro Boxing Fight Night - The Ultimate Glory,' Bangladesh Boxing Foundation held the first of its kind tournament in Bangladesh at the Shaheed Suhrawardy Indoor Stadium with a total of 14 boxers from Bangladesh, India and Nepal taking part in the competition.
Meanwhile, boxer Hera Miya suffered a defeat to Indian national champion Harsh Gill in a cruiserweight battle inside just three rounds while four other matches were held among the Bangladeshi competitors.  
The tournament saw the professional debut of eight local talents in the professional circuit.
The tournament ended with the international boxers receiving Tk. 20,000 each, while the national debutants received Tk. 5,000 each for their valiant efforts.