Archers present four medals on the day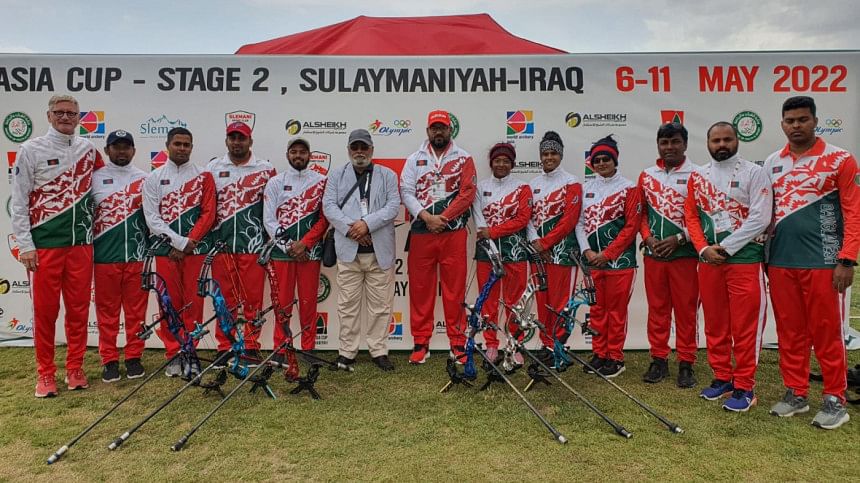 Bangladesh had to remain content with a silver medal in the men's compound team event of Archery Asia Cup Stage-2 world ranking tournament in Sulaymaniyah, Iraq today.
The archers in red and green Bangladesh archers -- Mohammad Ashikuzzaman, Mithu Rahman and Rakib Newas Ahmed – lost to their higher-ranked Indian counterparts by 224-218 points in the final.
However, Bangladesh had offered stiff competition in the final three sets but the five-point deficit from the first set proved to be decisive in the end.
Ashikuzzaman and Co could score 52 against India's 57 in the first set before drawing the second set 55-55 and winning the third set 56-55. The fourth set then lived up to the build-up but ultimately ended 57-55 against Bangladesh's favour and thus the opportunity to grab a gold medal, and that too by beating a strong India team, went out of grasp.
Meanwhile, three bronze medals fell in Bangladesh's lap through the women's compound team, mixed compound team and women's individual compound events.
Shamoli Roy, Bonna Akhtar and Suman Biswas of the Bangladesh women's compound team handed a 190-177 defeat to Iraq while Shamoli beat Suma 140-134 in the women's individual compound event.
Later, Ashiquzzaman and Shamoli teamed up to notch a 152-141 win over Iraq in the mixed compound final to complete the medal hunt for the day.