'You're ok to talk to me, right, Jaddu?'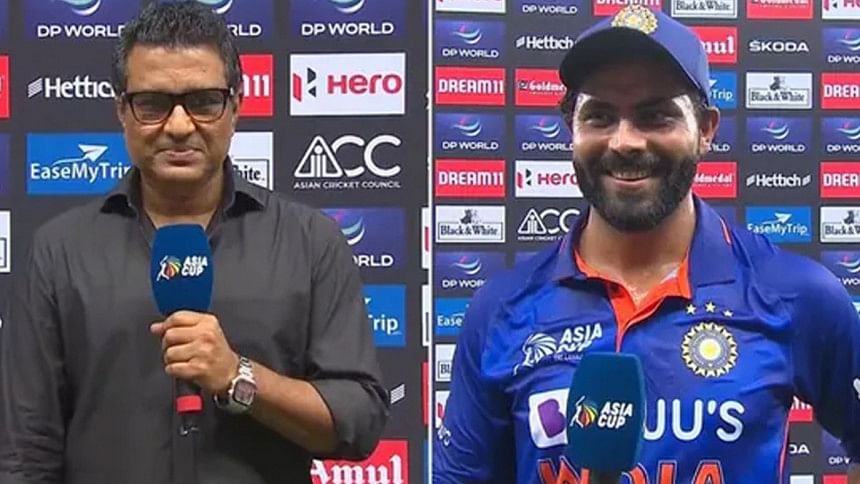 India all-rounder Ravindra Jadeja and former cricketer turned commentator Sanjay Manjrekar have not had the best social media interactions, with the former terming Jadeja a 'bits and pieces player' during the 2019 World Cup and the player himself responding to the criticism by calling Manjrekar's commentary "verbal diarrhoea".
However, after Jadeja contributed a crucial 35 off just 29 balls to help India defeat Pakistan by five wickets in the Asia Cup on Sunday, Manjrekar was tasked with interviewing him shortly after the game.
Although things have settled down over the years and the two have bantered with each other on social media, Jadeja and Manjrekar had never come face-to-face since.
As everyone imagined how the interaction would unfold, Manjrekar decided to break the ice by lightening the mood. Manjrekar's first question had nothing to do with the match. In fact, he asked Jadeja whether he had any issues being interviewed by him.
"Well, I've got Ravindra Jadeja here with me. First question 'You're ok to talk to me, right, Jaddu?'," to which the India all-rounder replied with a smile: "Yeah, absolutely. I don't have any problem.".
It was a wonderful moment between the two, enough to prove that Jadeja and Manjrekar have buried the hatchet.