Domingo is 'all for making the team better'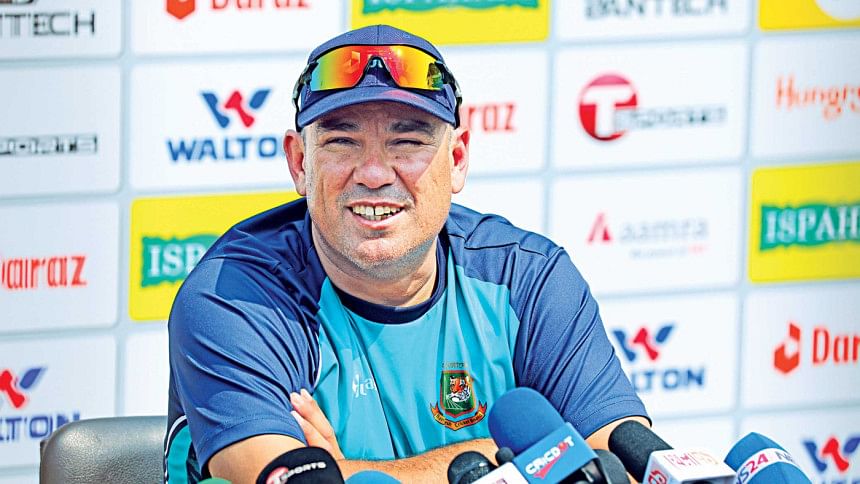 Russell Domingo is probably the only head coach in world cricket who has been given a break over his duty from T20 format in order to focus on ODI and Test cricket after the Bangladesh Cricket Board (BCB) decided to apply drastic measures to change the fortunes of the Tigers in the shortest format.
The BCB appointed Sridharan Sriram as the Technical Consultant of the Tigers T20 side, and despite having the different designation, the former India all-rounder is going to lead the coaching panel in Domingo's absence in the upcoming Asia Cup later this month.
Interestingly, Domingo took the entire split-coaching idea positively despite his uncertain future. The South African said it will help him to focus in the Test and ODI format in the coming days. 
"I think it's a great idea. It gives me nice focus on the Test match and 50-overs stuff," Domingo told the media after meeting the BCB president, Nazmul Hassan Papon, today.
"We have had some great results, and bad results in T20s. I don't think it is a bad idea to make a fresh approach in T20s. I am very open-minded about it.
"It is not my team. It is not about me. I am all for making the team better. It gives me nice clarity with the 50-over World Cup coming. We know there's a lot of work with the Test team."
According to Domingo, the new role will allow him to spend more time with family as he thinks that mental fatigue can affect the performance. 
"It also gives me some time to spend with the family. I was home for five weeks last year. Family life is important for me. It is very difficult to sustain; to come to tournaments fresh, to come in with a good attitude.
"Absolutely [need a break]. My time in SA has taught me that mental freshness is a big thing for players and the staff. It was something that wasn't considered here in the past. These players play a lot of cricket, more than when I was coach of SA. Mental fatigue can cause a dip in performances. We need to have a bigger group of players, so that we can rest certain players," he said.
The 47-year-old, though, will work with the A team and will tour Dubai as the board wants him to focus on the domestic cricketers in the coming days.
"I will visit the A tour in Dubai. A lot of our Test players will play there. Tamim, Mominul, Shanto and Rabbi haven't played for a while, so that'll be a great opportunity. I will spend time watching NCL from mid-November. Those are part of my plan," Domingo added.