Bold intent remained the mantra in practice game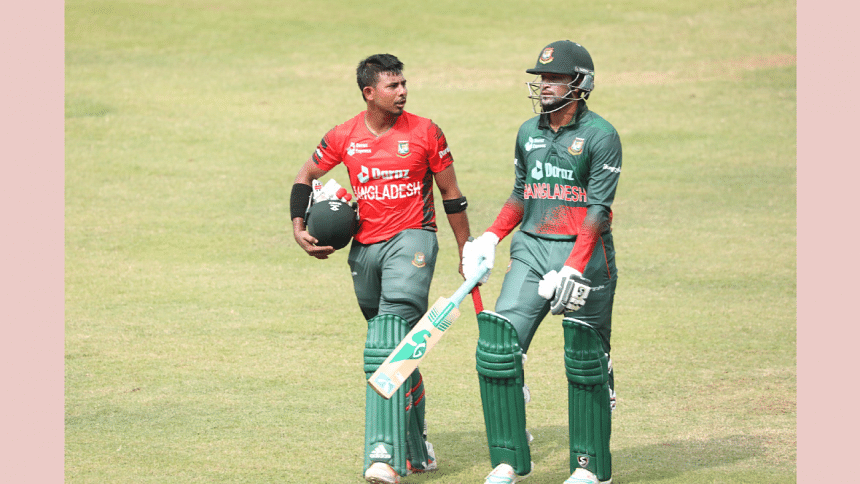 Striking performances were hardly on display in the practice game played among the members of the Bangladesh Asia Cup squad at the Sher-e-Bangla National Stadium in Mirpur today. However, what stood out was how Shakib Al Hasan transmitted specific instructions towards the players on the day.
Members of the Asia Cup squad, divided into Red and Green team, took part in the first of the two T20 games. The main idea was to play aggressively right from the onset.
All-rounder Mosaddek Hossain quick-fired a 17-ball 30 while Shakib, on his second chance with the bat, struck three sixes to score 36 off 24 balls as Red team posted 165 runs in 20 overs against Green team.
Mosaddek informed that Shakib, the newly appointed captain, has already spoken to the players and explained their roles, which they tried to implement while keeping the match scenario in mind.
"What we know about power hitting is to have the ability to hit sixes and that is what we tried to do today," Mosaddek told the media after the game today.
"Everyone wanted to hit, that was the type of mentality today from the batters and that is what we tried to practice today.
"When I was batting with Shakib Bhai, he told me that it will be enough if we are able to smash four sixes in the last four overs of the innings. Eventually, we managed to strike five sixes, which is a good sign.
"It always helps me as a batter whenever I bat with Shakib bhai, as he tries to guide according to the game scenario."
The players will take part in the second practice game tomorrow before departing for the UAE. Mosaddek has been handed the role of a finisher to bat at number six for the upcoming Asia Cup.
"Talking about the role, I might bat at number six and at times I might have to bat at number four, keeping the situation in mind. I think it won't be tough and we have to adjust with it," the 26-year-old said.
Meanwhile, Bangladesh's newly appointed technical consultant for the T20I side, Sridharan Sriram, had joined the team today and the former Indian all-rounder is expected to instil the aggressive nature in the Tigers in time.
Interestingly, the Tigers were without their head coach Russell Domingo during the practice game today.