'Did not force Rahul, Zaheer on Ravi Shastri'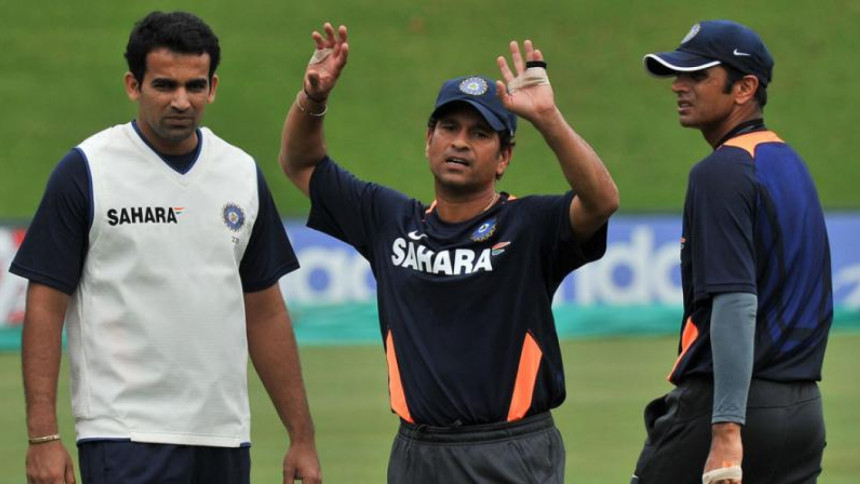 Cricket advisory committee (CAC) - comprising of Sachin Tendulkar, Sourav Ganguly and VVS Laxman were pained and disappointed at hearing that Zaheer Khan and Rahul Dravid were forced upon Team India head coach Ravi Shastri, Deccan Chronicle reports.
India's cricket board on Saturday made a U-turn on naming former paceman Zaheer Khan and batting great Rahul Dravid as consultants to the national Test team.
Some reports said the Board of Control for Cricket in India (BCCI) had forced the pair on Shastri and a Supreme Court-appointed committee overseeing BCCI affairs said the ruling body had overstepped its powers.
The BCCI said earlier it had picked the coaching staff until the 2019 World Cup, following recommendations made by former Test stars and Cricket advisory committee (CAC) members Sachin Tendulkar, Sourav Ganguly and VVS Laxman.
However Indian media said the court appointed committee felt the Test greats had gone beyond their brief in appointing Shastri's support staff.
CAC members have sent a strongly worded letter to Committee of Administrator (CoA) chief Vinod Rai and Board of Cricket Control for India (BCCI) acting secretary Amitabh Choudhary, saying they appointed Zaheer and Dravid to help Shastri and Indian cricket.
The letter read: "Taking various factors into account, we decided that Ravi Shastri was the best man for the job (head coach), but we also felt that Indian cricket would be better served if Shastri had the services of Zaheer Khan as bowling consultant and Rahul Dravid as batting consultant for overseas Test matches, of which several are lined up in the next two years."
The CAC added "it has both pained and disappointed us, therefore, to see the light in which the CAC has been portrayed in various sections of the media".
"We spoke to Shastri about getting Khan and Dravid on board in these capacities, and he readily agreed to the idea of having them in the set-up so that it would benefit the team and Indian cricket as a whole in time to come. It was only after getting Shastri's consent that we also recommended the names of Khan and Dravid in their respective capacities," it said.
"The three of us played our cricket with great integrity, and we have brought that same trait in fulfilling this important responsibility bestowed upon us by the BCCI. While we are not looking for plaudits, we do not appreciate the tone and the falsehoods of the narratives," the letter concluded.