Know your Tigers' feats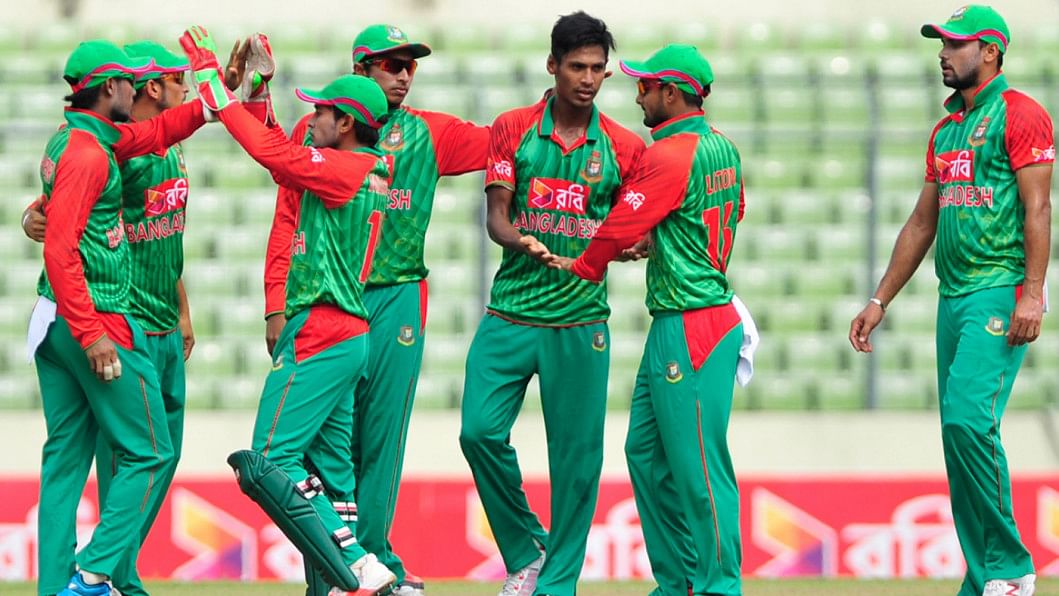 -Highest wicket taking bowler in a single test match for Bangladesh
Enamul Haque Junior got 12 wickets vs Zimbabwe at 2005. It was a home series for Bangladesh.
Young Enamul got 7 wickets in the first innings & 5 wickets in the 2nd.
-Most catches for Bangladesh in ODI
1. Mashrafe-Bin-Mortaza (Catches: 46)
2. Shakib Al Hasan (Catches: 39)
3. Mahmudullah (Catches: 37)
4. Tamim Iqbal (Catches: 35)
5. Mohammad Ashraful (Catches: 35)
-How many cricketers of Bangladesh have scored century in ODI cricket?
14 Cricketers of Bangladesh have scored century in ODI cricket till now.
1. Mehrab Hossain (1 century)
2. Anamul Haque (3 century)
3. Rajin Saleh (1 century)
4. Imrul Kayes (1 century)
5. Junaid Siddique (1 century)
6. Nasir Hossain (1 century)
7. Rajin Saleh (1 century)
8. Soumya Sarkar (1 century)
9. Mahmudullah (2 centuries)
10. Mohammad Ashraful (3 centuries)
11. Mushfiqur Rahim (3 centuries)
12. Shahriar Nafees (4 centuries)
13. Tamim Iqbal (6 centuries)
14. Shakib Al Hasan (6 centuries)
-How many bowlers are hat-trick holders in Bangladesh Cricket?
There are six hat-trick holders so far.
1) Alok Kapali (Test Vs Pakistan in 2003)
2) Shahadat Hossain (ODI Vs Zimbabwe in 2006)
3) Abdur Razzak (ODI vs Zimbabwe in 2010)
4) Shohag Gazi ((Test Vs New Zealnd in 2013)
5) Rubel Hossain(ODI vs New Zealand in 2013)
6) Tajul Islam (On Debut) (ODI Vs Zimbabwe in 2014)
-Who is the youngest bowler in Test match history to take 10 wickets in a match?
Enamul Haque Junior (Bangladesh). The left-arm spinner bagged 7 for 95 and 5 for 105 in both innings against Zimbabwe at Dhaka in January 2005.
It was his fifth Test, and he was 18 years and 40 days old when he bagged the 12 wickets in a Test match, becoming the youngest ever in Test cricket to get 10 or more wickets in a match.The match was drawn.
-Against which team did a Bangladesh bowler get the first Test match hat-trick?
Alok Kapali achieved the first Test hat-trick for Bangladesh. He reached the feat against Pakistan at the Arbab Niaz Stadium, Peshawar in August 2003.
It was the 2nd Test of the series between the two countries, and the leg-spinner bagged the final 3 wickets in Pakistan's first innings (Shabbir, Kaneria and Gul) to complete his hat-trick. Alok was just 19 years old at that time. Bangladesh eventually lost the Test by 9 wickets.
-Who was the captain of Bangladesh in their first ever ODI match?
Gazi Ashraf Hossain Lipu. It was in 31 March, 1986 against Pakistan.
-Who is the first Bangladeshi bowler to get 5 wickets in ODI?
Aftab Ahmed Chowdhury. He got 5 wickets as a first Bangladeshi bowler against New Zealand at 5 Nov, 2004 in Dhaka.
His bowling figures read: 10-0-31-5.
-When did Bangladesh win its first match against India?
Bangladesh won its first ODI against India on 26 December, 2004, at the Bangabandhu National Stadium Dhaka.
Led by Habibul Bashar, Bangladesh beat a strong Indian side led by Saurav Ganguly by 15 runs. Fast bowler Mashrafe Mortaza was adjudged man of the match with his 31 runs and 2 for 36.
-Who was the first ever Man of the match for Bangladesh in Test cricket?
Javed Omar Belim. The right-hand opener scored 62 and 85* against Zimbabwe.
The match was played at Harare, Zimbabwe in April 2001. His 85* was also the first for a Bangladeshi opener to carry his bat through the innings. It was Bangladesh's 2nd ever Test Match.
-Who has the best bowling figures for Bangladesh in T20I?
Elias Sunny. The left-arm spinner bagged 5 wickets conceding 13 runs on his debut T20I for Bangladesh. The opponent in the match was Ireland. The match was played on 18 July 2012 in Belfast, Ireland.
His bowling figures read: 4-1-13-5.
-Who is the only Bangladeshi Fast Bowler to be adjudged Man of the Series in a Test Series?
Robiul Islam (Shiplu). The right-arm fast bowler claimed 15 wickets in the 2 Test series against Zimbabwe (3/84, 6/71, 5/85, 1/53). The two Tests he played were the 2nd and 3rd of his career.
The matches were played at Harare, Zimbabwe in April 2013.
All information taken from tigercricket.com.bd