ICC CRICKET WORLD CUP 2015
Australia hope Adelaide grass greener
Australia v Pakistan, World Cup 2015, 3rd quarter-final, Adelaide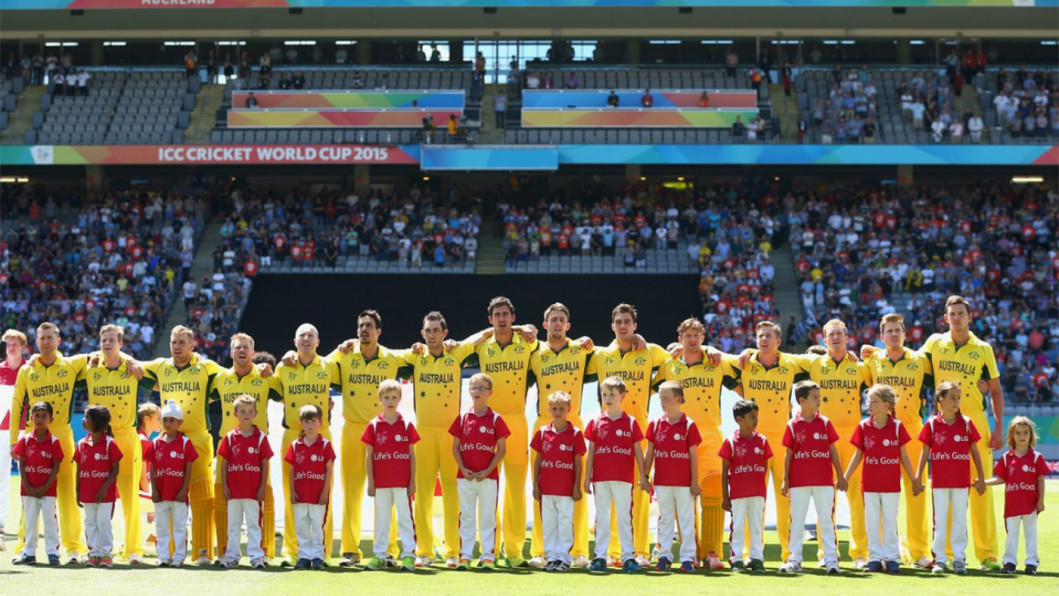 Australia are hopeful a well-grassed Adelaide Oval pitch will provide enough assistance for the hosts' fast bowlers to dismantle Pakistan and thus prevent their own strong pace battery from doing likewise in the third World Cup quarter-final.
The captain Michael Clarke and the national selector Rod Marsh were seen in lengthy consultation with the oval groundsman Damian Hough on match eve, Clarke having already expressed his hope that no more grass would be shaved from the surface ahead of Friday's contest. Ground staff also watered the pitches either side of the match strip, reducing the chances of reverse-swing emanating from the abrasive parts of the square.
With the possible exception of New Zealand and South Africa, the match will be a meeting of the World Cup's two strongest fast-bowling units. Australia will choose one of Pat Cummins or Josh Hazlewood to support Mitchell Starc and Mitchell Johnson, while Pakistan have the tournament's fast bowler in Wahab Riaz, backed up by Sohail Khan, Rahat Ali and Ehsan Adil. Batsmen on both sides may be in for some hopping around.
"Pakistan have some really good quicks in their attack and they've shown that throughout this series," Clarke said. "I think the pitch has certainly got quicker over the years. I think fast bowling will play a big part tomorrow. Especially if they leave that grass on the wicket like there is now, fingers crossed. But I think both teams have good fast bowlers in their line-ups. So the batters, we're going to have to make sure we play really well.
"Two good attacks on a wicket that looks like it's got a bit of grass on it. It's going to be tough for the batters but Australia in general. If you do get in as a batsman it's a wonderful place to bat, it's just starting your innings is always difficult. I don't care if it's 71 plays 70 to be honest, as long as we get the 71, or it's 350 plays 349, the numbers are irrelevant for me."
Pakistan's captain Misbah-ul-Haq has preached aggression ever since his side's surprise success against South Africa in Auckland, and he said this would be particularly important against Australia. As England might also be able to attest, it is impossible to just muddle through and play reactively against the team led by Clarke and the coach Darren Lehmann - they must be attacked.
"Australia always plays aggressive cricket, and if you want to really be up there against them, you also need a good, aggressive cricket, good, positive cricket, and that is the key," Misbah said. "If two teams are playing aggressive cricket, you still have a chance. It's not like that you go with the defensive approach against Australia and you can just win the game. It's all about aggression. It's all about attacking cricket, and that's, I think, what we are looking forward to."
Clarke shuffled Australia's batting order in their final group game against Scotland to allow himself and several other players some additional time in the middle. For this match it is expected to be back to the configuration glimpsed against Sri Lanka at the SCG, with David Warner and Aaron Finch followed by Steven Smith and Clarke before Glenn Maxwell and Shane Watson are used at Nos. 5 or 6 depending on the match scenario.
"Finchy and Davey will go back to opening, and then we'll assess," Clarke said. "I think against Sri Lanka ... Maxi came in at 5, but he was down to bat at 6. It was just the situation of the game that we changed the order. I think our order is pretty flexible, so, like I said, apart from the top two that will open the batting and have done so really throughout the whole tournament apart from one game to try to give a few people a hit, the rest is very flexible.
"We'll work out the situation of the game, batting first, batting second and assess. And I think that's one of our great strengths that we've got a number of guys that have batted in different positions through their career and have enjoyed some success in different positions as well. So it's a good problem to have."
Less pleasing for Australia is the thought of elimination from their home World Cup at the earliest knockout stage. To lose to Pakistan in Adelaide would be more or less the equivalent result to 1992, when they missed the semi-finals due largely to a defeat at the hands of Imran Khan's men in Perth. Clarke put himself through an extended fielding and catching session after his chat with Marsh, having earlier acknowledged the gravity of the occasion.
"We have to treat this like a World Cup final now," he said. "It's a crucial game - you lose and you are sitting and watching the rest of the tournament, so we're just focused on having success tomorrow."