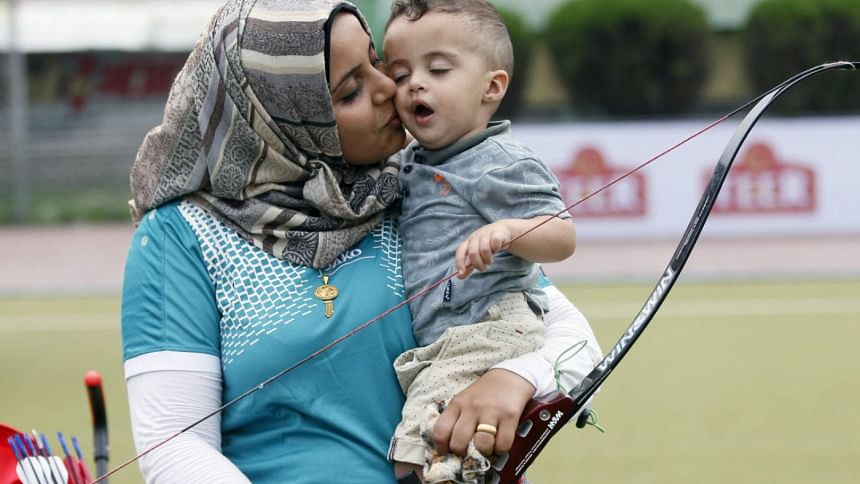 As expected, the Bangladesh archers dominated the second day of the 2nd ISSF International Solidarity Archery Championships as eight bowmen confirmed their semifinal berths in four different events at the Maulana Bhasani Hockey Stadium yesterday.
The country's top archers -- Roman Sana, Tamimul Islam and Nasrin Akter -- advanced to the men's recurve and women's recurve event semifinals but South Asian Archery Championship gold-medallist Ibrahim Sheikh was eliminated from the quarterfinals.
"I started well and won the first two games but I failed to maintain my form in the quarterfinal and could not hit the target perfectly. I don't have any regret for this loss because I am inexperienced at the international level," said 17-year-old Ibrahim.
In the men's compound event, Ashim Kumar Das, Abul Kashem Mamun and Milon Mollah, made it to the semifinals while Roksana Aktar and Bonna Aktar followed suit in the women's compound event.
Though the local archers failed to replicate their best results during the opening day's qualification rounds, Ashim Kumar Das surpassed his previous highest score to claim 690 out of 720 points in the men's compound qualification round yesterday. His previous best was the 679 points he scored during the South Asian Archery Championship in March at the BKSP.
Abul Kashem Mamun was second-placed with 680 points, two less than his best result which came in the Asian Archery Championship last November in Dhaka, while Ashikuzzaman Ayan and Milon Mollah scored 679 and 672 points finish third and fifth respectively in the men's compound qualification round.
"I was confident about making good scores because I have been shooting well in practice. I even made 696 in practice, so it was not an unexpected score for me. However it is my best score at the international level," said Ashim. 
Ashim did face a stiff challenge from Ramesh Bhattachan in the quarterfinals though as he was tied with the Nepalese at one stage but 28-year-old Ashim came back strong to confirm his place in the men's compound semifinal with a 139-132 points win. He will now face teammate Milon Mollah, who handed a 139-137 points defeat to Saudi Arabia's Abdul Aziz Alrodhan.
Meanwhile Mamun, who was trailing by one point until the 12th shot, unbelievably outclassed Iraq's Eshaaq Al Daghman by scoring 30 out of 30 in the last three shots while Eshaaq only scored 25 to lose 136-140.
The men's compound event's semifinal lineup could have been an all Bangladeshi one had Ashikuzzaman not been beaten by Iraq's Waleed Hameed in a shoot-off. The match was tied at 138-138 but Ashikuzzaman ultimately suffered defeat as he scored nine as opposed to Waleed's perfect 10 in the one-arrow shoot-off
In the women's compound event, Roksana Aktar beat Morocco's Souad El Fiaz 139-115 to set up a semifinal clash against teammate Bonna Akter, who overcame teammate Ritu Akter 132-130. Last edition's gold medallist Fatimah Almash Hadana defeated Bangladesh's Suma Biswas 142-135 and will now face Estonia's Hoim Emily, who beat Nepal's Archarya Parsada 139-133.
Roman Sana easily toppled Saud Albooshi 6-0 in the men's recurve event while Saudi Arabia's Alotaibi Fares 6-5 in a shoot-off after the encounter was reached a 5-5 deadlock.
In the women's recurve event, Nasrin Akter beat Tajikistan's Firuza Zubaydova 6-0 while Radia Akter Shapla lost to Tajikistan's Tagaeva Zukhro 2-6 in the quarterfinals. Beauty Akter was defeated by Iraq's Rand Saad 1-7 in the first round.