'Unfortunate, but wise decision to cancel final'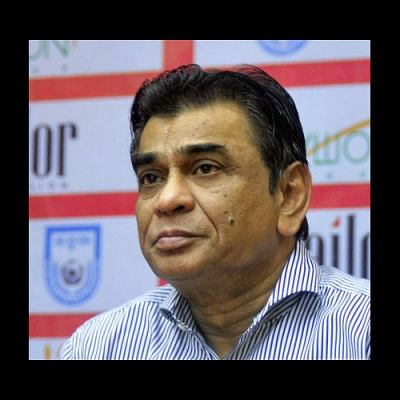 Calling the cancellation of the Bangamata Under-19 Women's International Gold Cup final as unfortunate, Bangladesh Football Federation (BFF) president Kazi Salahuddin said that the right decision was made considering the gravity of the threat posed by Cyclone Fani.
"It was very unfortunate that the tournament committee was forced to call off the match. The whole country was under great threat from Cyclone Fani, so in those circumstances, it would not have been wise to take the risk of holding the match," the BFF boss told reporters at his office yesterday.
The cancellation of the final, which was billed as the most anticipated match-up between the two best sides of the competition in the form of Bangladesh and Laos, garnered a lot of hype among the people in general. At least 4000 fans braved the drizzle and the threat of storm to turn up at the Bangabandhu National Stadium on Friday to watch the match.
But a sudden announcement from the organising committee some 20 minutes after the scheduled kick-off time took most people by surprise as both teams along with match officials were gearing up while the groundsmen had siphoned off some of the water from the pitch. The announcement caused resentment among the crowd and caused an uproar in social media, with some questioning whether the announcement could have come earlier since the threat posed by Fani was forecast for the past three days.
However, Salahuddin feels it was the right decision to cancel the game as 'it would have been inhuman had they celebrated a football tournament with the whole nation under such a threat' while the risk of holding the match was too high.   
"If the match was organised and unfortunately any incident had occurred, it would have been a big disaster for us, the whole world would condemn us.  So I think it was a wise decision. But I do believe that it was a fantastic tournament, but it was not a happy ending," said Salahuddin.
The BFF boss said that they might organise the event next year as well with the same six teams participating with the same grouping and under the same format.
Meanwhile, Salahuddin also shared the federation's plans regarding the men's national team for their first round fixtures of the joint preliminary qualifiers for the World Cup and the Asian Cup against Laos in June.
"We have already set our program with the men's team for the World Cup pre-qualifying match. The team will go abroad to play two practice matches, might be in Singapore, Thailand or Malaysia, whoever will be free at the time," Salahuddin said.