Anxious wait at cyclone shelters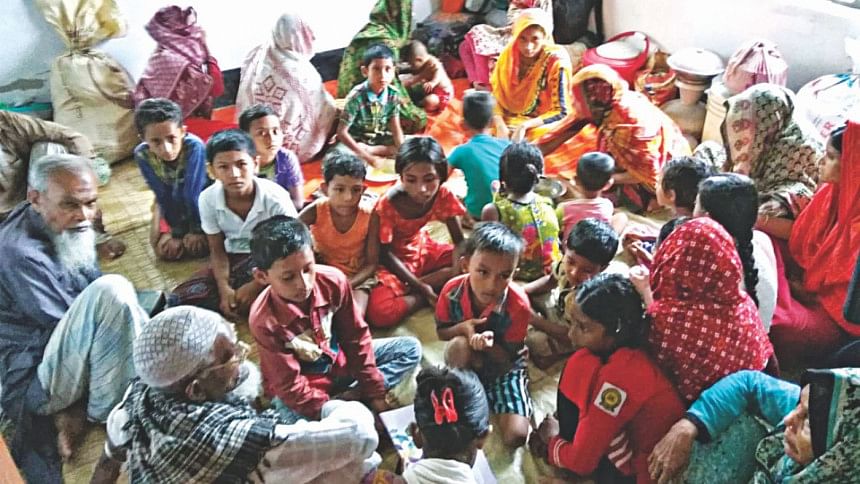 It was shortly after 3:30pm yesterday when Saddam Sana, a 44-year-old farmer, arrived at a temporary cyclone centre in Dacope's Tildanga health complex. He was completely drenched and quivering.
Saddam along with his wife and two children went to the three-storey building, adjacent to the Shibsha river, to take refuge from cyclone Fani.
This was not the first time Saddam came to a cyclone centre. The memories of cyclones Sidr and Aila were still fresh in his mind. 
Sidr caused devastation, including destroying houses and other establishments, in the coastal regions of Khulna in 2007. Two years later followed the Aila and broke embankments, keeping some areas partially submerged for nearly two years. 
Like Saddam, around 170 people, including women and children, were staying in the shelter, which had a capacity to accommodate around 300 people, yesterday. Many arrived there with their belongings and cattle. But many like Saddam couldn't.
"I need to go back [home], I need to save them," said the man from Dacope's Gorkhali village, adding he had also lost his home after Aila struck. "I'd to live in shelters for days when Aila came".
Another villager, Mamata Mistary, said she bought some dry food with her and was taking them.
Contacted, Dacope Upazila Nirbahi Officer Abdul Wadud said they would arrange dry food for those staying in the cyclone centres.
He said there were 83 cyclone shelters and 163 primary and high school completely ready to shelter those living in the coastal areas of Khulna.
District administration sources said more than 1.8 lakh people of that coastal region were evacuated to the shelters and schools.
Visiting a nearby temporary shelter in Uttar Kaminibasia Binapani Government Primary School in the same union, this correspondent saw there over a hundred people from nearby villages. The school can shelter more than 300 people, said the teachers there.
Talking to The Daily Star, Krishna Paba Mondol, a farmer from Kaminibasia, said he carried his 78-year-old paralysed mother to the school, after hearing about cyclone Fani from the TV.
"My other family members will come here soon," he said, adding he could not bring with him his cattle and belongings.
Kalpana Mondol, a woman union parishad member, said she was supervising the shelter and asked the villagers to go there for their safety.
Contacted, Khulna Deputy Commissioner Mohammad Helal Hossain said they began the evacuation around 11:00am.
More and more people from the coastal areas of the district started to arrive at the shelters after afternoon following drizzle and heavy wind, he said.
UNO Wadud said, "We are working for 100 percent evacuation".
Polash Kumar Banerjee, executive engineer of Water Development Board (Division-2), Khulna, said they were closely monitoring the dykes and were arranging sandbags to repair them.