12 lakh moved to shelters
Heavy rainfall across Bangladesh; storm surges hit coastal areas; 50 villages inundated as embankments breached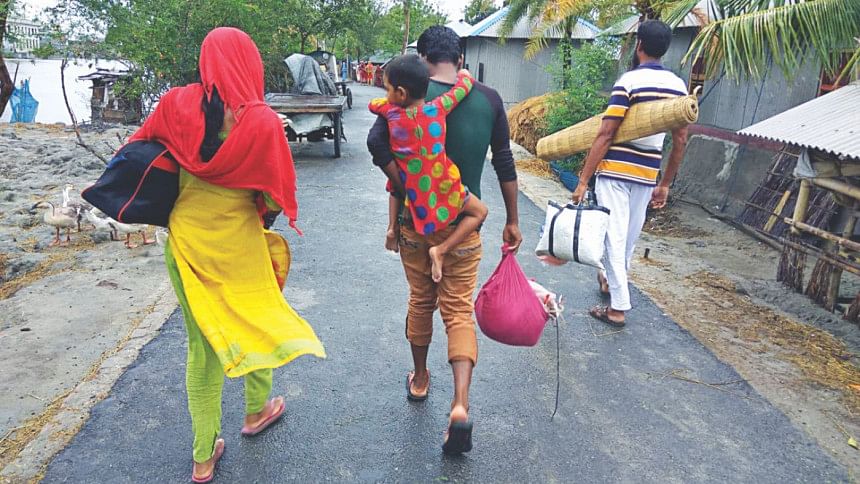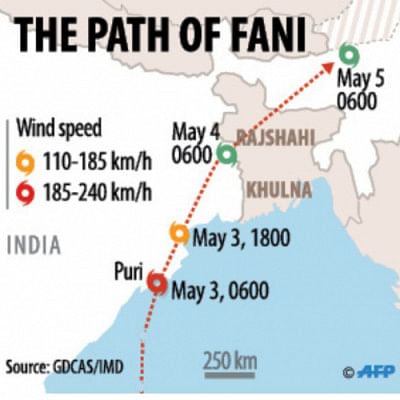 Lightnings and tree fall kill 7

4,071 cyclone shelters in 19 districts prepared

Dry food, medicine, drinking water sent to cyclone shelters

32 Navy ships in operation to rescue people

Thousands still stranded in offshore islands of Noakhali, Bhola
More than 12 lakh people have been evacuated and moved to cyclone shelters in 19 coastal districts as cyclone Fani is charging towards Bangladesh, after making landfall in the Eastern Indian coast yesterday morning.
The very severe cyclonic storm, named Fani meaning snake's hood, lost its speed and strength and turned into a tropical storm. It was on its way to West Bengal when this report was filed around 1:00am today.
It is expected to strike Bangladesh around midday today, according to the Met office. 
It will enter through the north of Khulna and south of Rajshahi around noon and will remain in Bangladesh territory for 6-10 hours, said Shamsuddin Ahmed, director of Bangladesh Meteorological Department.
"Currently the eye of the cyclone is some 300km southwest of Satkhira," he told The Daily Star at 11:00pm yesterday.
Hindustan Times reported that it will further weaken by the time enters Bangladesh with a wind speed of 60-70kmph.
But even before the strike, Fani already caused cyclonic storm with a speed of more than 100kmph and five feet high storm surges and triggered rainfall almost all over the country yesterday.
At least seven people reportedly died and seven were injured in lightning and tree falls in different parts of the country.
At least 30 villages in Patuakhali, Bagerhat and Khulna were inundated as storm surges breached earthen embankments and overflew them. Water level was also rising in rivers in those districts.
In Cox's Bazar's remote island Kutubdia, at least 20 villages went under water as tides as high as four-five feet struck those areas yesterday morning.   
In Patuakhali, at least 17 villages were flooded as dykes in Kalapara, Mirzagonj and Rangabali collapsed on impacts of the tidal surge, said Hasanuzzaman, executive engineer at Patuakhali WDB.
At least three villages in Bagerhat's Shoronkhola were also flooded.
In Barishal, many boats that went to fishing in the deep sea did not come back till yesterday evening.
Standing crops in different districts were also damaged, although the extent was not immediately clear.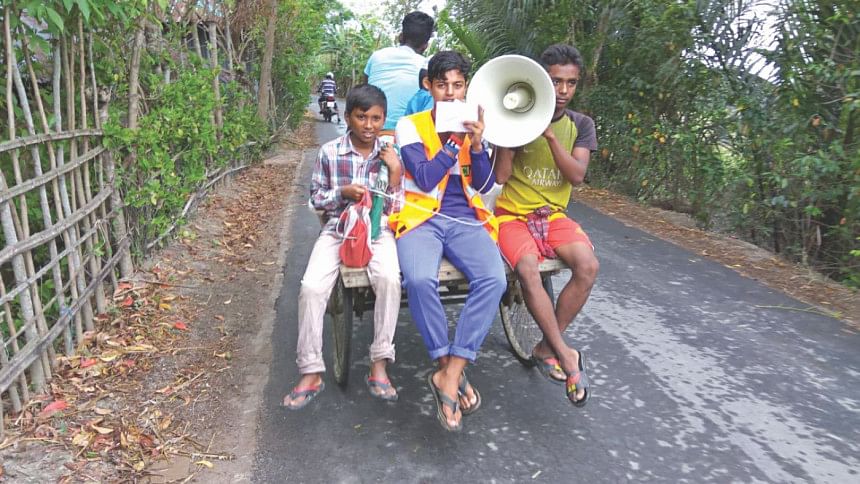 The whole country will experience heavy rainfall and storm today. After making landfall in Bangladesh, Fani will move towards Assam. 
"Though it became week, it still is a very severe cyclone. The whole country would experience rainfall and cyclonic storm on its impact tomorrow [today]," said Shamsuddin Ahmed, director of the Met office.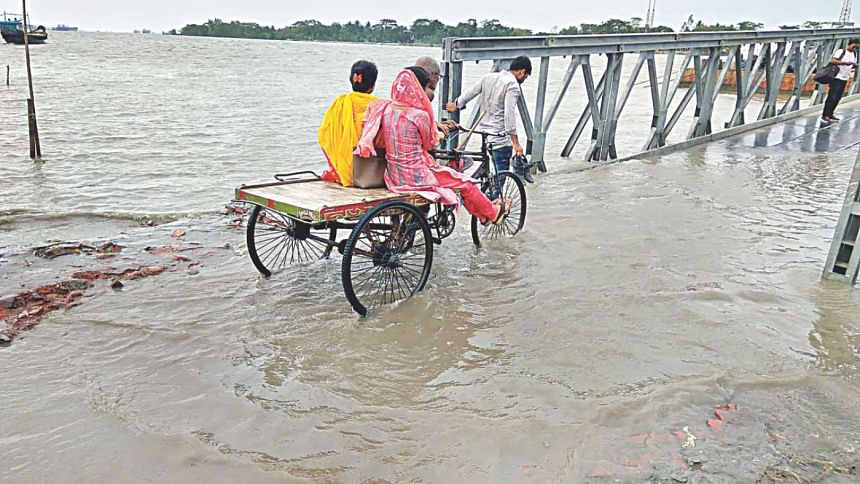 Operations of all water vessels will remain suspended until further notice. Due to bad weather, two domestic flights of Biman Bangladesh were cancelled while several others had to be rescheduled.   
Braving the rough weather, members of navy, coastguard, police, Ansar, VDP, volunteers and political party activists shifted lakhs of people to cyclone shelters from vulnerable areas.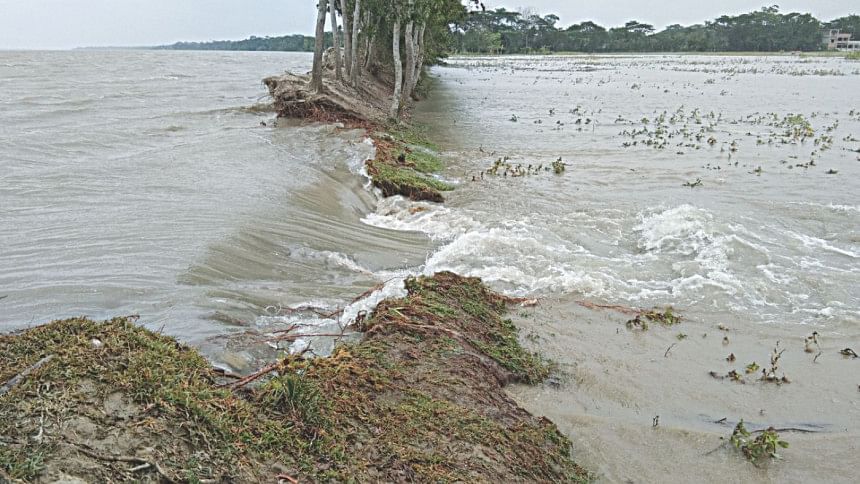 The rescue operations began at 10:00am and continued till evening. 
"Our target is to evacuate 21 lakh people. But till 6:00pm, we could shift 12.40 lakh. The rescue work is still on," Enamur Rahman, state minister for relief and disaster management, told The Daily Star around 9:30pm.
The people were taken to 4,071 cyclone shelters in 19 coastal districts, he added.
Adequate medicine, drinking water, dry food and other necessary goods as well as medical teams have been sent to all the shelters, said Shah Kamal, senior secretary at the relief and disaster management ministry.
However, tens of thousands of people are still in the offshore islands in Bhola and Noakhali.
Around 17,000 people were stranded in Dhal Char union of Bhola's Charfassion as there is no cyclone shelter there, said Abdus Salam, chairman of the union.  
Despite the risk, the people there cannot move to the mainland due to bad weather.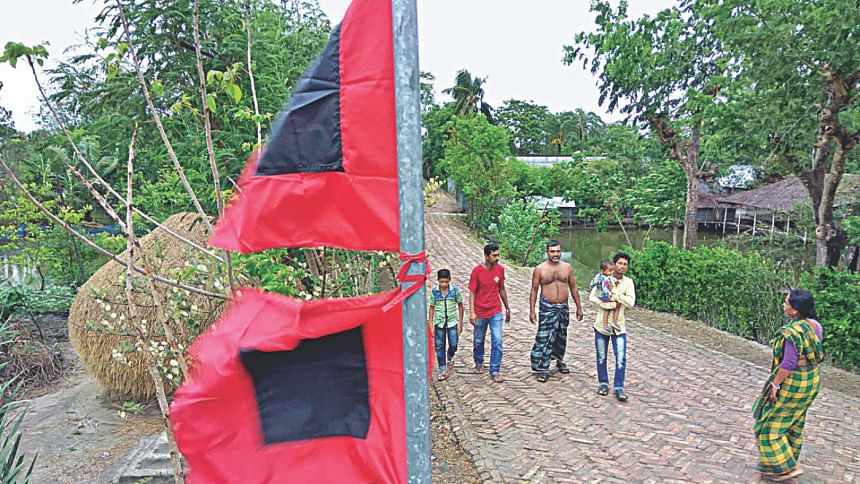 There are two concrete buildings in Dhal Char -- a police outpost and the union council office -- where only 600 people can take shelter, locals said.
Many panicked locals were taking shelter in the mangroves to save their lives as the water level in the Bay was rising, reports our correspondent there. 
In Hatia, the cyclone shelters at Hatia Bazar and Ali Bazar were found empty yesterday though the district administration kept those ready and requested the people to go there, according to our Noakhali correspondent.  
For medical emergency, the affected people have been advised to call these hotline numbers: 01937-000011, 01937-110011 and 01927-711785.