Three detained over racist insults against Vinicius: Spanish police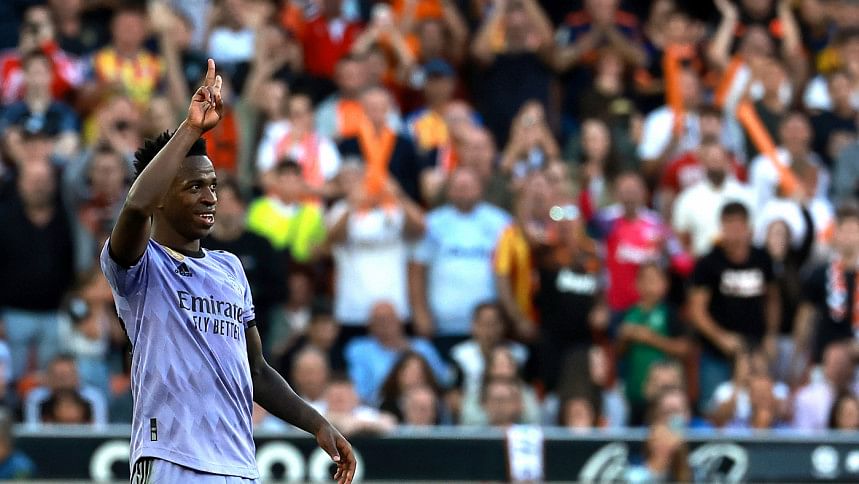 Spanish police arrested Tuesday three youths suspected of hurling racist insults at Real Madrid forward Vinicius Junior during a weekend match, sparking an international outcry.
The 22-year-old Brazilian international forward was targeted by a home supporter during a 1-0 defeat at Valencia on Sunday and was later sent off.
He has often been racially abused at stadiums across Spain this season.
"Police arrested today three young people in Valencia for the racist behaviour that occurred Sunday in the match between Valencia and Real Madrid," Spain's National Police said in a statement.
Sunday's match was held up for several minutes and the referee wrote in his post-match report that shouts of "monkey" had been directed at Vinicius.
Spanish prosecutors opened an investigation into the incident, which was condemned by Brazilian President Luiz Inacio Lula da Silva and Spanish Prime Minister Pedro Sanchez.
Earlier on Tuesday police said they had arrested Tuesday four men suspected of hanging a dummy of Real Madrid forward Vinicius Junior from a bridge in Madrid in January.
The four men, who were arrested in Madrid, are "suspected of a hate crime for hanging from a bridge a mannequin with Vinicius' shirt," police said in a separate statement.
The dummy wearing Vinicius Junior's jersey was hung by the neck from a highway bridge near Real Madrid's training ground on January 26 ahead of the club's match against Atletico Madrid.
A banner in the red and white colours of Atletico reading "Madrid hates Real" was also flung over the bridge.