'Still alive' Jony now thriving on his journey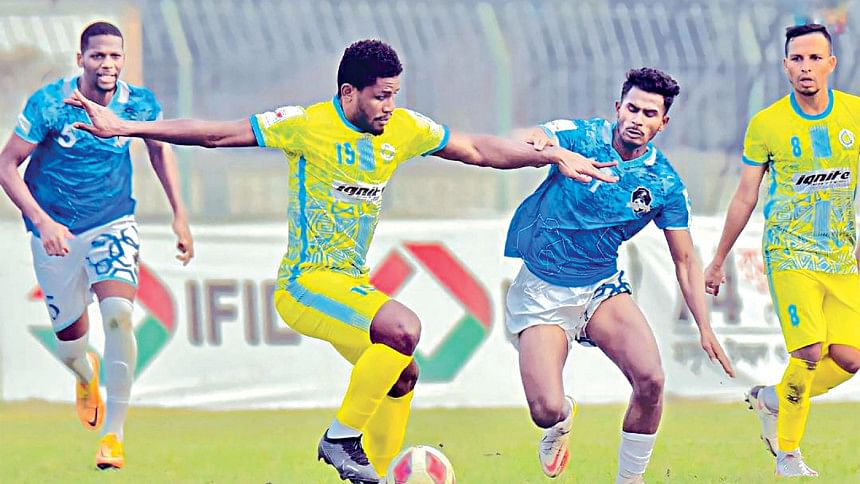 Although Mojibur Rahman Jony got into Bangladesh's 27-member preliminary squad on the back of only 10 Bangladesh Premier League matches worth of experience, the 19-year-old attacking midfielder had to face serious hurdles on his journey so far; including a death-scare.
Jony has been playing the country's top-flight football for the first time for newly promoted Fortis FC following his well-deserved performance for the BFF Elite Academy in the Bangladesh Championship League's last edition.
"As I represented national age-group teams at the international stage before, I dreamt of representing the senior team. To fulfil my dream, I joined Fortis this season after getting assurances to get some game time," Jony told The Daily Star on Sunday before flying to Saudi Arabia for the national team's preparation camp ahead of the 2023 Tri Nations Cup this month.
However, the national call-up did not surprise the promising midfielder when it eventually arrived.
"I did well in practice and got selected for the playing eleven in all 10 league matches of Fortis FC, thus I got a national call-up. 
"I think this call up was not unexpected for me as my once age-group teammates like Fahim [Ahmed] and Yeasin [Arafat] have made their national debut much earlier than me," he added.
Possessing good dribbling and the capacity to hold the ball upfront, Jony is expecting to secure a place in the final squad for the tri-nation tournament at home, involving Seychelles and Brunei.
"I will try my level-best to get into the 23-member squad as well as stay in the national team for a long time," he hoped.
Jony recalled the death-scare he survived four years ago when his appendix had burst and it left his relatives to dwell on the possibility of the worst-case scenario.
"I stayed back from football a bit because of the appendix operation, and lagged further behind than others due to the distance between Dhaka and Dinajpur.
"It took me around five to six months to recover from the [appendix] operation. Alhamdulillah, I'm still alive and playing football," he said.
Jony's journey has been far from an easy one as he once had to set aside his footballing aspirations to alleviate the poverty of their family.
"At one stage I stopped training football following the pressure from my poverty-stricken family. I started helping my mother to sell Chitoi Pitha (traditional cake) at a roadside food cart. Mizan uncle noticed my long absence in training and turned up at our home to convince my mother that I can go far playing football," said the former BKSP student.
Jony had begun playing football in 2009 before his uncle bought him his first pair of boots while his day-labour father, who worked at a rice mill, and elder brother provided everything for Jony to pursue a footballing career.
The lad from Dinajpur also participated in the NSC (National Sports Council) Cup and got selected for the advanced training in Gopalganj, Khulna, and Barishal before he got admitted to BKSP in 2017. Jony also represented national U-15 and U-16 teams in the SAFF Championship and AFC Championship Qualifiers before representing the national U-20 team in the AFC U-20 Asia Cup in 2022, in which he also struck a goal against Nepal and registered two assists in four matches.