'Spectators boost our confidence level from 100 to 120 per cent'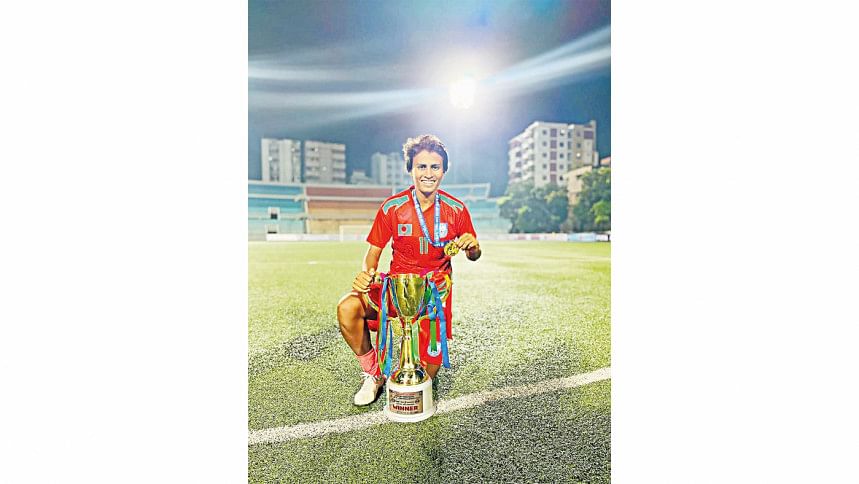 Twenty-eight-year-old Sabina Khatun is the captain and top-scorer of the Bangladesh women's national football team. The veteran striker shared the experience of the change of perspective and scenario of Bangladesh's football fans towards women's football throughout her career and made comparisons on their journey of success with the story of FC Barcelona Femeni while talking to The Daily Star's Ashfaq Ul Mushfiq. The excerpts are below:
The Daily Star (DS): 6-0 in the first match against Malaysia and then a goalless draw in the next one despite dominating them. What was the realisation after the last match?
Sabina Khatun (SK): When you play consecutive matches against the same side in the space of a few days, the opponents will understand your plans better. Even though they are well ahead of us in the FIFA rankings, I think they couldn't read us well in the first match. However, they came back well in the next match and gave us a good fight.
DS: Women's football in the country has been witnessing a greater amount of spectators on a regular basis compared to men's football. Since you're a veteran of the game, how much difference do you see today from the time you started playing?
SK: I think spectators generally come to watch women's football matches. But to me, what changed noticeably is people's perception. And this is noticeable on social media as well. Whenever we play good football, fans appreciate us and feel hopeful that these girls can actually give something to the country's football and take it a long way. In Bangladesh, there are some people who don't like girls playing football and wearing shorts. But I think success speaks for itself and what we have achieved in the last 5-7 years has changed people's perception and the pattern of saying things about women's football.
DS: Do you find similarities in the growth of Bangladesh women's football with FC Barcelona Femeni?
SK: Actually the scenario of women's football now is very different from the time when we started. At first, people thought that the girls were barely able to play. But times have changed since the success of age-level teams, especially from the U-15 level. People now automatically arrive in stadiums during the girls' games hoping to see a good display of football. And in terms of Barcelona's tiki-taka style of play, there was a time when the women's team only played defensive football and concede as less goals as possible. But now times have changed and girls can now play dominating football. We can now dominate in the opposition half more than ever. These girls have stayed together in the camp for a long time, we have great chemistry and we understand each other's roles very well. If you follow our games, you will see that our players don't stick to the same position the entire game; we rotate around the pitch and change our roles. That's something quite similar to Barcelona's possessional game. But in the end, when it comes to fans, their presence in the gallery boosts our confidence level from 100 to 120 per cent.
DS: You once said that girls are now keener to take football as a profession. But is there any guarantee of longevity in terms social and cultural obstacles in Bangladesh?
SK: Well, there was a time many girls, including myself, struggled a lot financially while playing professional football. But now so many girls are not only earning well but also are the breadwinners of their families. So today families don't force the girls to quit football and get married like they once used to.
DS: In the world of football dominated by male role models, did you come across girls saying, "We want to be like Sabina Khatun"?
SK: Yes, I hear that a lot, and it's a different kind of feeling when someone says she looks up to me as a role model. Even after the I scored against Malaysia, the junior girls told me that the goal really inspired them.