New challenge for Titu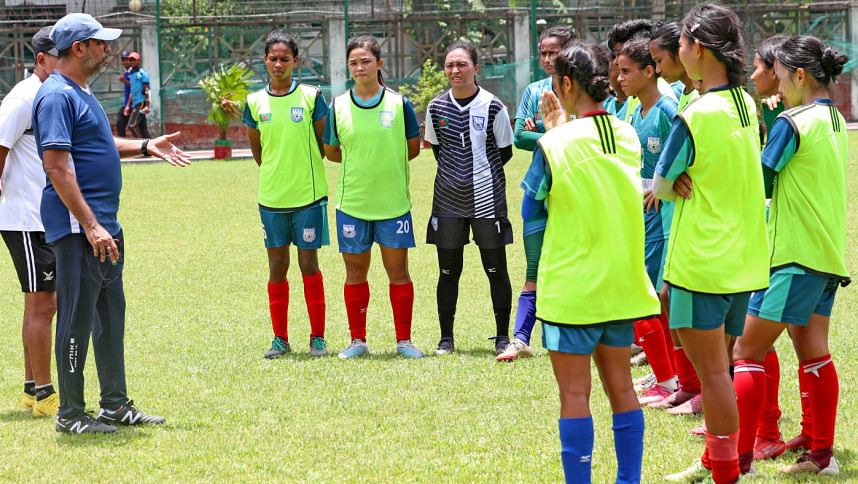 Experienced coach Saiful Bari Titu said he wants to continue the work done by Golam Rabbani Choton and Paul Smalley while trying to improve on certain areas after taking over as the interim coach of the Bangladesh women's football team.
The former national team footballer, who has coached men's senior and age-group teams previously amidst his club coaching stints, has been entrusted with leading the women's team in September's Asian Games. Bangladesh will have Japan and Vietnam – both currently playing in Women's World Cup – in the group alongside South Asian rivals Nepal.
He will also be preparing the women's under-17 team, which will be playing in September's Women's U-17 Asian Cup Qualifiers, Round - 2 against Australia, Vietnam and Philippines.
While there is still uncertainty over Titu's presence at the Asian Games as his accreditation is yet to be approved by the games organising committee, the veteran coach is keen on preparing the team for the event, which he feels will be a great learning experience for the side.
"We will be facing two big teams including Japan in the Asian Games. So I would try to make them understand that it's a big learning ground for them and testing ourselves because we only get to play high-level teams like these during the Asian Games or the World Cup Qualifiers," Titu told The Daily Star over the phone after conducting his first training sessions with the two teams at the Sheikh Jamal Dhanmondi Club ground yesterday.
Ranked 11th in the world, former World Cup winners Japan have already progressed through the group stages of this year's showpiece event while Vietnam, ranked 32nd, are making their debut appearance in the 32-team event. Bangladesh, ranked 140th, will be making their debut Asian Games appearance against these two powerhouses alongside Nepal, ranked 101st in the world.
Titu said he is analysing the World Cup matches and gathering information from his predecessors regarding his own team.
"I'm trying to gather information regarding the process that Smalley and Choton followed for the women's team. I have assistant coaches who will help me here," Titu said. "I'm also following Women's World Cup and analysing the matches. Since we will be playing against two of those teams, I will try to give my inputs in that regard."
The senior team featured 18 players in first day's training, with skipper Sabina Khatun and defender Anai Mogini still on vacation while midfielder Sanjida Akter is suffering from fever.
Titu, who left his job with top-tier side Chittagong Abahani in the middle of last season, said he is glad to have this opportunity to guide the women's team.
"The principles of coaching are the same for both men and women," the 50-year-old observed. "In a sense, this is challenging since women's team is always in the limelight due to their success."
"There is already a training structure in place for women's team. Since that structure is doing well, I'm not keen on bringing any change to that. I will work on the areas that need a bit more improvement," Titu concluded.