Men's football team finally going to Asiad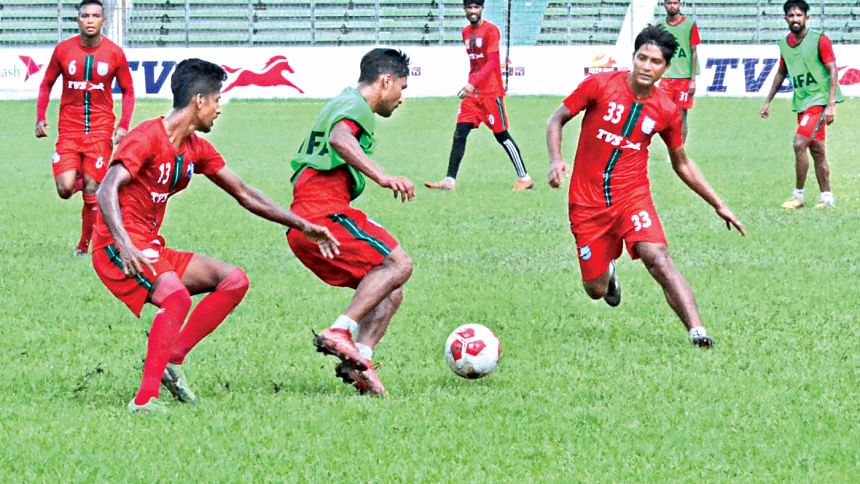 Bangladesh men's football team has been taken onboard alongside the women's team for September's Asian Games in China following a voting at the Bangladesh Olympic Association.
The BOA, in an executive committee meeting on May 6, decided not to send the men's team citing poor performance. However, following a request from the Bangladesh Football Federation (BFF), the apex body of the country's sports decided to hold a vote among its members, with the result coming decisively (21 to 6) in favour of sending the team.
BOA's vice-president Sheikh Bashir Ahmed Mamun confirmed the development to The Daily Star on Saturday.
"Most members were against sending the men's team during the executive meeting on May 6, and there was no opposition to this sentiment from the two BFF members present there," Mamun said over phone.
"Later we discussed the issue and found out that their performance last time around was good. And we also got a request from the BFF in this regard, with our president asking us to hold a voting since there wasn't any executive committee meeting in the meantime.
"The result of the voting came out today, which decided in favour of sending the men's football team. There was another issue in voting and it came out against sending the e-sports team to the event," Mamun concluded.
With men's football team included, Bangladesh will be taking a 17-discipline contingent to Hangzhou, China where the multi-discipline event will take place from September 23 to October 8.
In the last edition of the Asian Games in 2018, the men in red and green reached the second round for the first time after beating Qatar in their last group match.