LaLiga chief apologises for rant about Vinicius's racism complaint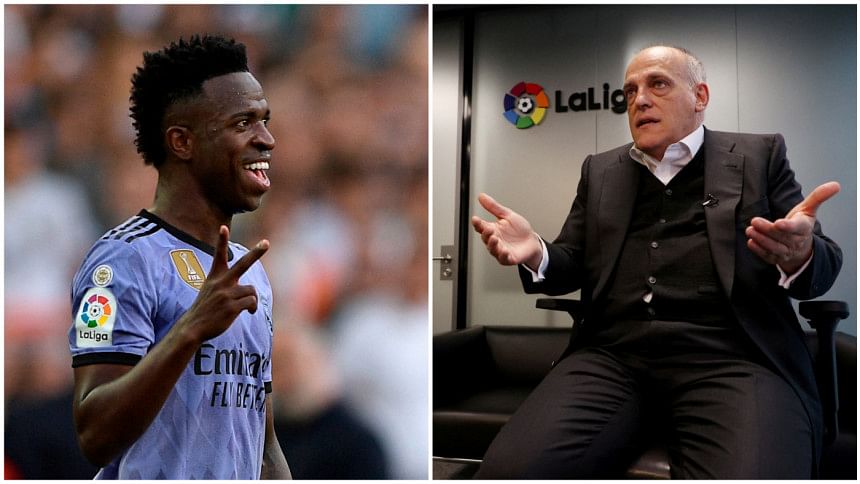 LaLiga President Javier Tebas apologised on Wednesday for his online rant at Real Madrid player Vinicius Jr after the Brazilian took to social media to complain about racist insults he suffered during a match and the Spanish league's inaction.
The game against Valencia on Sunday was halted for 10 minutes as Brazilian Vinicius pointed out fans who were abusing him before he was involved in an altercation with Valencia players which led to him being sent off.
"Well, it seems that the result has not been very good, right?," Tebas told Reuters in an interview, referring to his much-criticised comments on Twitter in which he suggested that Vinicius find out more about what the league is doing to combat racism "before you criticise and slander LaLiga".
"I mean, to all those who have understood that this was an error due to the form, due to the time... I have to apologise," he said, adding that it was not his intention to attack Vinicius and blaming "the heat of the moment".
"I apologise to Vinicius and to anyone that understood that I was attacking Vinicius."
Tebas said he shared the 22-year-old's frustration over the lack of action to eradicate racism in Spain, and took aim at soccer organisers and Spanish authorities, saying neither were doing enough to clamp down on racism.
He said that he felt "impotent" to tackle racism in soccer as under Spanish law LaLiga can only detect and report racist incidents.
He urged legislative changes so LaLiga can have sanctioning powers, such as the closure of stands or the expulsion of club members, in order to be able to fight racism more effectively.
"If we were given those capabilities, we would end this in a matter in months," Tebas said, blaming a lack of willingness by "those who have the power to impose it".
Valencia's south stand will be partially closed for five matches and the club was fined 45,000 euros ($50,000) after the abuse suffered by Vinicius.
Sunday's abuse in Valencia was the 10th episode of alleged racism against Vinicius that LaLiga has reported to prosecutors this season, according to Tebas, who says he has done everything in his power to tackle the issue.
Police detained seven men on Tuesday over separate alleged hate crime incidents against Vinicius.
"I think it's pretty safe to say that the explosion that happened led to the actions and let's hope it stays like this," Tebas said, warning that without more sanctioning powers for his organisation, changes would be "more cosmetic than real".
"If we continue with the status quo, we in LaLiga have our doubts," he said.