Chelsea overcome Leeds 1-0 to ease pressure on Potter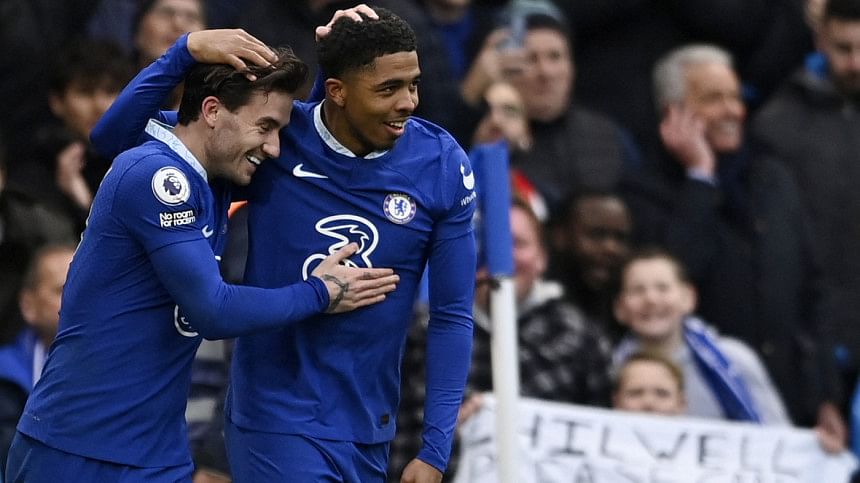 There was almost palpable relief on the pitch, in the tunnel and in the stands at Stamford Bridge on Saturday after Chelsea produced their first win in seven weeks - a stuttering 1-0 victory over struggling Leeds United.
Applause replaced the jeers of previous weeks and players, wreathed in smiles, hugged each other as they left the pitch.
Coach Graham Potter, who took over last September, has been under enormous pressure after a string of sparkless defeats and colourless draws.
The club, under American Todd Boehly and a consortium, spent some 300 million pounds ($361.20 million) in the January transfer window, adding to the expectations to succeed, but Potter has had trouble turning his expensive array of talent into an effective attacking force.
Scoring 24 goals in 25 games is not a strike rate expected of the club used to flying high in the Premier League and who won the Champions League as recently as 2021.
So, even if Saturday's win was less than spectacular, it transformed Potter's post-match demeanour.
"It's a big win," a beaming Potter told reporters. "We are delighted with the win that's for sure because we've had a tough period."
France defender Wesley Fofana, who joined Chelsea at the start of the season, but was sidelined for several weeks with injury, scored the only goal of the game, rising above Leeds defenders to head home early in the second half.
"It's really good for the players to win and to keep a clean sheet," Potter said. "It gives us confidence... as we prepare for a massive game on Tuesday."
Chelsea face Borussia Dortmund in the Champions League last 16 on Tuesday, needing to claw back a 1-0 deficit from the first leg.
They will need to step up a gear to do that but Potter believes Saturday's goal can be the start of many.
"If you create chances the goals will come because the quality of the players is there," he said.
"I'm delighted for the players and for the supporters because they are the most important in the football club."