FIFA 2022 WC, 2023 Asian Cup draw
Bangladesh get Laos in qualifiers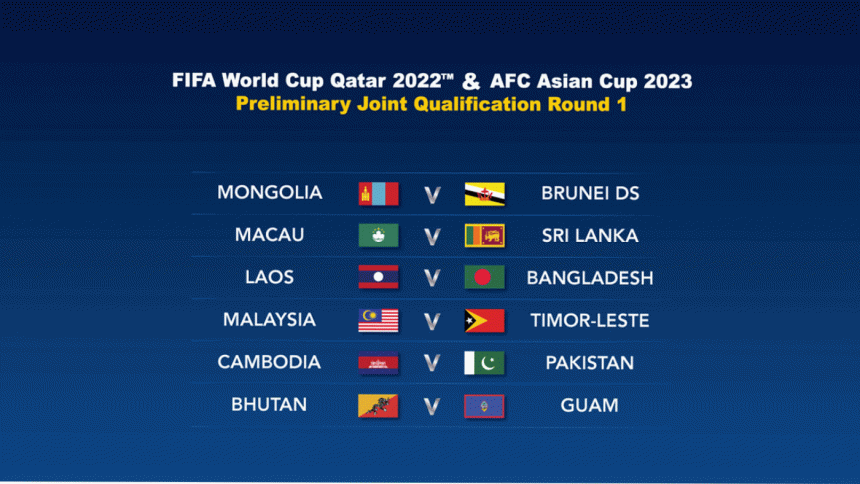 Bangladesh will play against Laos in the first round of the preliminary joint qualifiers of the 2022 FIFA World Cup and the 2023 AFC Asian Cup, according to the draw held at the AFC headquarters in Kuala Lumpur, Malaysia today.
Bangladesh, ranked 188th in FIFA, will play the double-legged qualifier against the 184th-ranked Laos on June 6 and June 11 to decide which team will go through to the next round of group-based qualifiers. 
Bangladesh have played against Laos three times, winning once, losing once and drawing on the other occasion. The first meeting between the two sides during the first round of the 2003 Asian Cup in Hong Kong ended 2-1 in favour of Laos. The second match was a FIFA friendly in Vientiane last year which Bangladesh managed to draw 2-2, despite trailing 2-0 at one stage. The latest meeting took place in October last year in Sylhet during the group stages of the Bangabandhu Gold Cup which Bangladesh won 1-0.
The draw pitted the six seeded teams (ranked 35th to 40th in Asian) against the six unseeded teams (ranked 41st to 46th in Asia) for the first round of the joint qualifiers. The six winners will join the 34 top teams from Asia for the group-based second round of the qualifiers.