Bangladesh football in Salahuddin era: Falling into oblivion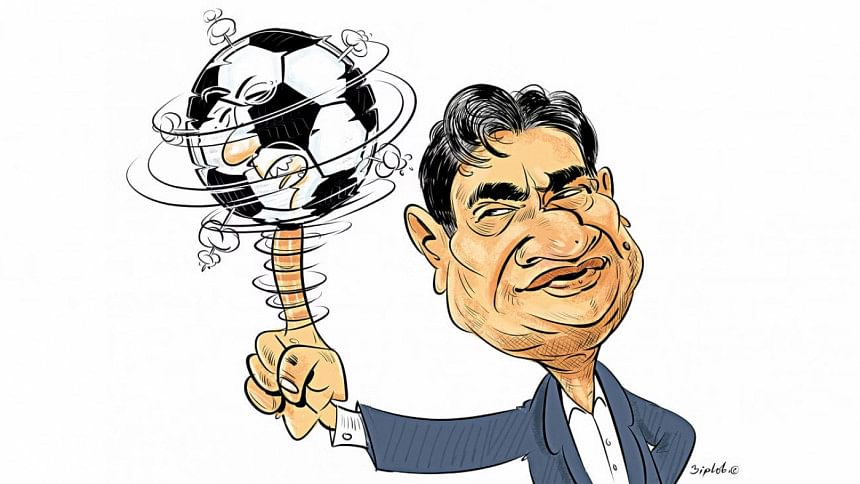 Of late, two major reasons pushed football to suddenly become a focal point of discussion among sports lovers in Bangladesh: the national women's football team's withdrawal from the Paris Olympic women's football qualifiers after the men's team's subpar display against lowly Seychelles in two FIFA friendly matches last month.
Since being elected the president of the Bangladesh Football Federation (BFF) in 2008, Kazi Salahuddin has all but failed to translate his legendary status as a player as his leadership in the last 15 years brought him down from the pedestal. In an attempt to bring forth the contributing factors behind the devolution, The Daily Star's Anisur Rahman summed up the overall scenario.
Men's team: a pale reflection of bygone self
Due to the presence of vastly superior teams, the Asian Football Council (AFC) and FIFA-sanctioned competitions long remained a tough nut to crack for the men's team. As a result, the SAFF Championship has been the apt reference point for Bangladesh to assess themselves at the international level, but the last 20 years since their lone SAFF Championship triumph in 2003 has painted a sorry picture.
Interestingly, under the Salahuddin regime, the men's team could reach the knockout stage of the tournament only once in their last seven attempts. Moreover, despite a greater opportunity to play international friendly matches that surfaced from 2008 to 2023, hardly any reflection of improvement has been witnessed across 120 official and unofficial matches against 33 nations. In that period, guided by as many as 17 local and foreign coaches, Bangladesh could register no more than 32 wins, most of which came against Sri Lanka, Bhutan, Nepal, Cambodia, and Pakistan. 
Rare has been the act of punching above their weights against superior opponents, and even against a 199-ranked Seychelles, comprising mostly non-professionals, Bangladesh failed to assert their style of play in front of a home crowd who once felt ample pride in seeing the men in red and green.
Women's team: confined in a glorified cage
While the men's team headed on a downward spiral, the women's national and age-group teams boasted steady progress at the international level in the last eight years and notched up 19 wins and four draws in 48 international matches since 2010.
Consequently, following several age-group trophies of the regional competitions under the belt, the promising stars from the youth teams lived up to their potential to break the long-held dominance of neighbour India by clinching the SAFF Women's Championship trophy last year.
It is worth mentioning that such a success was not even dreamt of by any local football stakeholders and, thus, the game's governing body must receive some appreciation for having conducted a series of development programmes for women footballers over the years.  However, the BFF's decision to pull out from the Paris Olympic qualifiers shocked everyone, especially since they were eager to see the SAFF champions get back in action after a gap of over six months.
The high-flying women in red and green, on an unbeaten streak of eight matches, continue their agonising wait to resume flight.
Bangladesh Premier League: a mere facade
The standard of a country's football is judged by its top-flight league but Bangladesh Premier League (BPL) is still taking baby steps since its inception around 15 years ago, whereas neighbouring India demoted its I-League to a second-tier competition after promoting Indian Super League to a top-tier league.
Although the BPL is categorised as a professional league, professionalism has hardly moulded into a concrete form due to the absence of definite time-frame for the league, definite number of participating clubs, and the lack of playing venues and quality of match officials. Meanwhile, the participating clubs continue to appear devoid of vision, when it comes to returning their investment year after year, as evident by their apparent charity-based approach.
The clubs may have improved training facilities in the recent past and salary structure for the ready-made senior team in the past decade-and-a-half, but they do not yet have any youth development projects to produce quality players. A couple of players reportedly were each paid more than one crore taka this season but, unfortunately, the standard of performance did not match their wages.
Furthermore, on the back of huge investment from contemporary powerhouse Bashundhara Kings, the BPL has virtually turned into a one-way affair, shrinking the number of competitive matches, leading to players crumbling under pressure at the international level, both club and national team-wise.
Lower division and district leagues: pipeline remains a pipedream 
The BFF boss often proudly states that he has kept rolling the top-fight football since taking over, but he hardly talks much about the all-important pipeline.
As the lower division and district football leagues are being held irregularly, there has been a dearth of quality players across the country. It has resulted in unproven footballers often making the cut to the national side on the back of few impressions at the top-flight.  
So far in Salahuddin's regime, the senior division has been held five times, while the second, third and district leagues had registered only four, six, and four instances, respectively. It is striking that there has not been any instance where all leagues, from top to bottom, were featured in a single season.
Despite repeated appeals from the organisers to roll the leagues or provide the financial assistance to run district leagues, which were once main sources to produce the players across the country, the BFF councilors  had paid little attention once elected.
Although it is the BFF's responsibility to run all leagues across the country, the BFF president said after the 2022 annual general meeting: "We don't have any directive from the FIFA to run district leagues. The DFAs [District Football Association] should look to organise leagues instead of looking at us for money."
However, around 12 to 15 districts hold the district football league regularly without the financial help from the BFF, which means around three-fourth of the hidden gems across the country potentially remain unearthed.
Grassroots programme: seemingly uprooted
Country's leading coaches have often said that there is a lack of educated footballers locally as there is virtually non-existent grassroots programme to groom players from a tender age. Although the BFF has been running the women's youth programme for a long time and went on to form Elite Academy in 2021, exclusive for boys aged between 16 to 19, it remains a far cry from the optimum development criteria. 
In the era of professionalism, clubs must possess different youth teams. Unfortunately, Fortis FC now stand as the lone entity among 11 professional clubs in that regard after now-defunct Saif SC, who had a youth structure in place with BKSP's association, went on to abandon proceedings after a year.
After the BFF congress in 2022, Salahuddin had promised to organise two tournaments – Sheikh Kamal U-18 championship and Sheikh Russel U-12 championship – regularly to cover youth circuit but it has not seen the light yet. Furthermore, the federation has trimmed the school football tournament to only 64 participating schools, citing a baffling reason that the school tournament has no impact in the bigger picture.
Coaches' programme: certified majority in the dark 
The number of certified coaches was less than 100 before 2008 but ever since BFF technical director Paul Smalley started conducting the AFC certificate courses, the numbers improved by leaps and bounds – amounting to 1022, with 423 grassroots, 452 AFC C diploma, 88 AFC B diploma, 53 AFC A diploma, and six AFC professional diploma coaches.
While the country's leading coaches are working with top clubs, the ones down the hierarchy who also paid handsome money to acquire coaching licences are not getting the necessary platform to hone their skills and be financially solvent due to the uncertain fixtures of lower division, district and youth leagues.
Financial state: does the board really mean business?
During the 2022 BFF congress in October, an estimated budget of Tk 49.340 crore was presented for the 2022-23 fiscal against the projected income of around Tk 41.495 crore, including the financial help from the FIFA and AFC. The two leading governing bodies together provide Tk 20 to 22 crore to the BFF per year, according to last Monday's statement from Salahuddin. The board president also informed that they do not have the capacity at present to bring a further one crore for the women's circuit from sponsors.
Currently, the board runs most of its events on the back of sponsorship money from Bashundhara Group and Dhaka Bank. Previously, however, corporate houses like CityCell, Grameenphone, Nokia, KFC, Epyllion, Prime Bank, Islami Bank, Modhumoti Bank, Saif Powertec, Manyavar, Walton, Dhaka City Corporation and few others had arrived as sponsors but once their contract with the BFF expired, the board failed to retain their services.
In the last fiscal of 2021-22, the local game's governing body spent Tk 30 crore, of which one-third was allocated behind administrative expenditures. So far, in turn, a large part of that money has been spent behind three to four persons.
Based on the aforementioned figures, it is unfortunate that the board's financial limitations had barred the national women's team from participating in Olympic qualifiers. Hence the question naturally springs up on the collective front: is it worth having such a high-maintenance administration if Bangladesh football keeps moving to the edge of beyond repair? 
What he said
2008
"Money has always been a big problem for the game in the least developed countries like us. We need a committee which will go to the corporate houses and make an impression on them to bring funds to football."
2011
"I am a greedy person; greedy for success. I am my biggest critic. I have been like this ever since I played football, when even if I had scored a hattrick, I felt I could have done more. It is the same here. Things have been done, many positive things. But wholesale change needs more time and dedicated sponsors. As I have said, I am a technician, not a magician."
2013
"What I can say is that we will do everything in our power to fulfil that dream, which is a place in the 2022 Qatar World Cup finals."
2016
"I will give the emphasis on three things -- district football, club football and the national team. In order to run the federation as well as run the country's football, the pledges of the manifesto will have to be materialised."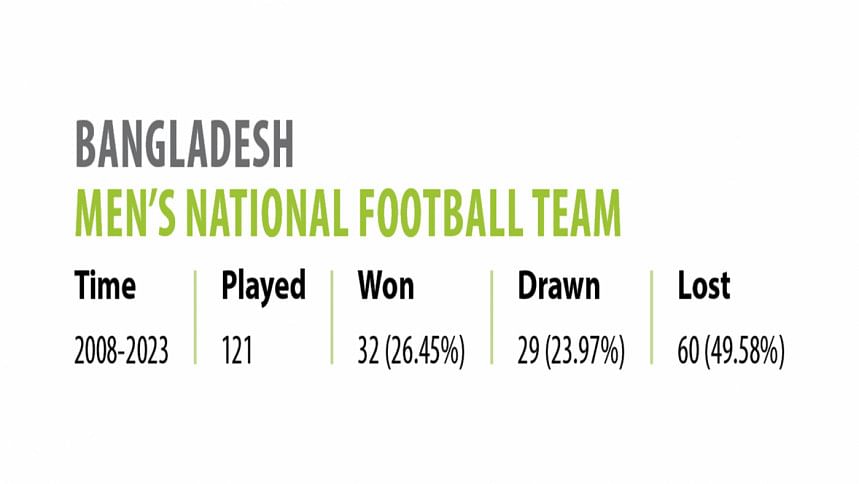 2018
"It [good result] is not going to happen in one or two days. We need to work hard, train hard and do better. Good things take time. We are all working towards winning."
2022
"There are many matches at the Asian level in the coming days [for Bangladesh women's football team]. We will arrange the money needed for these matches. The team will have to work 60 per cent harder in training. Our target now will be to catch up with the ASEAN teams, or else we will fall back."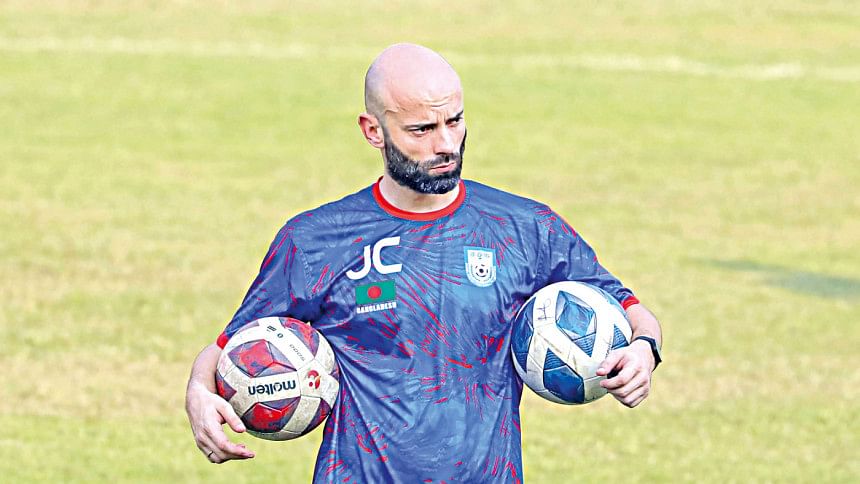 Coaches during Salahuddin's tenure
Bangladesh men's national team had 17 coaches in 23 different stints so far since Kazi Salahuddin took charge of the BFF in April, 2008.
Five of the 17 Bangladesh coaches featured domestic products: Abu Yusuf, Shafiqul Islam Manik, Shahidur Rahman Shantoo, Saiful Bari Titu and Maruful Haque. Foreign coaches include: Dido/Brazil, Robert Rubčić/Croatia, Nikola Ilievski/North Macedonia), Lodewijk de Kruif/Netherlands, Fabio Lopez/Italy, Gonzalo Moreno/Spain, Tom Saintfiet/Belgium, Andrew Ord/England, Jamie Day/England, Óscar Bruzón/Spain, Mário Lemos/Portugal, Javier Cabrera/Spain.
Three of the 12 foreign coaches -- de Kruif, Day and Cabrera -- have guided Bangladesh in 10 or more matches.
English coach Day, who was in charge from 2018 to 2021, was the only coach to taste 10 or more wins for Bangladesh. However, the relationship between the BFF and Day ended on a sour note.