Afghanistan coach full of praise for Bangladesh players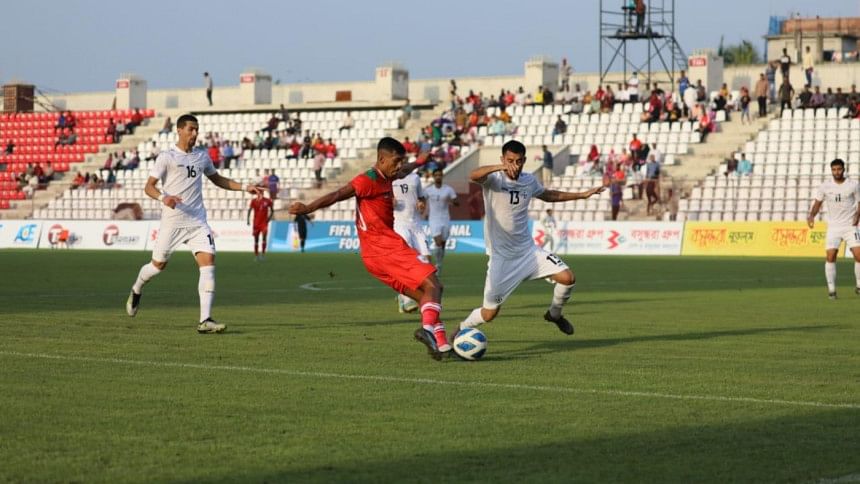 Sheikh Morsalin, who came into the limelight with two brilliant goals against Maldives and Bhutan during the SAFF Championship two months ago, will probably need a long time to forget the chance that he missed against Afghanistan in the FIFA friendly on Sunday.
Receiving a long-ball from Bishwanath Ghosh, Rakib Hossain raced into the box from the right flank to square it inside the box for unmarked Morsalin, who drove way off target with only the Afghan goalkeeper to beat.
Later, in the second half, Rakib, too, missed an easy chance as Afghanistan extended their unbeaten run against Bangladesh to seven matches.
Afghanistan coach Abdullah Almutairi believes Morsalin could have been the star of this match had he scored that goal.
"When someone is tired, he may not make a good decision. He drove well, but it was a bit high. If he had scored the goal, everyone would have said Morsalin was the star of the match. But this is the system; sometimes they are too tired and let's not blame the players for missing one chance or making a mistake," said Almutairi about Morsalin's missed opportunity.
When Bangladesh coach Javier Cabrera was asked whether he was frustrated with the missed opportunity, he said, "It is great that we keep on creating chances, that is clear. Rakib and Morsalin are dangerous. If they had to miss, they missed, let them miss today. They have to learn and take advantage and convert these against Maldives." 
The Afghanistan coach also said that they stopped Rakib and Bishwanath with a specific plan.
"I think we stopped Rakib very well. We did not give chance Ghosh to support Rakib. We also blocked the area for Jamal (Bhuiyan). So our defending system was good but we made three mistakes. Those mistakes could have given Bangladesh goals," admitted Almutairi, who aslo wished to have Bishwanath in his own squad.
"First, I say hello to Ghosh and hello to his two beautiful daughters and I hope all best of him.  I didn't challenge Ghosh. I wish I have Ghosh in my team. He played very hard today," said the 41-year-old coach, who previously guided Nepal to a 1-1 draw against Bangladesh in 2021 SAFF Championship in Maldives.
Asked about the difference between the Bangladesh team in 2021 and the onethe Kuwaiti said, "That time they had more plans on Jamal but now they can find the solution without Jamal. Rakib has grown up tactically. If you notice after 45 minutes, he made signs that I would go inside. From the first touch, he was inside of our box, so that is the difference."
Almutairi also believes Bangladesh have been improving by playing more International friendlies.
"When the players will play more, play together, they will grow. When they grow, you will find the difference. Before Bangladesh, Nepal, Sri Lanka did not use the FIFA window, only India used it. But they (Bangladesh) have changed by using FIFA window. They played Cambodia before SAFF Championship and it gave more experience for the players."