Nepal lift Bangabandhu Gold Cup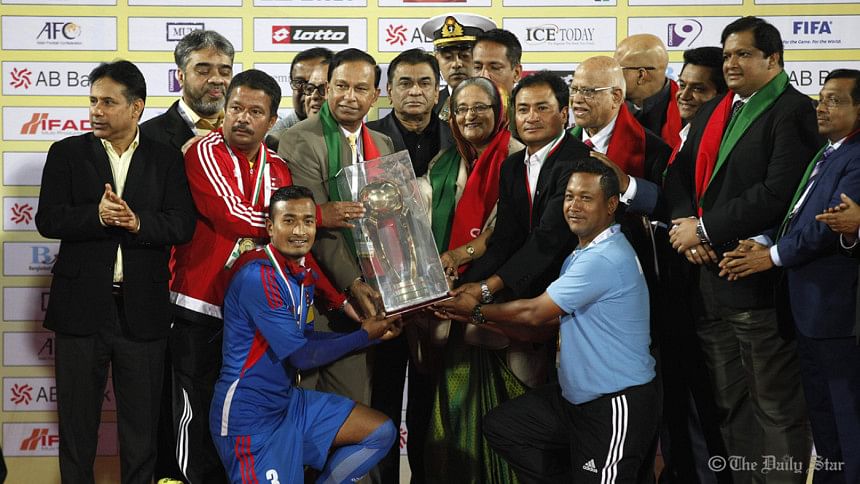 Nepal won its first international title in 23 years, beating nine-man Bahrain 3-0 in the final of the Bangabandhu Gold Cup at the Bangabandhu National Stadium in Dhaka this evening.
The Gorkhalis had won the South Asian Games in the same stadium in 1993 led by Raju Shakya. The present Nepal coach, Bal Gopal Maharjan, was a member of the winning team, reports The Himalayan Times. 
Bangladesh Prime Minister Sheikh Hasina presented the winning Nepal team with the Bangabandhu Gold Cup 2016 trophy at the presentation ceremony following the match. 
Bimal Gharti Magar, Bishal Rai and Nawayug Shrestha scored one goal each to guide the Himalayan nation to the spectacular victory against Bahrain at the Bangabandhu National Stadium today.
Magar had made an early breakthrough for Nepal on the fifth minute, while Bishal Rai doubled the tally on the 87th minute, utilising on Anjan Bista's pass, the Nepalese newspaper adds.
Nawayug Shrestha, who scored a hattrick in the semifinal against Maldives, netted the third goal in the first minute of the stoppage time.
Both Nepal and Bahrain were reduced to ten men on the 81st minute of the game after Suman Lama and Al Thawai received second yellow cards as they were involved in a brawl.
Bahrain side was further reduced to nine men in the second minute of the added extra time when Abdul Aziz received a red card for a kick to Biraj Maharajan of Nepal. 
Shrestha became the leading scorer of the tournament with four goals to his credit.
Nepal began the campaign with a goalless draw against Felda United FC of Malaysia and defeated Sri Lanka 1-0, with Bimal Gharti Magar scoring the winning goal.
In the last group-stage match, Nepal had a goalless draw against hosts Bangladesh to finish as Group A runners-up. Nepal then exhibited a strong show in the semifinal against Maldives riding on the hattrick by Shrestha and another goal by Bishal.