Booters take on Laos today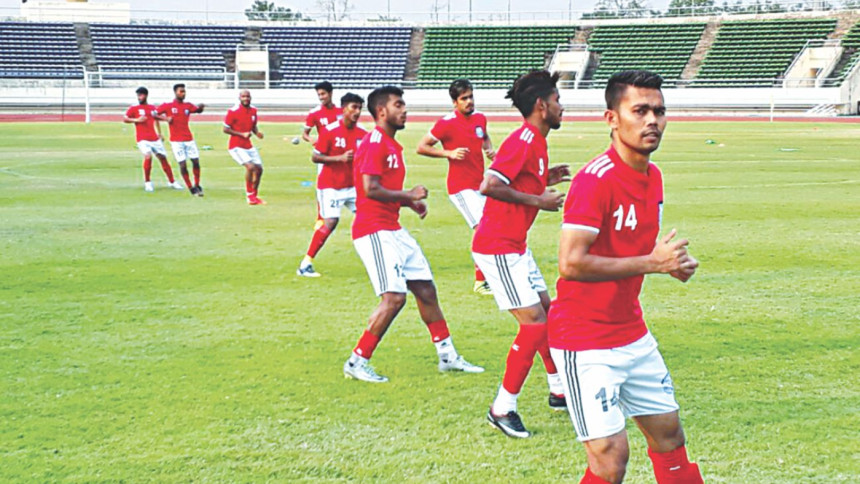 The Bangladesh national football team's long wait for an international match is over as they are set to play against Laos today, 17 months after their shocking 3-1 defeat against Bhutan.
Ahead of today's FIFA friendly, Bangladesh have prepared for nearly six weeks at home and aboard and played two warm-up matches against Thai Premier League clubs before heading to Laos, who had beaten Bangladesh 2-1 in their lone meeting during the 2003 Asian Cup qualifiers.
Head coach Andrew Ord has picked a squad with mixture of experienced and young players. The 38-year-old coach will certainly look to heal the wounds of that defeat 17 months ago while trying to put up some positive signs to get the team back on the track of improvement.
Performing on the pitch though will be tough for the booters, who are believed to be short of confidence after staying away from international football for so long.
However, the team's performance against Bangkok Glass FC in a warm-up match can motivate the players. The return of seven Abahani players, who joined the camp following their AFC Cup engagements, will also provide a further boost.
"The coaching staff has done everything possible to prepare the players for this game. We have treated the camps like a professional club environment; we have tracked and monitored everything that the players do," Ord was quoted as saying on a Bangladesh Football Federation statement yesterday.
"Whatever we have practised so far, we have to implement it on the field. We have to be able to execute our game plan. We cannot throw away the game in any way which would make things difficult for us," Ord said. "Mentality is way better than when we first started. The players have tried hard and come out of bad habits that they had before. The good thing is that I have 17 players who can all start the game now."