BFF closes in on Saintfiet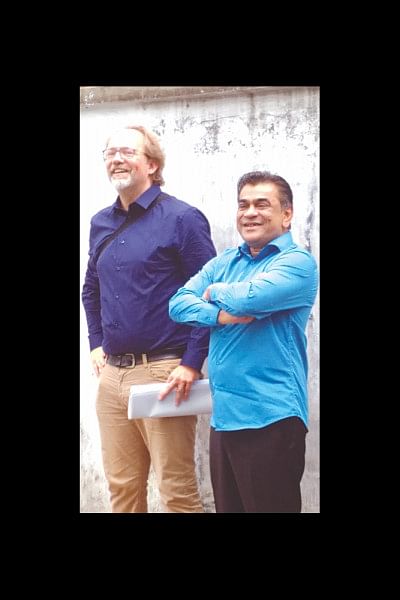 The Bangladesh Football Federation (BFF) has moved one step closer to appointing Tom Saintfiet as the head coach of the national team after the federation's president, Kazi Salahuddin, held a fruitful meeting with the Belgian at his office yesterday. The discussion between the two, in presence of BFF's general secretary, is believed to have made sufficient headway in appointing the 43-year-old coach for the national team's Asian Cup Qualifying playoffs against Bhutan.
Even though the BFF boss claimed the discussions were at a primary stage, he did say that if things go well, the Belgian could be on board within two weeks.
"The meeting went fine. We discussed what we want and what he wants. The discussion is at the primary stage," Salahauddin told reporters after he took the Belgian to watch the training camp of the under-16 women's team at the BFF artificial turf.
"If appointed, Tom will be given charge of the national team only for the matches against Bhutan (on September 6 and October 11). If the team qualifies, only then we will go into discussion for a long-term contract because there would be no point in paying a coach high salaries if the team doesn't have any international assignments," Salahuddin added.
Saintfiet, who has watched the two semifinal matches of the ongoing Federation Cup and will leave after watching the final and holding another meeting with the BFF president in presence of National teams Committee chairman, said he is gathering information about the players of the national team.
"I have to discuss things with my people -- my family, my staff -- before we decide. I saw two games and I like what I see. I believe that Bangladesh has to win against Bhutan and qualify for the final Asian Cup qualifiers. I understand that the federation must be also wise and cannot sign a two-year contract if there is no security of playing games," said Saintfiet.
"I saw almost half of the important players and I think there is a lot of potential to not only win against Bhutan, but also to qualify for the Asian Cup where there will be 24 teams for the first time. It's a big opportunity for Bangladesh," added the Belgian.
It has been learnt that there has been discussion regarding the coaching staff, which could include a foreign goalkeeping coach and a fitness trainer of the coach's choice alongside local coaches to assist them.