England players look sharp in team suits as they fly to Dhaka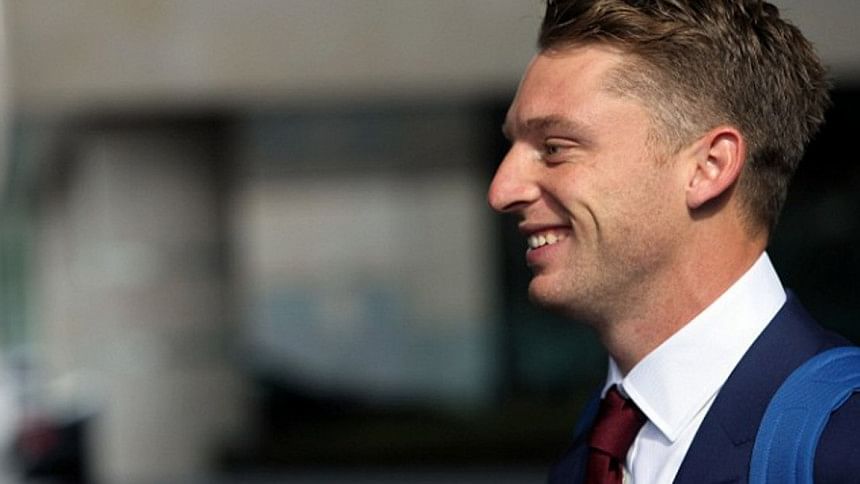 England's players and coaching staff certainly looked the part as they jetted off for their tour of Bangladesh on Thursday. They are scheduled to reach Dhaka today.  
The national squad were dressed up in smart, matching blue suits, white shirts and red ties as they left the Sofitel Hotel at Heathrow to board their flight to the sub-continent, reports the Daily Mail.
Stand-in limited-overs captain Jos Buttler was in good spirits, with the Lancashire wicketkeeper-batsman displaying a beaming smile as he headed for the team plane.
He was joined by the likes of Moeen Ali, Adil Rashid, Jake Ball, Ben Stokes and David Willey - all of whom are included in the one-day international squad for the upcoming three-match series against their Bangladeshi hosts.
Director of Cricket Andrew Strauss and coach Paul Collingwood accompanied the players as they set off for their autumn trip but a number of key names were absent.
Eoin Morgan and Alex Hales have chosen not to be involved in the tour due to their concerns over security in the region following recent terror attacks, while Jimmy Anderson and Mark Wood have pulled out through respective shoulder and ankle injuries.
Buttler will fill in as limited-overs skipper for Morgan but he does not plan on making too many changes to the team's approach to white-ball cricket.
'I'll be calm but authoritative,' he told Sky Sports. 'The important thing is for me to be genuine. I'm not going to try and be someone I'm not.
'I think I view the game in a very similar way to Eoin Morgan, I will try to be aggressive and I'll ask the guys to play in the same way that we have been for 18 months because that's been successful.'
The absence of Hales gives Northamptonshire's Ben Duckett the chance to shine up the order.
Duckett, who made history this week when he was named as Professional Cricketers' Association Player of the Year and Young Player of the Year, carried a bottle of water and a suitbag in one hand and his passport in the other as he left the team hotel with his new-found international status seemingly still sinking in.
Collecting his two awards from the PCA, Duckett said on Wednesday: 'I got my England call-ups and so many other things have happened.
'If someone had said at the start of the season that all this would happen I wouldn't have believed it.'
England are scheduled to take part in a tour match in Dhaka on October 4 prior to three ODIs on October 7, October 9 and October 12.