'Wrong 'cos it didn't work'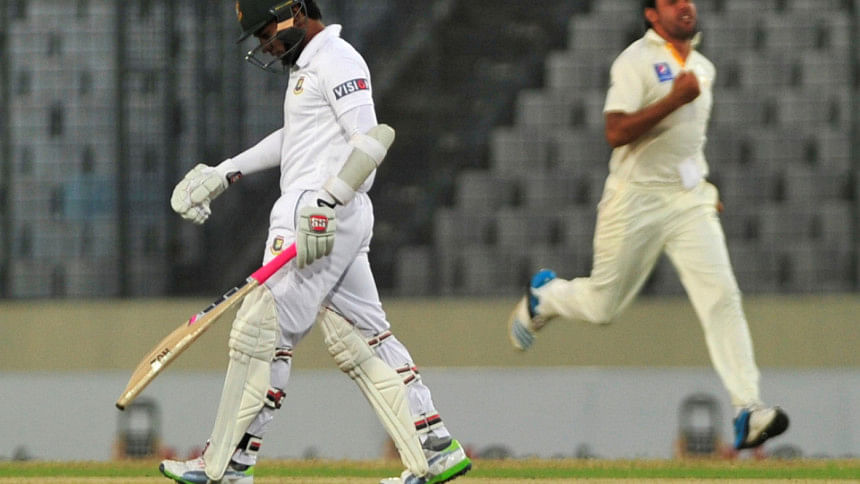 Dropped catches, an injured ring finger and his worst batting average in a series, 11.00, in the last five years; Mushfiqur Rahim will want to bury the memories of the just-concluded Test series against Pakistan as soon as possible.
Now, there's no question regarding the wicketkeeper-batsman's ability or his commitment to the team, he still remains Bangladesh's most consistent batsman. However, the chink in his armour becomes visible when he takes certain decisions as captain, with the latest being his choice to bowl in the Mirpur Test.
It therefore wasn't a surprise that that was the very first issue raised in the post-match press conference yesterday.
"We had three pacers in the side including Soumya [Sarkar] and to bowl first was a collective decision of the team management. If it seems wrong then that's only because the outcome wasn't favourable. If it was, then people wouldn't have talked as much," said Mushfiqur.
When asked if the team management had considered the top order's good batting form and whether they thought of giving them a chance to continue that run he said, "That was obviously in our minds. To be honest, many of you thought that we should have batted first, but we reckoned that the pitch would have helped the bowlers more in that session.
"If Shahadat [Hossain] weren't injured the outcome could have been different. But yes, what I feel bad about is that we couldn't bat up to our expectation," he added.
Mushfiqur's initial argument was logical. After all, the Tigers could have applied more pressure with an additional pacer and they also could have had two extra wickets in the first session had their bowlers not overstepped.
However, the statements that he made, about his bowling attack, further into the press conference, left many confused.
The skipper was disappointed with his side's bowling attack and believed that even Zimbabwe had a 'more effective' pace attack than the Tigers.
"Our bowlers are way behind our batsmen in terms of effectiveness. They need to work harder. They need to practise harder and learn how to take 20 wickets. We have been able to do that only against Zimbabwe.
"The kind of wickets we play on in our first-class circuit, it allows pacers to bowl just 10 to 12 overs and then the spinners dominate. I know I have said this number of times, but we need wickets on which pacers can improve themselves," he said.
"We have a lot to work in the bowling area. Because when batsmen come out to bat and see that they are 600 runs behind then it becomes difficult for them," he added.
Mushfiqur's statements truly reflected the dire scenario of Bangladesh's bowlers. Shakib Al Hasan hasn't been in form, Mohammad Shahid was making his debut, Shahadat Hossain hasn't generally been a wicket-taker, while Soumya only just began his international career as a batsman.
Taking all those statements into account, the decision to bowl first continues to remain a puzzle.