Two-three punch not landing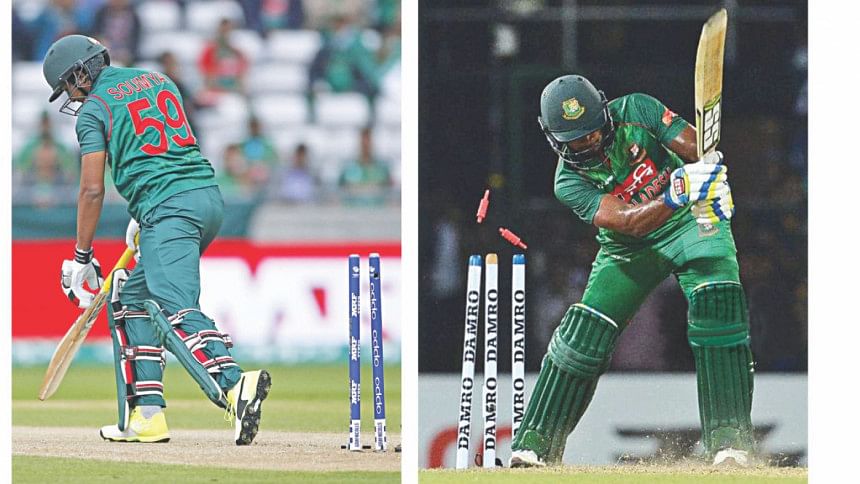 The Champions Trophy was a demanding task for Bangladesh and while it may seem that a semifinal finish is a landmark accomplishment for the country's cricket, it can justifiably be said that the Tigers have returned from England with more questions than they had on the outward journey.
The previous tour of Sri Lanka was a happy affair for Bangladesh; the solid core of seniors was getting more than handy support from youngsters like Soumya Sarkar, Sabbir Rahman, Mosaddek Hossain and Mustafizur Rahman. However, that bubble of optimism burst in the near seven-week tour of Ireland and England, during which the seniors had to work overtime to yield results. While Mosaddek has hardly gotten opportunities to prove himself as he batted at number seven or eight, the cases of Sabbir and Soumya are a bit more concerning.
It is concerning because the Bangladesh batting has shown a tendency to either collapse or lose momentum, especially when it comes to 50-over cricket. The two-Test series against Australia in August-September will be challenging enough, but since it will be at home cracks can be papered over. There will however be no place to hide when Bangladesh travel to the hostile territory of South Africa in October, so the Australia series and the preceding training period will be the time to sort out some of the issues.
Soumya has enjoyed one of the longest grace periods under coach Chandika Hathurusingha after some fantastic innings in 2015, which was followed by 23 innings without a half-century across formats till his 86 in the second Test at Christchurch in January this year. That was followed by a renaissance of sorts in Sri Lanka where he hit three consecutive half-centuries in the Tests.
He then hit two half-centuries in Ireland -- a 61 against a weakened New Zealand side and then an unbeaten 87 against Ireland, but when the going truly got tough as the Champions Trophy got underway, he could only manage 34 runs in four innings, including 28 in the first match against England and a duck in the semifinal against India.
As much as the inconsistency, it is his position in the batting line-up that is a source of bother. His footwork is minimal, especially early on in his innings, and that is where he was found wanting against quality attacks in the Champions Trophy.
The persistence with Soumya is often justified by pointing to the damage he can do when he does click, but the question to be asked here is whether Bangladesh can afford a bonus player. And if the answer is yes, the follow-up question is whether that gamble has to be taken at the pivotal opening position, when someone like Imrul Kayes is waiting on the bench.
With Sabbir, technique is not really the problem. His elevation to number three during the ODI series against Afghanistan in September last year was a welcome development as most thought that Sabbir's brand of aggression was a nice fit to drive the Tigers' innings from one-down, as long as it was allied to a bit of discretion. That discretion, however, has been missing for the most part.
Sabbir works hard on his technique, but his temperament -- the lack of which was on full display in his frenetic innings in the semifinal -- is not yet suited to the demands of the number three position. He has been given 15 matches in the position and in his 10 innings this year he has had just two half-centuries while he looked out of depth when batting at number three in the Champions Trophy.
At the end of the Sri Lanka series, what appeared to be a settled team now seems to be in flux again, with the three youngsters in the batting line-up having to justify their places. It is now up to the team management to sort out the issues before the Aussies get here.