'Stain on the game'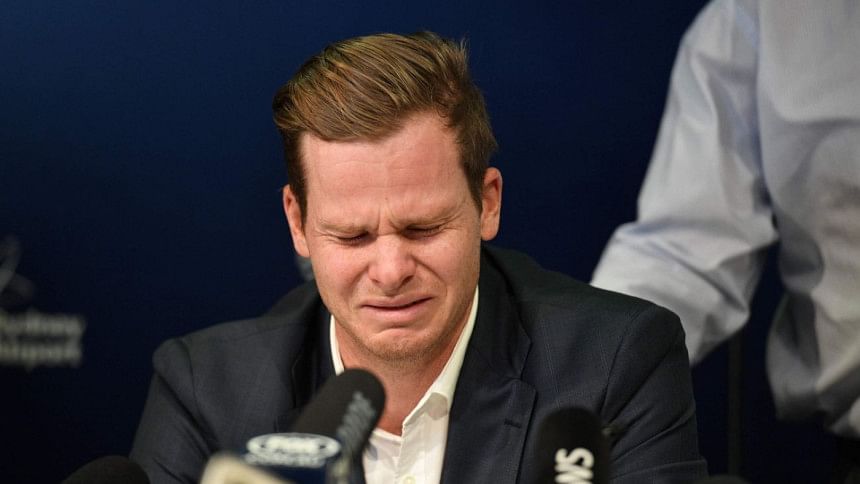 "To all of my teammates, to fans of cricket all over the world, and to all Australians who are disappointed and angry: I'm sorry.
What happened in Cape Town has already been laid out by Cricket Australia. Tonight, I want to make clear that as captain of the Australian cricket team I take full responsibility.
I made a serious error of judgment and I now understand the consequences. It was a failure of leadership, of my leadership.
I'll do everything I can to make up for my mistake and the damage it has caused.
If any good can come of this, if it can be a lesson to others, then I hope I can be a force for change. I know I'll regret this for the rest of my life. I'm absolutely gutted. I hope in time, I can earn back respect and forgiveness. I've been so privileged and honoured to represent my country and captain the Australian cricket team.
Cricket is the greatest game in the world. It's been my life, and I hope it can be again. I'm sorry and I'm absolutely devastated.
Steve Smith 

at a press conference at the Sydney Airport yesterday, 

where he had an emotional breakdown."
-----------------------------------------------------------
Steve Smith, David Warner and Cameron Bancroft returned to their respective hometowns with the weight of the world on their shoulders yesterday. Having been caught red-handed implementing a ball-tampering ploy on the third day of the third Test against South Africa in Cape Town on Saturday, the trio were handed harsh sentences (one-year bans for captain Smith and vice-captain Warner, and a nine-month ban for rookie batsman Bancroft) and sent home in disgrace.
Smith gave a tearful press conference upon his arrival in Sydney. Warner, a divisive figure who was charged with developing the plot and instructing Bancroft to carry it out, also broke his silence to say sorry and admit his actions had been "a stain on the game".
"Mistakes have been made which have damaged cricket," he told his 1.6 million Instagram followers as he made his way back to Sydney.
"I apologise for my part and take responsibility for it.
"It's a stain on the game we all love and I have loved since I was a boy," he added.
In handing out their tough punishment, cricket chiefs bowed to uproar at home where sportsmen and women are held in high esteem and expected to act in the best interests of the game.
Authorities also needed to act decisively to counter mounting concern from sponsors over reputational damage.
CA's response wasn't enough to save an estimated Aus$20 million (US$15 million) partnership with naming rights sponsor Magellan which tore up its three-year contract Thursday after barely seven months.
The financial cost for the players is also growing with sporting goods company ASICS ending its relationship with Warner and Bancroft. Electronics giant LG axed Warner on Wednesday, while Weet-Bix and Commonwealth Bank dumped Smith.
Other team sponsors, including Qantas, have voiced their deep disappointment over the scandal but so far have taken no action.
'All I can do is ask for forgiveness'
An emotional Bancroft said he was ashamed of himself when he arrived back in Perth.
"All I can do in the short term is ask for forgiveness," he said, while denying he had ever tampered with a ball before, in comments echoed by Smith.
"I have made a big mistake for allowing this to happen," said Smith.
"This is the first time I have seen this happen and it will never be happening again."
Smith -- the world's number one Test batsman -- was charged with knowledge of the potential ball-altering plan, while Warner was charged with developing the plot and instructing Bancroft to carry it out.
CA said Bancroft, who has played just eight Tests, had illegally attempted to "artificially alter the condition of the ball using sandpaper".
It added that Smith had continued to try to cover up the cheating plot by issuing "misleading public comments regarding the nature, extent and participants of the plan".
In a further blow, it ruled Smith and Bancroft would not be considered for team leadership positions until a minimum of 12 months after the end of their suspensions, and Warner will never lead again.
While they are banned from top-level cricket, they can still play at club level in Australia or in other countries.
Lehmann remains in charge because Cricket Australia said he was unaware of what was going on.
Wicketkeeper Tim Paine will take over the Australian captaincy for the fourth and final Test starting in Johannesburg on Friday, with Matt Renshaw, Glenn Maxwell and Joe Burns drafted in as replacements.