Stage set for ultimate grudge match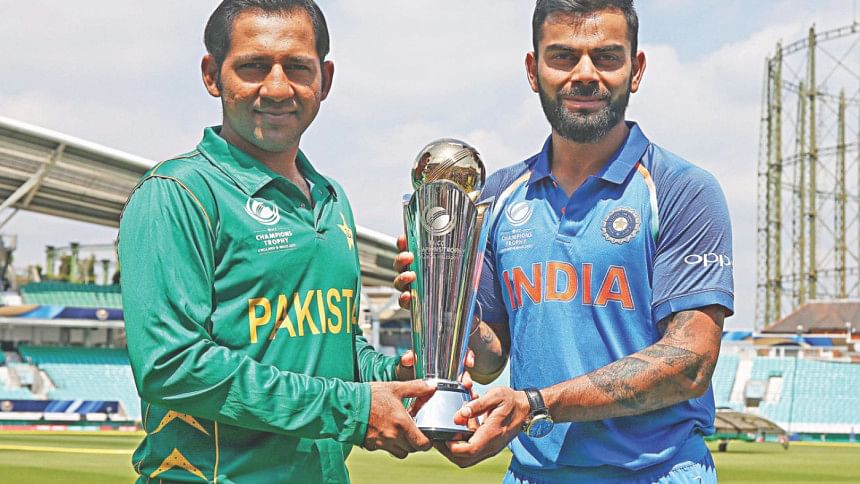 An India-Pakistan match was once considered the mother of all battles on a cricketing plain, but for the last few years the rivalry has lost a lot of its gloss on the field, if not that overflowing emotion among the fans of the two sub-continental neighbours. It is also a battle that drew enormous interest in Bangladesh, where fans were distinctively divided into two camps, over the years. However that has subsided to a great extent with the rise of the Tigers from pushover to contenders.
The India-Pakistan rivalry will take centre-stage at The Oval today, when they play for the ultimate glory in the Champions Trophy final.
The final being played between the two teams is as surprising as Bangladesh's progress into the semifinals, where India defeated them by a massive nine wickets. Pakistan entered the tournament as the bottom-ranked side in the eight-team event and lost their opening group stage fixture against India by an enormous 124-run margin.
After long being an isolated nation, where teams do not travel to since the 2009 terror attack on the Sri Lankan team bus, Pakistan have gone from bad to worse as far as their ODI fortunes are concerned. Their rivalry with India was also off-tracked following India's stance against bilateral series against its bitter neighbours.
But despite facing a lot of adversities on and off the field, Pakistan kept their one unique character intact -- they are still the most unpredictable team in world cricket. They made a spectacular turn-around after that defeat against India, winning against South Africa and then beating Sri Lanka to set up a semifinal clash against hosts England. At Cardiff they disposed of England, the most impressive team in the event who were tipped to win the title, with a stunningly easy win.
India, who will look defend the title, also had a bumpy ride. They were surprised by Sri Lanka in the group stage despite scoring 300-plus runs. However Virat Kohli's men were very ruthless and clinical against South Africa and Bangladesh.
India have set a lofty standard against Pakistan when it comes to clashes in ICC events. They will go into the final on the back of seven straight wins against their bitter rivals, whose last victory against India came in the 2009 ICC Champions Trophy. India also enjoy a 13-2 record against Pakistan in ICC events and also lead Pakistan 8-2 in ICC ODI events. Pakistan however still enjoy a substantial 72-52 lead overall in ODIs.
Going into the game, Kohli said that past records would not win them the game. He was said that they were 'neither over confident nor complacent' ahead of the final.
"We have done the same preparation for the final as we did in our first game," he said, adding that he was not interested in the strengths or weaknesses of the opponents. His focus was on his own team's abilities and executing their plan without any pressure.
Pakistan are no star-cast team. Apart from a few senior players such as skipper Sarfraz Ahmed, Shoaib Malik, Mohammad Hafeez and Mohammad Amir, who has been declared fit for the final after missing the semifinal due to injury, Pakistan have many players never heard of in the international circuit.
Sarfraz said that his team would be as aggressive as they were throughout the tournament and were ready to pull off a final surprise. The Champions Trophy has been generous so far, producing six winners in its seven previous editions.
Will it present its seventh winner in the likes of an unpredictable Pakistan or will it be a third for India and Virat's first as captain.
The pitch at the Oval was covered the day before the game. It was not to protect it from rain, but from the biting sun. And you can expect another belter of a wicket that the ground is famous for. It will be an intriguing battle between Pakistan's versatile bowling against India's imposing batting. Let's hope the best performer wins the game.