Return to cricket a lengthy process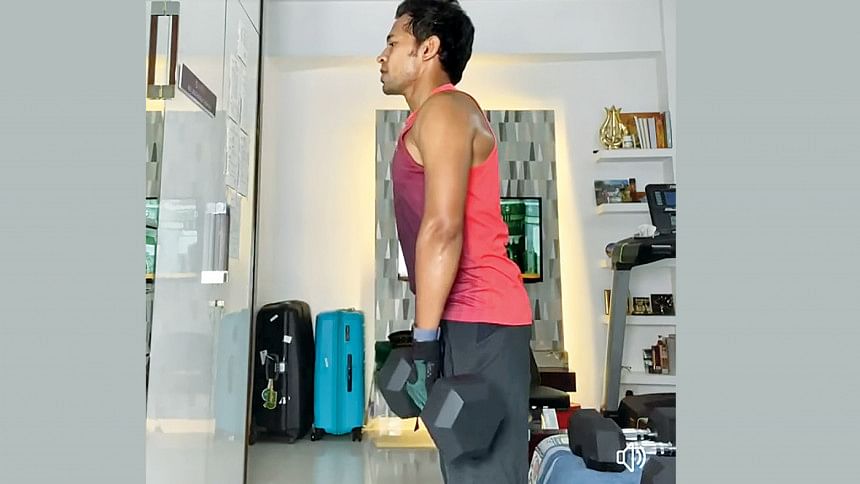 With the new normal very much in mind, sporting activities have slowly started to resume around the world. That is not yet the case for Bangladesh, one of the worst-hit by the coronavirus pandemic, but with the resumption of cricket on the horizon -- the BCB has still made no decision over a three-Test tour of Sri Lanka in July -- players now have to get back to their regular lifestyles. But after such a long halt, will it be easy to get a jump-start on proceedings?
According to the BCB physiotherapist Bayjedul Islam Khan, the resumption of cricket is a long process and will require players to be patient.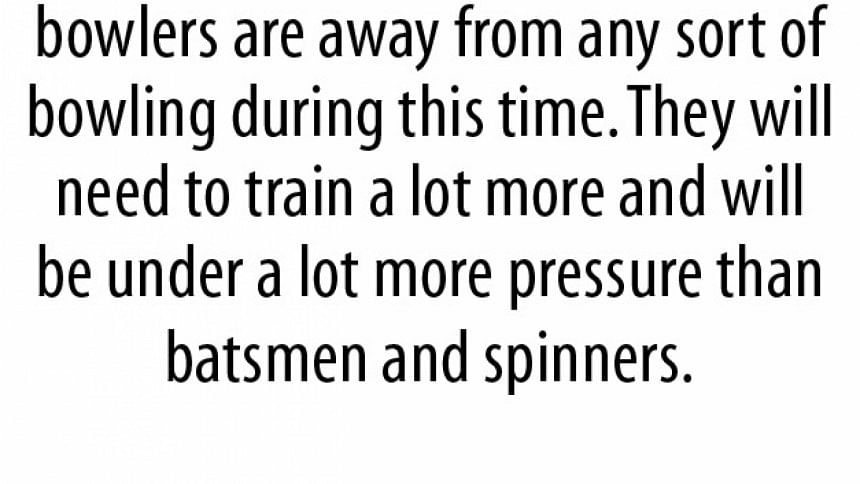 "Players will at least require six weeks of fitness training. The first three weeks will be for the players to get functional adaptability while the final three weeks will be for skill training and other fitness activities. This will help the players get into decent enough shape before they go to play a series or any tournament," Bayjedul told The Daily Star.
The ICC stated the need to exercise extra caution over bowlers' workload in their 'back-to-cricket guidelines', saying it would require bowlers to go through 8-12 weeks of preparation before playing Test cricket. Bayjedul voiced a similar opinion.
"Fast bowlers are usually more vulnerable to injuries. The quicker bowlers are away from any sort of bowling during this time. They will need to train a lot more and will be under a lot more pressure than batsmen and spinners. Their bowling workload needs to be managed as it is not possible for any bowler to gain match fitness overnight," explained Bayjedul.
"It is a very lengthy and time consuming process as their bowling workload needs to be increased gradually. For instance, if the fast bowlers need to play a Test after six weeks of training, the team might be able to employ three pacers with 13 overs allocated for each of the bowlers for the first three days. But when there will be another Test in the coming week, then using these same set of fast bowlers will be very risky as they will be more vulnerable to injuries."
Coming back to training after a long lay-off may encourage players giving a bit extra in the training sessions to get back to rhythm quicker, but Bayjedul explained why the players should be refraining from pushing their limits.
"In most of the cases it will be seen that the players will be lacking stamina and their lung capacity will be less. When players will get tired, they might be willing to give more but their body won't allow it. And if they try to put extra effort then they will be putting extra load on their body and their body structure will not be able to take it. Since the players now are not doing intense gym workouts like before, putting extra effort might disrupt their body and that is when there is a chance of the body suffering a breakdown," said Bayjedul, who also mentioned that players may mostly suffer from three types of injuries -- back spasms, side strains and hamstring injuries -- if they try to push their limits.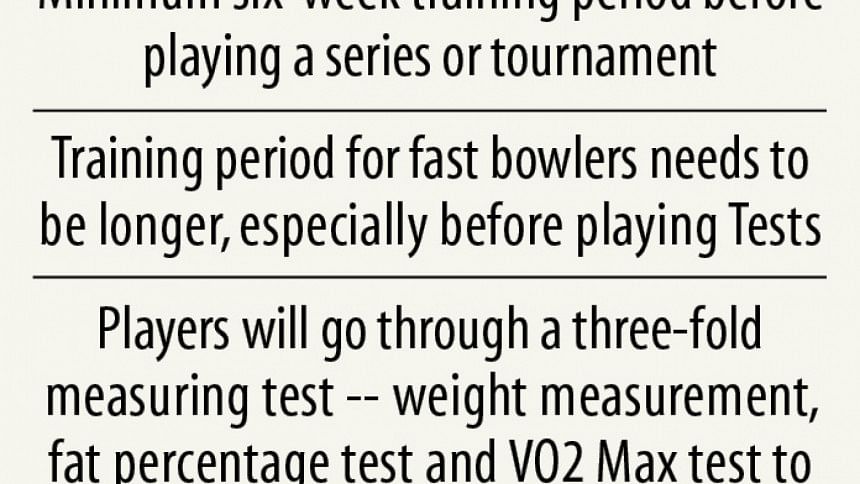 The BCB's head of physical performance Nick Lee has already charted out a weekly indoor workout plan for players to counter any such mishaps and help players stay fit. Despite that, Bayezedul says that the players will have to go through a series of tests when they return to training.
"Players will go through a three-fold measuring test. Their fat percentage and weight will be measured and compared to previous stats. Players who have gained weight will be given aerobics activities and their training load will be a bit heavier than others. Also there will be some food restrictions imposed. The players will also go through a VO2 Max test, which measures lung capacity. If any player has lower lung capacity, they will be given a different programme. The aerobics load will be increased," informed Bayjedul.
It is in the best interest of the players now to follow the BCB-provided guidelines and do regular freehand exercises at home as that, according to the experienced physiotherapist, will be most helpful for a smooth transition to the intense training sessions after resumption. However, even if the players follow all the procedures and guidelines, getting back to professional cricket, with all safety measures and a good physical condition ensured, is sure to take a long time.