Mashrafe 'was more upset seeing Tamim vulnerable'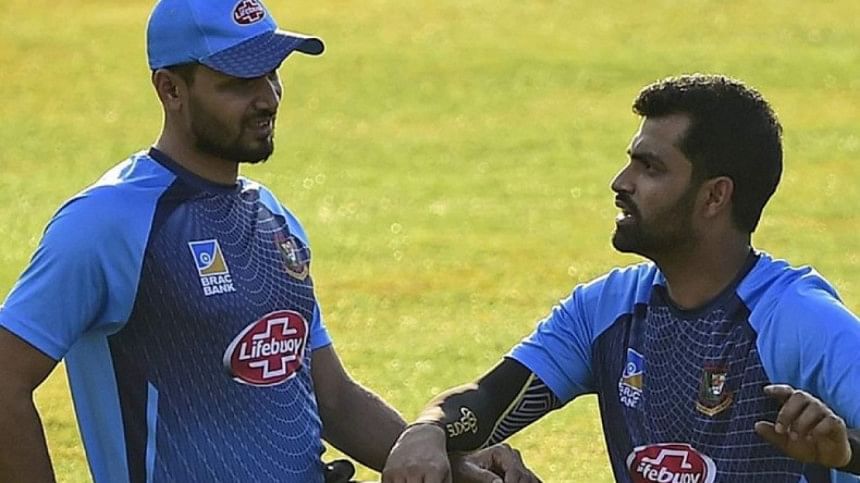 Former Bangladesh ODI captain, Mashrafe Bin Mortaza, said that he was upset seeing Tamim Iqbal feel weak during the recent retirement saga.
ODI skipper Tamim had reverted his retirement from international cricket following intervention from Bangladesh Prime Minister. Tamim had also expressed his wish to the Prime Minister that he wanted to see Mashrafe Bin Mortaza mentor as team mentor for the 2023 World Cup in India. Mashrafe today, however, said that he does not know what the mentor role entails and wondered why Tamim desired such a thing. 
"What's to gain from a mentor? Can someone tell me? I don't know why he [Tamim] asked. I don't know what a mentor does. [Team's requirement] When a situation like that comes, then something can be said. At this moment I don't have an answer. What can I say? If a situation like that arrives in the future, I would be able to stand in front of you and say something. Right now, I don't see anything [a situation] like that," Mashrafe said while attending a programme for a university today.
Mashrafe, however, added that if the Prime Minister wants him to be the mentor, he will have to accept.
"If honourable Prime Minister wants it [mentor role for Mashrafe] then that's a different case. There is no opportunity to argue about that. What can I say at this moment? No one knows what will be the situation tomorrow. If a situation arises then let's see. Right now, it's important that the team stays well and plays well. That's what we all hope for," he added.
Tamim's goodbye during the press conference at Chattogram was emotional. Mashrafe relayed that he is not sure what upset Tamim. In his opinion, the left-hander, who had served the national team for such a long time, should not be thinking of who is supporting him or not. Rather Mashrafe felt Tamim should only be thinking of performance and coming back with full fitness.
"The main thing is, whatever happened to Tamim, I am more upset than that. I don't know exactly [what happened]. He didn't share much with me. I was more upset seeing Tamim vulnerable.
"Because he is an international player, people are also talking for him. Aren't they? So simply said, you can't fight that much? I didn't feel anything like that. But people need help at times and sometimes they break down and they feel they need support. From that perspective he is very lucky that the honourable Prime Minister met him, talked to him and brought him back to cricket.
"The age Tamim is at, it's time to perform. When he brings the country something really good, then he will leave. I think it's not only a matter of pressure from surroundings, he has to be mentally strong. I feel that Tamim should return with hundred per cent fitness. At the same time, he needs mental preparation to be a performer and his performances will speak on his behalf.
"Apart from this, whether the coach is by his side, the cricket board is on his side or if we are on his side, such things are not expected from a cricketer like him. We won't hope that he will be thinking about who is on his side or not. We will be thinking that he is a performer who will perform and automatically everything will be on his side.
"Right now, he is suffering from his injury. He isn't performing, but why not? The reason is injury. He needs to get over his injury. As I said, it's about doing the right things. He should be thinking of his injury. If he returns fit, I am certain he will score automatically and return to his old situation," Mashrafe said.