Kaur loses temper on field, labels umpiring 'pathetic'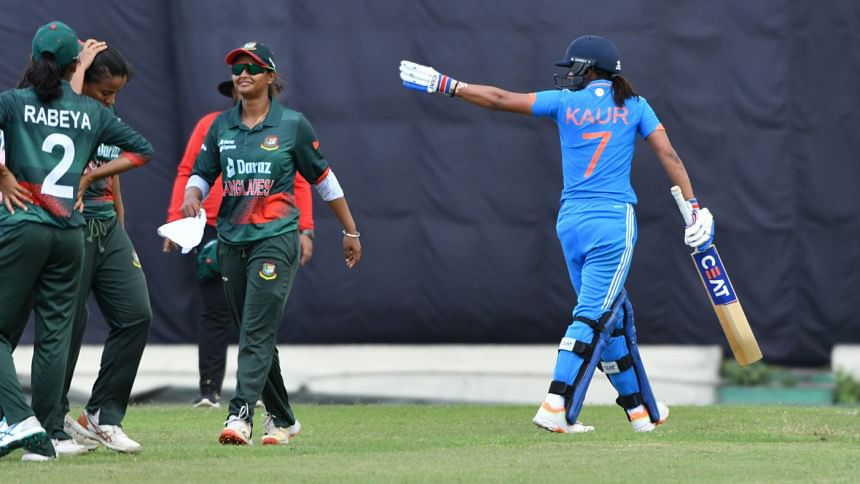 During the ODI series-decider between Bangladesh and India in Mirpur yesterday that ended in a dramatic draw, the pressure of a high-stakes encounter had apparently got the better of Harmanpreet Kaur.
The India skipper created a scene after having failed to accept an umpiring decision that went against her favour.
Prior to Kaur's dismissal, as India were chasing 226, stumper-batter Yastika Bhatiwa was not pleased with the leg-before decision that got her out. She tried to argue with the umpire soon after, perhaps indicating that there may have been an issue with height and angle of the ball; even though Sultana Khatun's delivery had struck in line with stumps.
When it came to Kaur, also a victim of leg-before, the India captain was visibly livid after getting out and she proceeded to hit the stumps with the bat before pointing fingers at the two on-field umpires. Moreover, Kaur made the so-called "pay me" gesture -- signalled by repeatedly rubbing one's thumb over the tip of the index finger and middle finger -- and showed a thumbs-up aimed towards the stands as she left the field.
Kaur said after the game: "I think a lot of learning for us from the game. Even apart from the cricket, the kind of umpiring that was happening we were very surprised. The next time when we come to Bangladesh we will make sure we have to deal with this type of umpiring and prepare ourselves accordingly."
"... as I mentioned earlier some pathetic umpiring was done and we are really disappointed about some decisions given by the umpires," she reiterated.