'I feel it's better to not captain anymore'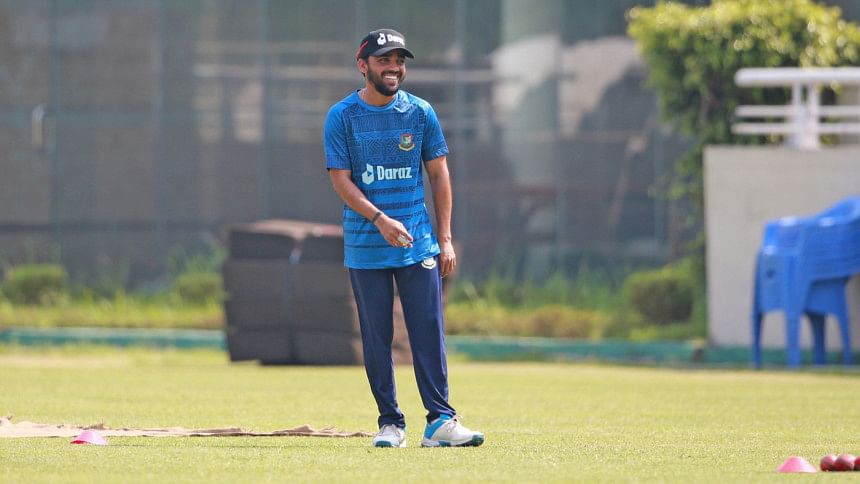 After waiting a long time for his bat to do the talking, former Bangladesh Test skipper Mominul Haque finally scored a Test ton after 26 months during the Tigers' one-off Test against Afghanistan in Mirpur earlier this month. His captaincy saw the rise of the pace unit that now positions Bangladesh as a better Test unit. The left-hander discussed the processes of the latest Test against Afghanistan, his outlook on captaincy, the technique he uses to keep himself prepared and much more in an exclusive interview with The Daily Star's Abdullah Al Mehdi. The excerpts of the interview are as follows:
The Daily Star (DS): Are you more confident about upcoming Tests following your ton?
Mominul Haque (MH): Obviously when someone scores a hundred, they carry confidence. But you have to prepare in a new way. The upcoming Tests we have are all against tough opponents. We have to play more structured and organised cricket and I have to strengthen my shots from which I am already scoring runs. It is mainly about maintaining the process.
DS: How was the Mirpur wicket and the conditions?
MH: We took preparations during our practice sessions. On the second day, the wicket behaved differently. Maybe it was a good toss to lose. Actually, we don't always understand what's happening with the Mirpur wicket. Someone may have a different view but, in my opinion, it depends fully on the cloud cover.
DS: Bangladesh play very few Tests. How important is visualisation technique for you to get yourself ready? Can you use it for any bowler?
MH: You can just close your eyes and think up scenarios of a bowler bowling to you in different areas when you have free time. The best players all know how to use that technique. I try to visualise everything, the bowlers' wrist position, their run-up, all in my mind. For instance, you are seeing a bowler after a long time but if you are using visualisation, you won't feel that way. It is part of my process, watching videos to get ideas about their strength and then visualising it in my mind.
DS: How did the team prepare for such a wicket?
MH: I feel that our pace-bowling unit has improved considerably. Thus our batting is better. Our bowlers bowled in good areas and created match-like scenarios with field setups. They weren't bowling to us according to the batters' areas of strengths. They gave me a tough time. And not just me but all the batters.
DS: You gave these pacers the support they needed. Ebadot said you are the best captain. How do you feel about it?
MH: They were lacking in Test experience but I felt the more they play, the more they would improve. But you can't just back a player; he has to be willing to perform too. I believe the credit belongs to them. After getting opportunities, they realised that they needed to improve. There were many players in Bangladesh who were backed by their captains but didn't take the opportunity. But Ebadot had the willingness to improve. That's the most important thing and not the fact that I am being credited.
DS: Have we understood the process of Test matches better under Chandika Hathurusingha? Is Bangladesh's Test cricket at an all-time high?
MH: The young players are coming into the team more mature than before. They understand their roles better. In Tests, you need high intensity no matter who you are playing against. I feel that in the last two Tests, intensity was high, especially against Afghanistan. When bowlers do well, that intensity increases but our next challenge is how we can support them when they aren't bowling well. That's the mark of a big team.
DS: Shakib Al Hasan wasn't there but the team still maintained the process. What is this process that everyone talks about?
MH: A team only gets good results when they maintain the process regularly whether their best player is there or not. Rather than being result-oriented, we are more process-oriented now. Each and every batter, every player has a process. I have a process which begins a month or two before a match. It continues through my routine during preparation right till the day before the game. The strength I have as a batter is part of the process, what I will be practising is also a part of a process. Skill training, mental strength and fitness are all part of my process. In the same way, the team also has a process.
DS: Do you see yourself captaining Bangladesh again? Do you envision growth of new leaders from the pack?
MH: No, I don't enjoy captaincy. I feel it's better to not captain anymore. I think Shakib bhai is good as a leader and if anyone comes after, I feel Liton is there. Najmul Hossain [Shanto] and [Mehedi Hasan] Miraz are also there. Those three are the ones.
DS: Do you want to play other formats?
MH: Yes, I want to play white-ball cricket and for that I have to perform regularly in Tests. That's how I can knock on the door. Wherever I play, I have goals in mind but I also need to perform in the Premier League, for instance. And not just there but everywhere I play.
DS: What are Bangladesh's chances in Asia Cup and World Cup? Is it Bangladesh's best opportunity?
MH: In 2027 as well, a good opportunity will come. The 2023 ODI World Cup is a big opportunity for us. There are a lot of senior stars in the team with many matches under their belt. The junior stars are performing regularly and the bowling line up is very good, especially pacers. In the Asia Cup, I am not thinking hard. I am expecting more from the World Cup.