Mominul opts for duality of stance with eye on red-ball cricket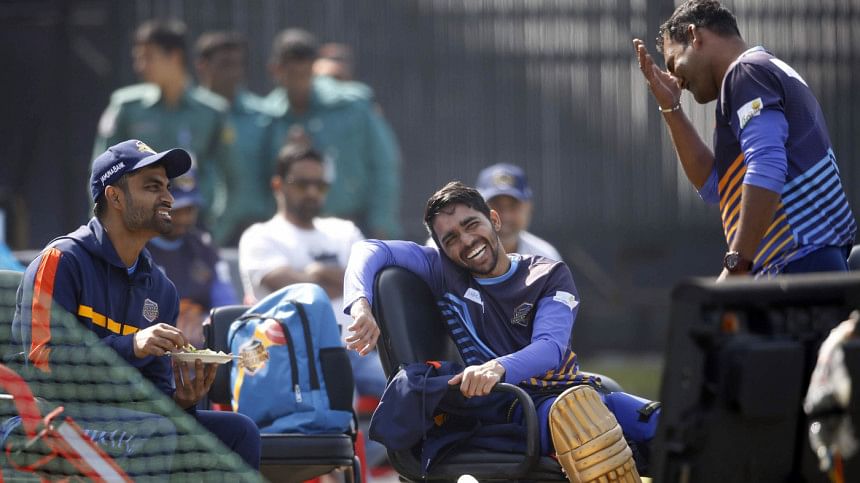 This time last year, Mominul Haque had just come back from South Africa as the Test captain and played a Dhaka Premier League match on the same day of his return, while harbouring hopes of taking the national team to the next level in Tests. One year later, Mominul is not the Test captain anymore. This time, Mominul's team Rupganj Tigers played their last match of the Dhaka Premier League having finished just outside the top six. Scanning from outside the dressing room, Mominul appeared to be 'well inside' the hut. A call or two later, he would agree to a meetup for a minute's talk which turned into a discussion on Test cricket.
The Tigers have long suffered in the longest format but in Mount Maunganui, the side led by Mominul was unnerved against the World Test champions. His own form had suffered a rough patch before his return to runs against India in the home Test series on his come back to the Test side.
Mominul finding his route back to his roots, which is his natural game following the rough patch, also coincides with Bangladesh's attempt to find a new sense of aggression in all the formats.
This reporter found him sitting inside the dressing room with his relaxed demeanour, at ease in his natural habitat and in no hurry. He provided a hearty chat on what is positive intent and aggression in Tests, separating it from just hitting out at deliveries. Mominul talks about the changes in his batting, his thought process regarding attacking Test cricket, the concept of progressing the game and much more during an interview with The Daily Star's Abdullah Al Mehdi.
The discussion begins with his return to runs against India, a score of 84 which kickstarted his journey to find back his rhythm while reflecting back on what was missing in his batting even at Mount Maunganui during an 88-run knock last year.
DS: What was it like to score runs against India after a bad patch?
MH: As you said, after a bad patch when there is a new innings it's a good feeling and that knock was really important to me. It was something to feel good about as well.
DS: At times batters don't know what their problem is but they aren't scoring either. They find they are middling the ball and moving their feet well but still losing their wicket. Did you face such a problem?
MH: At my age, having played 55 Tests, there aren't any technical issues. I know the way I score runs and maybe at that time, I was mentally broken. Or when I was captain, I was thinking too much about the team. When I took the captaincy, I had said that I have a big dream regarding the Test team. When I started weaving that dream, I got a shock to the system. Maybe that's why my focus wavered.
DS: Where did that shock to the system come from?
MH: Actually, by saying shock what I mean is that when you are building a dream, you have to perform yourself as well, but I wasn't performing myself.
DS: But you did score runs at Mount Maunganui…
MH: I wasn't getting the consistency I had in Tests. I scored at Mount Maunganui and those were match-winning runs. After a long time, I scored here (at Mirpur against India). I scored something like 84. I feel that the mental breakdown which occurred back then also brought the bad patch. Another thing, I feel that [Mohammad] Salahuddin sir needs to be appreciated. He brought out some stats and sent them to me at that time. I talked to him regularly. At those times, the people who came through for me were my family. My wife and others who are close to me are the ones that stayed by me during those times. Everyone's busy with their own thing in today's world. Apart from the family, I was very close to sir and his support was very important to me.
The stat he unearthed was that whenever I was getting a hundred… and you can check it too, I was batting at a strike rate of 50 to 55. For the ones where I didn't score runs, my strike rate was 30 to 35.
DS: Meaning you were a little bogged down?
MH: I wasn't being aggressive. My strike rate in the last few innings I had played had been around 30. He also told me that no matter how many runs you score, even if you score 100, if your strike rate is 30 then it would mean you haven't really returned to runs.
DS: Does that mean you were wavering from your natural game?
MH: Yes. Knowing that fact (stats on strike-rate) worked well for me. I thought about it and was able to bring it back. Maybe I scored 84 (against India) but my strike-rate was good.
DS: Was this fluency against India different from your natural game?
MH: No this is my natural game but actually I wasn't finding it. Thinking about my responsibilities as captain, this thing happened. When you don't have captaincy, that pressure comes down. You can focus on your own game but the dream I have, won't end.
DS: There was a difference in your approach at Mount Maunganui compared to your natural game?
MH: I didn't play very well in that innings. I could grind out runs but you will succeed seven out of 10 times if you play to a flow which is in your nature and how you used to play growing up. It wasn't my natural game at Mount Maunganui. I took pressure playing that knock but the one against India here was fluent.
When I got out in the first innings against Ireland, I scored 17 off 34 and sir said he wasn't unhappy since I was aggressive. Second innings I scored 22 from 20. My attitude is important in Tests and across formats and there is no opportunity to get bogged down.
DS: Everyone is playing more shots now in Tests…
MH: But aggressive means playing with positive intent. It doesn't mean going after every ball.
DS: You said you weren't thinking of technical change but then why do you have a new stance?
MH: It's very recent, it wasn't there in the India series and maybe I won't do it in the next series. Maybe if I am playing white-ball matches I will do that. I don't think I will try it in Tests. In white-ball cricket you have deliveries coming into your ribs and you need to play all around.
DS: Is the new stance better for playing flicks?
MH: No, I can see the ball better.
DS: What triggered it?
MH: In the last BPL I played, I was feeling that white-ball and red-ball cricket are two different kinds of things and as I age, I have to make these small changes. You have different tools for when the ball is new vs old or spin vs pace.
DS: You didn't get to play BPL this time around. Was the change in stance part of white-ball tactics?
MH: Wherever I am playing, I think of how to increase my red-ball cricket shots. If I improve that, ultimately it will be useful in white-ball cricket. I think I have to improve a few more shots in Tests.
DS: You must be thinking of pull shots then…
MH: Yeah, how the likes of Litons play them, they hit them for six.
DS: Did you use to shuffle previously?
MH: I didn't shuffle before but I am doing it now and building muscle memory. It's for the first 15 to 20 balls and it can be a problem against the red ball because there is more swing. So if you are moving feet around too much, there are good caught-behind chances.
DS: How difficult is it to make such changes?
MH: When you keep doing it, you integrate it into your mind and body.
DS: Who were you working with apart from Salahuddin sir?
MH: I worked with Wasim Jaffer. He was working with U-19s and sir was busy with BPL. I was mentally down and sir was busy too, so I couldn't find anyone. It was a little difficult during the BPL. I appreciate Shahriar Nafees bhai for helping me with the practice facility.
DS: Are you returning to what you would call your process?
MH: I was doing gym, running and mental preparations before but I couldn't get back to them. I am gaining them back little by little now.
DS: Bringing changes to the technical side of your game is a running process, where does the mental side come in?
MH: The most important thing is that you prepare yourself to be mentally strong. If you believe that you can stand crooked and score runs, you can do that and there are examples of that in world cricket. There are also times when a good stance is not producing runs.
DS: How do you manage the long periods when there is no Test cricket?
MH: There are negative and positive to that. I have the Afghanistan Test ahead of me and I will be getting a long time to prepare for it. That's the positive but if you think I don't have any games so what to practice for? It will be negative. But at the end of the day, you have to perform. It's a positive that I am getting time to analyse the opposition bowlers and what they do. Big players do that. I think I can focus in a bigger way.
DS: Hathurusingha has returned for a second stint. How has your interaction been with him?
MH: I feel that he is more mature compared to before. He is much better now in the context of giving freedom and positivity.
DS: He had a problem with you in his previous stint….
MH: No there was no problem. It was created by you guys (smiles).
DS: Have you talked to him about your batting?
MH: He hasn't gotten much time to work with my batting. You can't discuss technical matters two-three days before a Test. He will do it when he gets the time. The thing is, he knows my strengths and that's why there is not much to do. What he wants is that whatever practice I do, I should do it with high intensity. That's all and he has good theories.
DS: Bangladesh players have talked about scoring quicker in Tests. What's your experience so far?
MH: It depends on the condition and the opponents. If the conditions are good, you can score 400. If you are playing against India or another big side, you may need a different approach. If the conditions are good, even when losing wickets, you can score 400 in a day. Why won't you do that even if you lose just five wickets?
DS: Recently, Bangladesh are playing more attacking cricket across formats. How do you see it?
MH: This is good for me. It's done by the whole team together.
DS: You enjoy it because it goes with your batting approach?
MH: Yes that's it. When I play defensively, it becomes difficult for me. If you play 300 deliveries and score 100, then you have to understand the wicket is good since you were able to play 300 deliveries. If you play 300 balls, you should at least get 200 because if you get only 100 then in a five-day game, you have batted for two days and then nothing happens.
DS: How was it communicated to the team? For instance, the England team are packed with white-ball hitters.
MH: I think it came from the players. It's about mentality and if you can ingrain yourself with it, you will slowly start to get it.
DS: It's the idea of progressing the game and putting opponents under pressure?
MH: Yes. If you have the opportunity then why not score 400 in one day? Then the next day you bat one session and score 550. Test cricket is reaching new levels day by day and will surpass expectations. For instance, we have fielders at mid-on and mid-off come forward when lunch break, a drinks break or a day's last over comes up. The opponent wants to take a chance since batters don't want to lose their wicket. In the future, you will see that those batters will hit the ball for six when the field comes up. It's a game of runs and putting pressure on the opposition with quick runs. You may not succeed at first but there is more chance of being successful with this approach. The more you become defensive, the more you die. You will die trying to survive, whether on a battlefield or in life. If you look to dominate, maybe you will face difficulty at first but you will be successful going forward.
DS: Is it better from a viewer's point of view too?
MH: Yes of course. They will be entertained and the cricketers will be improving too. Playing just one way becomes boring.
DS: Is this kind of intent more suited for away conditions with faster tracks such as Australia?
MH: They have good wickets there. It depends on wickets and it's difficult if there are challenging conditions. You have to understand this thing completely. For example, let's say an opener like Tamim [Iqbal] bhai has played 20 overs, it becomes easy for him after those 20 overs since he already attacks in Tests. Those coming later against the older ball can be dangerous too. It's not a philosophy of going and hitting the ball. Being able to hit out doesn't mean it is positive intent. Leaving a very good delivery alone after being able to move your feet well is also positive intent. It means your feet are moving and you are letting them pass by beautifully.
DS: Will you take this attacking intent to four-day games?
MH: Yes, I wish to. In the next NCL, I will start with Chattogram Division. If the wickets are good, there will be fast-scoring games.
DS: How far along were you in making the Test team into a real unit as captain?
MH: I was almost there. Pace bowling unit wise at least.
DS: It must have been difficult to make the Test team make some progress a little during your captaincy. Where do we stand now?
MH: When you don't have a culture, things are difficult but one day, it won't be anymore. It will improve.
DS: Plans on upcoming Afghanistan series?
MH: Premier League has ended for me and I will begin preparations soon. The West Indies A team is also due and I will get two four-day matches there. It will help me to be in the field regularly.