'Is David Warner's time up?'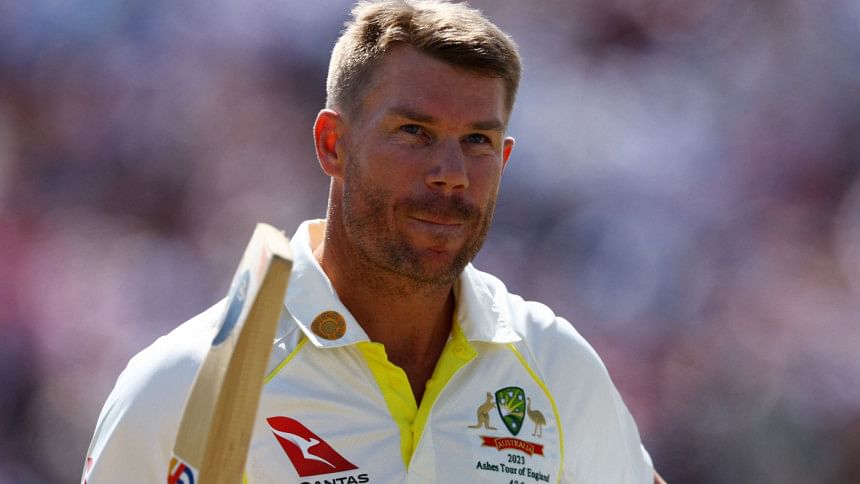 David Warner's hopes of choosing the manner of his retirement from international cricket have dimmed after the Australian opener's twin failures in the defeat by England at Headingley and Mitchell Marsh's successful return to the side.
With all-rounder Cameron Green expected to be fit for the fourth Ashes Test at Old Trafford, Warner could be squeezed out if selectors opt to retain Marsh after his glittering century in the first innings of Australia's three-wicket defeat.
Warner managed five runs at Headingley, trimming his series average to 23.5. He was dismissed by nemesis Stuart Broad in both innings via nicks to the slips.
The lefthander has now been removed by the England quick 17 times in his career, prompting media pundits in Australia to ask whether he is worth the risk of retaining even with a 2-1 lead over England in the five-test series.
"The number one issue is you've stuck with Warner, given him every opportunity, and (Stuart) Broad's still got his number," former Australia captain Michael Clarke said on Sky Sports Radio of his ex-team mate.
"The thing you've got to think about first is, is David Warner's time up?"
Warner has set out his ideal retirement plans, announcing earlier in the tour that he hopes the Sydney clash against Pakistan in the home summer will be his swan song in test cricket.
Australia captain Pat Cummins declined to back Warner's place in the side for Old Trafford, while saying it would be hard to drop Marsh.
"You keep all options open," Cummins told reporters.
"We've got nine or 10 days now, we'll take a deep breath, we'll go away for a few days.
"But you know, everyone comes back into it, Greeny should be fit for Manchester, Josh (Hazlewood) will be back in there as well.
"We should have a full roster."
Australia could promote Travis Head to open in Warner's place to make room for Green's inclusion along with Marsh.
Head opened the batting with success during the recent tour of India when Warner was ruled out injured midway through.
Marsh, however, said he could not see room for two all-rounders in the Australian 11.
"I don't think there is," he said.
"It's important for (Green) to be in our side. We've seen how important he is for our side over the last couple of years. We'll just have to wait and see."