Australia or India: Legends predict WTC final winner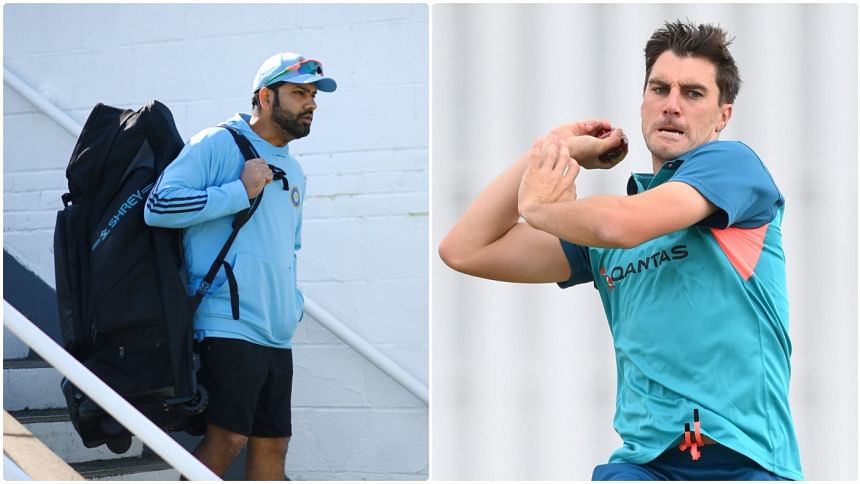 A number of legends of the game have made their predictions ahead of the ICC World Test Championship Final between India and Australia at The Oval.
Australia's Ricky Ponting, India's Ravi Shastri, Pakistan's Wasim Akram, England's Ian Bell and New Zealand's Ross Taylor sat down ahead of the showpiece Final in London to speak about the one-off Test.
Here's what the five legends had to say ahead of Wednesday's start of play.
Ricky Ponting – Prediction: Australia
Former Australia skipper Ponting feels that a combination of India's selection dilemmas and the English conditions leave Rohit Sharma's side slightly on the back-foot compared to Australia.
"Australia are just favourites," Ponting said. "India have got a couple of little uncertain areas in their team I think in terms of how selection and injuries are concerned. With KL Rahul not being there, (Jasprit) Bumrah obviously not being there, Umesh Yadav's had a bit of an injury cloud over his head, which keeper do they want to take – do they go with Ishan Kishan of KS Bharat?
 "I think Australia are going to be a lot more settled and then when you think about conditions here as well, these early June conditions probably more like Australian conditions than they are Indian conditions.
"But saying that we all know how well India played in Australia last time they were there, so I just think on the back of their work that they've done, Australia I think start narrow favourites."
Ravi Shastri – Prediction: Whoever lands the first punch
The legendary former India player and coach, Shastri, would not be drawn on naming a favourite, but does feel that the early momentum in the match will be key when play gets underway on Wednesday.
"In a one-off game it's not easy," Shastri said.
 "When I see current form, both of these teams have not played the longer duration of the game for quite some time. India have played a lot of T20 cricket, Australia on the other hand – barring (Steve) Smith and (Marnus) Labuschagne who played a bit of country cricket – haven't played for the longer periods of time.
"I think the first punch will count on day one.
"I think Pat Cummins will be charged up for Australia, and I think Mohammed Shami for India (will be key).
Wasim Akram – Prediction: Australia
Legendary Pakistan bowler Wasim believes that the June conditions will play into the hands of Australia's attack, giving them a narrow advantage.
"Both teams have shown in the last two years they are the best in the world, hence they are in the final," Wasim said.
"This pitch usually favours teams from the sub-continent, but whenever we toured here... we played our last Test match here at the end of August or the first week of September.
"But this is happening first week of June, so the square is different, fresh square and the ball is different all together as a Dukes.
"So I think going into this Test match Australia are slightly favourites, although (Josh) Hazlewood is out and he would have been very handy on this pitch.
"And India has a great record against Australia in the last couple of years, they just won the home series 2-1, so it'll be a very close game, and that's the beauty of this World Test Championship. I'm so kind of disappointed, it's too late now – in our time there wasn't anything like this, imagine playing to be the best team in the world.
"Australia are slightly favourites going into the game, but there are a lot of factors – the weather, the pitch, the Dukes ball. Every session is important; one session maybe Australia will win and India will come back hard in the next one, that's the beauty of Test cricket."
Ian Bell – Prediction: Whoever bats better
Former England batter Bell, who was Player of the Series in the home Ashes win in 2013, believes that it is the weight of runs that will make the difference in this game.
With two strong bowling attacks set to be on show, Bell says it will come down to who can get runs on the board and put pressure on the opposition in the second half of the match.
"The forecast is pretty good, a lot of sun for the week, so you'd expect it to be a pretty good wicket to bat on, certainly in the early stages of the game, maybe take a bit of spin at the back end. It'll be a fascinating contest, but I expect to see a really good wicket and an interesting five days," he said.
"It'll be fascinating to see how both teams go about it. We know there's two world-class bowling attacks going at each other, it'll be how many runs you can score. That's the thing in England - if you can go big you can put a lot of pressure on people at the back end. So I think the batting units are the ones to keep an eye on."
Ross Taylor – Prediction: Australia
New Zealand's Taylor, who hit the winning runs when the Kiwis beat India in the 2021 World Test Championship Final, also believes that Australia have a very narrow advantage in this meeting of the world's top two teams.
A combination of experience in English conditions and the injuries that have weakened India plays into Taylor's prediction, although he did caveat the call by saying the decision at the toss could prove pivotal
"Whoever wins the toss, it'll be interesting to see how much grass they do leave on the wicket. India like to play two spinners so if they can bowl last on it you never know," Taylor said.
"But I think Australia play here a lot in the Ashes series, and losing Bumrah is a massive loss for India.
"So I think the toss will play a part, but the early prediction I'd say just slightly in favour of Australia probably because of the injuries that India have but also because of the experience that Australia have in playing over here."
The World Test Championship Final gets underway at 10:30am local time on Wednesday 7 June at The Oval in south London.