'There is no scope to be complacent'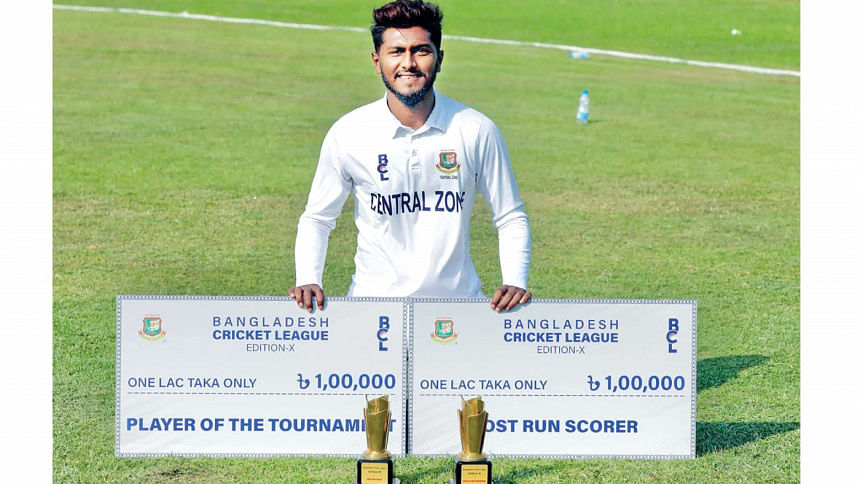 Jaker Ali Anik clinched the player of the tournament award as he topped the run-getters' charts with 492 runs in the six innings he played averaging 98.40. The wicket-keeper batter scored a fifty and three centuries this season and also had the most dismissals in the tournament. The Daily Star's Ekush Tapader caught up with the 25-year-old who discussed his goals and ambitions having scored runs regularly for the past two years.
The Daily Star (DS): How does it feel to have become the player of the tournament?
Jaker Ali (JA): This is my first player of the tournament award in professional cricket. It's a different feeling. You can say that I reaped the rewards of my hard work.
DS: How challenging was it?
JA: I scored three centuries on three different wickets. One was on a slow bouncy wicket, and one was on a turning wicket, a tricky wicket. The other one in Bogura was a completely grassy wicket where the pacers got a lot of movement. I scored a century there too. You can understand how challenging it was to have scored three centuries on three types of wickets. I had to maintain my focus. Every domestic match is important for youngsters like us, there is no scope to be complacent.
DS: You have been scoring runs for some time now. What did you do to improve your batting?
JA: I am much more serious about my batting now. I have been training a lot. But most importantly, I have been playing a lot of matches. In the last 15-16 months, I have played around 26 four-day matches. There was the A Team tour followed by matches against the India A team and West Indies 'A' team. The domestic matches feel a little easier now after playing those high-intensity matches. I'll have to give credit to the coaches. Jamie Siddons was in the 'A' team, and Babul Sir was there (Mizanur Rahman).
DS: After two rounds of BCL, there was BPL, and then BCL again. You've got runs after that break. How difficult was this switch?
JA: It was a bit difficult. Whenever you go from Test cricket (first class) to T20, it is difficult to adapt. When I went to prepare for the T20s after finishing the first two BCL matches, it took me a day or two to settle down. Similarly, when I came back to Tests after finishing the T20s, it took me some time to adapt to the practice sessions.
DS: What are your strengths?
JA: You have to keep your temperament, patience, and mental toughness all the time. This is because, in the longer version game, the nature of the pitch changes every hour. The ball changes and the bowlers replenish their energy levels after breaks. A lot of attention has to be paid. I was very focused in this tournament. That's probably it.
DS: The latest season of the national league was played with the Dukes ball. Has it had any effect?
JA: The BCL was played with the Kookaburra ball. But I must say that playing against Kookaburra has become much easier after playing against the Dukes ball in the national league. I had to suffer against the Dukes ball as it aided swing and bounce. But when you get used to it, playing against the Kookaburra seems a little easier as there isn't much swing with it. There has been an improvement due to the introduction of the Dukes ball.
DS: After such a performance, how hopeful are you to get called-up to the national side?
JA: There is always hope if you play well. This means I have to keep playing well. I will get called up when my time comes. My only thought right now is to keep performing.
DS: Which format do you want to prepare yourself for?
JA: Earlier, I used to bat at number seven. Recently, I have been given chances up the order, which is also a reason for my big scores. I don't think the batting position will be a problem for me. If you stay focused, pick your bowlers, and stay at the crease, then you can score runs anywhere.