Pakistan win maiden Champions Trophy title
Beat India by 180 runs in lopsided final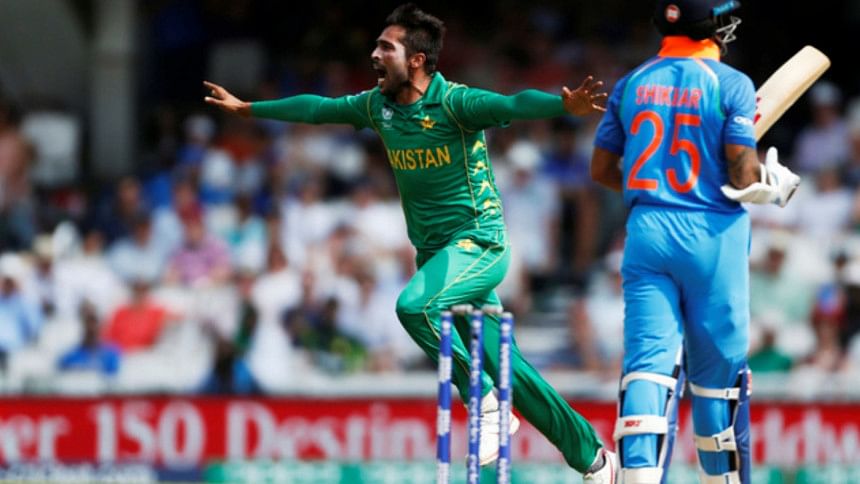 Pakistan win the Champions Trophy 2017, beating India convincingly by 180 runs. The celebrations go on in the Pakistan ranks. The lowest ranked team in the ICC team rankings have won the tournament.
Fakhar Zaman was handed the player of the match award for his maiden century. His 114 from 106 balls set Pakistan up for a big total.
Hasan Ali got the player of the series for his 13 wickets in the tournament.
Hasan Ali has finished with 19/3 in todays game. Mohammad Amir couldn't come back for a second spell as India were already wrapped up. Amir finished with 16/3 from six overs.
An all round performance from Pakistan in the final.
30.2 overs, Ind all out for 158 - Bumrah fends off a Hasan Ali delivery awkwardly and Sarfraz takes a simple catch as the ball loops into the air. Last bat JJ Bumrah c Sarfraz Ahmed b Hasan Ali 1 (9b 0x4 0x6) SR: 11.11
End of 30 overs
Buvneshwar miscued a drive off Junaid Khan but ball fell safely. Pakistan still await the victory. India are 158/9 after 30. 
28.1 overs, Ind 156/9 - Hasan Ali finds the outside edge of Ashwin's bat and gets him caught behind. Pakistan knows they have got this in the bag. Last bat R Ashwin c Sarfraz Ahmed b Hasan Ali 1 (3b 0x4 0x6) SR: 33.33
27.3 overs, Ind 156/8 - Junaid Khan finds the edge of Ravindra Jadeja and the ball goes to first slip - easy catch and India lose their eighth wicket. Last bat RA Jadeja c Babar Azam b Junaid Khan 15 (26b 0x4 0x6) SR: 57.69
Hasan Ali had been brought back into the attack and Pakistan got the breakthrough albeit due to a run-out. Pakistan are still in the driving seat as Ravinchandran Ashwin came out to bat.
26.3 overs, Ind 152/7 - Pandya gets himself run out after doing something similar to what Azhar Ali did in the first innings. He runs down the middle without looking at his partner. Last bat HH Pandya run out 76 (43b 4x4 6x6) SR: 176.74
Pandya took Fakhar Zaman to the cleaners, the smashing right hander stuck two huge sixes off the last ball of the 26th over.
End of 25 overs
India 137/6 at the end of 25 overs. Hardik Pandya is leading tthe India charge. He has raced to a 36-ball 60 with some lusty blows. In the 23rd over he took 23 runs off Shadab Khan with three consecutive sixes before a four in the fifth delivery.
The Pakistan spinners have been expensive.
End of 20 overs
India are hanging on in there. Hardik Pandya has raced to 26 from 20 balls but Imad Wasim has pulled off from completing his over. He limps off as Fakhar Zaman bowls the last three deliveries.
16.6 overs, Ind 72/6 - India have lost their sixth wicket as Kedar Jadav top edges a Shadab Khan delivery - Sarfraz Khan runs off from behind the wicket and takes a simple catch. That was a regular leggie from Shadab and Kedar whacked it without judging the length properly - pays the price. Last bat KM Jadhav c Sarfraz Ahmed b Shadab Khan 9 (13b 2x4 0x6) SR: 69.23
End of 15 overs
India are struggling at 62 for five after 15 overs. Kedar Jadav and Hardhik Pandya are out in the middle.
Hasan Ali had come on to bowl for Pakistan. He had been Pakistan's hidden weapon in this Champions Trophy - highest wicket taker in the tournament with ten wickets.
13.3 overs, Ind - 54/5 - Dhoni pulls a Hasan Ali delivery straight to square leg. Hasan set the trap and banged this one short and Imad Ali was on hand to take the catch. India are falling apart as Dhoni leaves as well. Last bat MS Dhoni c Imad Wasim b Hasan Ali 4 (16b 0x4 0x6) SR: 25.00
12.6 overs, Ind 54/3 - This time it's Shadab's regular leg spinner that catches Yuvraj on the pads. The umpire gives not out but Pakistan decide to take a review. Ball hits pad first and Yuvraj Singh goes! Last bat Yuvraj Singh lbw b Shadab Khan 22 (31b 4x4 0x6) SR: 70.96
Shadab Khan seems to be causing a bit of bother for the Indian batsmen. His googly has caused Yuvraj discomfort.
Mohammad Amir takes a maiden in his sixth over. India would be happy to see him off without taking any more damage. The two batsmen out in the middle have plenty of experience. India has always backed their batsman to see out quality bowling - Yuvraj and Dhoni are used to playing important knocks.
End of 10 overs
Mahendra Singh Dhoni has joined Yuvraj Singh out in the middle. India are 47/3 after ten overs.
Mohammad Hafeez has been introduced to the attack but Yuvraj Singh is a good player of spin and he has punished anything lacking in quality. He dispatched Hafeez for two boundaries in the tenth over.
What a spell Mohammad Amir has had! Five overs - 16 runs conceeded - three wickets.
8.6 overs, Ind 33/3 - Amir gets his cutter right and Dhawan who was looking in fine touch edges to the keeper. India lose their third wicket.
Last bat S Dhawan c Sarfraz Ahmed b Mohammad Amir 21 (22b 4x4 0x6) SR: 95.45
India have found some momentum after a few boundaries. Yuvraj top edged a Junaid Khan bouncer but the ball raced away for four over the keeper's head.
Captain Virat Kohli has played in eight finals. He has an average of 22 in these finals.
End of 5 overs
Dhawan struck India's first boundary as he pulls Mohammad Amir through backward square leg for four. He then eases into a drive through the covers for another boundary. The last ball of Junaid's over he slaseh hard - man at point dives but the ball was flying - just out of reach, Dhawan can consider himself lucky. India reach 16/2 after 5 overs.
India are in a bit of bother having lost two crucial wickets to Mohammad Amir who seems to be on fire at the moment. Yuvraj Singh arrived at the middle to face the music.
Sharma and Kohli were both in-form batsmen coming into this game.
2.4, Ind 6/2 - Kohli misjudged the movement from Amir and tries to work it on the on-side but the ball flies to point and Shadab Khan takes the catch. Kohli got squared up by Amir. Last bat V Kohli c Shadab Khan b Mohammad Amir 5 (9b 0x4 0x6) SR: 55.55
In his second over he found the edge of Virat Kohli's bat and the ball flies to the first slip and Azhar Ali missed a sitter.
An excellent first over from Amir - got the crucial wicket of Rohit Sharma who had been in such good form in this Champions Trophy. He beat Virat Kohli all ends up as well. Pakistan have started brightly and India might just feel the pressure of chasing this huge total.
0.3 over, Ind 0/1 -India start their innings and lose their first wicket within three balls. Rohit Sharma is caught infront of his stumps. The ball pitches on leg stump and moves slightly and Sharma is beaten by Mohammad Amir. Last bat RG Sharma lbw b Mohammad Amir 0 (3b 0x4 0x6) SR: 0.00
End of 50 overs
Pakistan post 338 runs for the loss of four wickets against India in the Champions Trophy semifinal. The highlight of their innings is the century by Fakhar Zaman who struck a 106-ball 114. The opening pair put on 128 runs before Azhar Ali wa run out on 59.
Hafeez finished not out on 57 from 37 balls while Babar Azam also contributed with an important 46. Imad Wasim was not out at  25.
Hafeez smashed the third ball from Bhuvneshar for a six straight down the ground. That was an unsual shot.
48.4 overs, Pak 327/4 - Hafeez races to a 34 ball half century. He struck four fours and two sixes.
India have bowled well at the death overs. Jaspit Bumrah and Bhuvneshwar have got the yorkers and the cutters right. Pakistan on the other hand failed to take advantage of the free hits.
Hafeez has really turned up with his bat in this final. He manages to club a short length ball from Bhuvneshwar over square leg for six. He has managed to find the gaps on occasion as well. Both batsman have a strike rate over 170 as the Pakistan innings approach towards the end.
Imad Wasim frees his hand and smashes Jaspit Gumrah down the ground for four. The boundaries are flowing for Pakistan. Pakistan have picked up the run rate at a a very good pace.
Hafeez tries to dig out a Bumrah yorker and the ball rolls along and hits the stumps - the bells vibrate but doesn't fall off. The bells are getting heavier.
End of 45 overs
Pakistan are 294/4 after 40 overs.
Hafeez hit Kedar Jadav for a six over long on and Imad Wasim got on into act as he mimicked Hafeez and struck Jadav for a massive six straight down the ground. Jadav has gone for 27 from his three overs. 
42.3 overs, Pak 267/4 - Babar Zaman lifts one straight to the hand of man at long-off. It's Kedar Jadhav gets a crucial breakthrough. Pakistan innings fumbling at the later part of their innings. Last bat Babar Azam c Yuvraj Singh b Jadhav 46 (52b 4x4 0x6) SR: 88.46
Hafeez clears up his left leg and pulls a short delivery from Bhuvneshwar for four. Bhuvneshwar has been the pick of the Indian bowlers so far.
Hafeez has looked to pick up the scoring rate early on in this innings. Pakistan needs something of substance from him if they are to capitalize on their good start.
End of 40 overs
Mohammad Hafiz comes on to bat after Shoaib Malik's departure. Pakistan are 247 for the loss of three wickets at the end of 40 overs.
39.4 overs, Pak 247/3 - Shoaib Malik tries to make room and hit Bhuvneshwar Kumar through the off-side. The ball was dropped short and Malik manages to slalsh it over to the the man at cover. Malik goes as Pakistan lose their third wicket.
Last bat Shoaib Malik c Jadhav b Kumar 12 (16b 0x4 1x6) SR: 75.00
India has brought on Jadeja but Shoaib Malik latches onto the fourth ball of the over and drives it over long-on for six. Malik is known to be a good hitter of the ball and he along with Babar would look to provide Pakistan with another Partnership.
Babar had been freeing up his arms a lot more since the departure of Fakhar Zaman. Pakistan has picked off Hardhik Pandya for 12 runs on that over.
Kohli finally introduces Kedar Jadav to the attack - he is the one who took Tamim Iqbal's wicket in the semifinal game. India need a few wickets to slow down the run flow as the game approaches the death overs.
Bhuvneshwar Kumar has been introduced from the other end and he gets a breakthrough,
End of 35 overs
Pakistan are 209 for the loss of two wickets after 35 overs. They have lost Fakhar Zaman and Shoaib Malik has come to the crease. Babar Azam has moved along nicely and Pakistan will be hoping that someone can anchor the innings with both the openers now gone.
33.1, Pak 200/2 - Fakhar Zaman moves his left leg out of the line and clears his arm but the ball hits the top edge of the bat and skies off towards deep backward point. Ravindra Jadeja takes the catch running backwards. Fakhar leaves after a tremendous innings. Last bat Fakhar Zaman c Jadeja b Pandya 114 (106b 12x4 3x6) SR: 107.54
32.6, Pak 200/1 - Fakhar Zaman plays one though the covers to bring up the 200 for Pakistan.
30.1 over, Pak 183/1 - Fakhar Zaman sweeps Ashwin square of the wicket for four to bring on his maiden century in ODIs. He gets there in 91 balls. Twelve four's and two sixes in that marvelous innings.
End of 30 overs
Fakhar Zaman greeted Jadeja for his sixth over with a huge six over long on followed by a four. He then smashes the last ball to the boundary by dancing down the wicket and hitting it over cover for four. Jadega conceeded 16 off that over. He has been a tad expensive! 46 runs conceeded in his six overs.
Fakhar does the same to Ashwin the next over. Another six over long on. Fakhar has gone after the Indian bowling in a grand way.
Fakhar pulls a short ball from Pandya. The ball hits high on his bat and the edge carries over the keeper and to the boundary. Since Fakhar was let off the hook after getting out off a no ball he has been pretty dismissive of the Indian bowling.
Ashwin had been able to cut off a few singles in the 29th over. India will be desperately hoping to put some breaks on the Pakistan run scoring and entice them to play some rash strokes.
Babar Zaman has fished at one from Pandya, could be the start of something as far as India are concerned.
Pakistan are 179/1 after 30 overs. Fakhar Zaman is batting at 96.
End of 25 overs
Pakistan are 134 for one after 25 overs of play. Pakistan have undone a lot of good work. The wicket will bother them. There had been a lot of close calls but this wicket of Azhar Ali was down to serious communication error. The lesson is to look at your partner before you run to the the other end while staring at the ball.
22.6, Pak 128/1 - Fatal miscommunication between Azhar Ali and Fakhar Zaman. Just the previous ball saw a drect hit but Fkhar Zaman made it in time. This time Azhar Ali runs down the wicket without even looking at Fakhar - an easy run out. Azhar Ali run out 59 (71b 6x4 1x6) SR: 83.09
The Pakistan batsman have become more proficient at finding the gaps - definitely seeing tha ball better at this point than when they started. They have both been keeping up with each other's strike rate.
End of 20 overs
Pakistan are 114 for no loss after 20 overs. Both batsman have reached their half centuries in back to back deliveries.
19.6 overs, Pak 114/0 - The ball squeezes past the palms of Yuvraj Singh and to the boundary as Fakhar Zaman reaches his half century too. He reaches there in 61 balls. Has got there with seven boundaries.
19. 5 overs, Pak 110/0 - Azhar Ali brought up his fifty in 61 ball s with a nudge towards square leg. He struck five four's and a six.
Fakhar Zaman square cuts a loose delivery from Ravindra Jadeja for four. Great stroke play.
Azhar Ali tried to whack one off Hardhik Pandya who was in his second over. Azhar didn't connect properly and the ball hangs in the air for a long time and falls safe just outside of the 30m circle.
Ravindra Jadeja had been introduced to the attack. India will be hoping that they can put some pressure on this Pakistan opening pressure.
17.6 overs, Pak 100/0 - Fakhar Zaman brought up the 100-run partnership with a smashing fopur off Ravindra Jadeja. The ball went through mid-one for four. A nice way to bring up the 100-run partnership as well.
End of 15 overs
Pakistan are 86 for no loss after fifteen overs. They have latched onto anything loose and in a pressure game it can make all the difference in the world.
A decent shout from Jaspit Bumrah was turned down by umpire Richard Kettleborough - next ball Bumrah appealed again but that one was drifting towards the leg side. No wicket for India yet.
Fakhar & Azhar are the second Pakistan opening pair to put together three 50+ stands in an ICC tournament. Saeed Anwar & Aamir Sohail had four from six innings in WC 1996.
Pakistan duo have run a lot of quick singles -often very risky singles. A direct hit on any of those occasions could have spelled disaster. India haven't bowled too many wicket taking deliveries. They need a breakthrough.
End of 10 overs
Pakistan are 56 for no loss at the end of ten overs. The Pakistan openers brought up their 50-run partnership in 56 balls. They have managed to keep India fielders on their tores with some quick singles.
Azhar Ali got in on the act. He slashed his bat at Bumrah's good length ball. There was none in the second-slip corridor and ball flies through to the boundary. Pakistan have looked to put pressure on India with quick singles but they aren't shy of hitting them hard.
Azhar Ali tried pulling a Bhuvneshwar delivery but the ball catched the high end of the back and fell short of the bowler. Interesting start to the final.
Virat Kohli brings on Ravichandran Ashwin into the attack and Azhar Ali dispatches him for six over long off. Azhar got down to the pitch of the delivery and hit it well enough to reach the boundary. Both openers have looked to take the attack to the India bowles.
Ashwin haven't manage to turn the ball much. This looks like a solid batting wicket. He has managed to beat Fakhar with good flight at times.
A few rash shots here and there from the Pakistan openers but they have managed to keep the score ticking.
End of 5 Overs
India pacer Bumrah has erred in line at times. A few wide balls down the leg side. The left and right hand combinations can do that to a bowler.
Fakhar Zaman took his chances early on. The luck is clearly on his side today as Bumrah managed to find the inside edge of his bat. The ball raced away to the boundary for four through fine leg. 
Agression is Fakhar Zaman's bread and butter. He got hit on the helmet in the fifth over of the innings off a Bhuvneswar kumar delivery. The ball raced off to the boundary between the kepper and the man at slip. Fakhar opens up his arms to dispatch another one through the leg side - square of the wicket. Decent start from Pakistan. 27/0 after five overs.
3.1 overs, Pak 9/0 -Having bowled a brilliant line and length Jaspit Bumrah finally manages the edge of Batsman Fakhar Zaman's bat - Alas! it's a no ball.
Welcome to our live report of this final between Asian giants India and Pakistan being played at the Kennington Oval.
The weather looks fine and handsome and the gathering crowd will be hoping that it stays the same. India likes chasing and the ball might provide something extra; hence Kohli's decision to bowl first.
India win toss and elect to bowl first against Pakistan in the Champions Trophy final of 2017 at the Kennington Oval, London today.
The India-Pakistan rivalry will take centre-stage at The Oval today, when they play for the ultimate glory in the Champions Trophy final.
The final being played between the two teams is as surprising as Bangladesh's progress into the semifinals, where India defeated them by a massive nine wickets. Pakistan entered the tournament as the bottom-ranked side in the eight-team event and lost their opening group stage fixture against India by an enormous 124-run margin.
The India-Pakistan rivalry will take centre-stage at The Oval today, when they play for the ultimate glory in the Champions Trophy final.
The final being played between the two teams is as surprising as Bangladesh's progress into the semifinals, where India defeated them by a massive nine wickets. Pakistan entered the tournament as the bottom-ranked side in the eight-team event and lost their opening group stage fixture against India by an enormous 124-run margin.
After long being an isolated nation, where teams do not travel to since the 2009 terror attack on the Sri Lankan team bus, Pakistan have gone from bad to worse as far as their ODI fortunes are concerned. Their rivalry with India was also off-tracked following India's stance against bilateral series against its bitter neighbours.
PAK XI: A Ali, F Zaman, B Azam, M Hafeez, S Malik, S Ahmed, I Wasim, M Amir, S Khan, H Ali, J Khan ICC Live Scores (@ICCLive) June 18, 2017
IND XI: RG Sharma, S Dhawan, V Kohli, Y Singh, MS Dhoni, K Jadhav, H Pandya, R Jadeja, R Ashwin, B Kumar, J Bumrah ICC Live Scores (@ICCLive) June 18, 2017