History beckons Herath infront of formidable India
History beckons Sri Lanka veteran Rangana Hearth, who has 400 Test wickets in sight but his record against India has been an anomaly.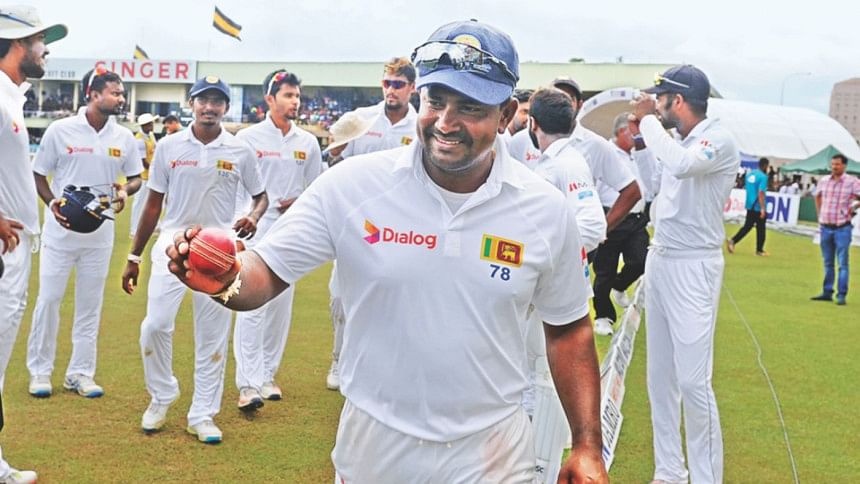 Rangana Herath has been so good that Sri Lanka have only rarely felt the vaccum that was created after legendary spinner Muttiah Muralitharan's departure.
Herath has 400 wickets firmly in sight, having already bagged 384 Test wickets. He will lead his side against India in the three-Test series.
Since Muralitharan's retirement in 2010, nobody has taken more wickets than Herath – an incredile haul of 313 wickets at an average of 25.41 - including 17 five-wicket and eight 10-wicket hauls.
However, his record against India remains an anomaly. In seven Tests against Sri Lanka's subcontinental rivals, the left-armer has 27 wickets at an average of 41.62; against all other Test nations, he averages between 17 and 32, Cricket Australia site reports.
During India's last visit to Sri Lanka, Herath took 7-48 during the second innings of the first Test match to win Sri Lanka the match. However, the India batsmen handled him well in the next two Tests and came back to win the series 2-1.
Herath has an incredible record at home – in 44 Tests he has 258 wickets at an average of 22.80.
In the recent two match Test series against Bangladesh at home, Herath picked up 16 wickets. Another 16 wicket haul in the series against India will see him reach the 400 wickets landmark.
During the Galle Test against Bangladesh, he took the scalp of Bangladesh batsman Liton Das to reach the landmark of 363 Test wickets and became most successful left-arm spinner in Test cricket – overhauling New Zealands Daniel Vettori, who has 362 Test wickets to his name.