England tour of Bangladesh, 1st Test
Bangladesh 221 for 5, trail England by 72 runs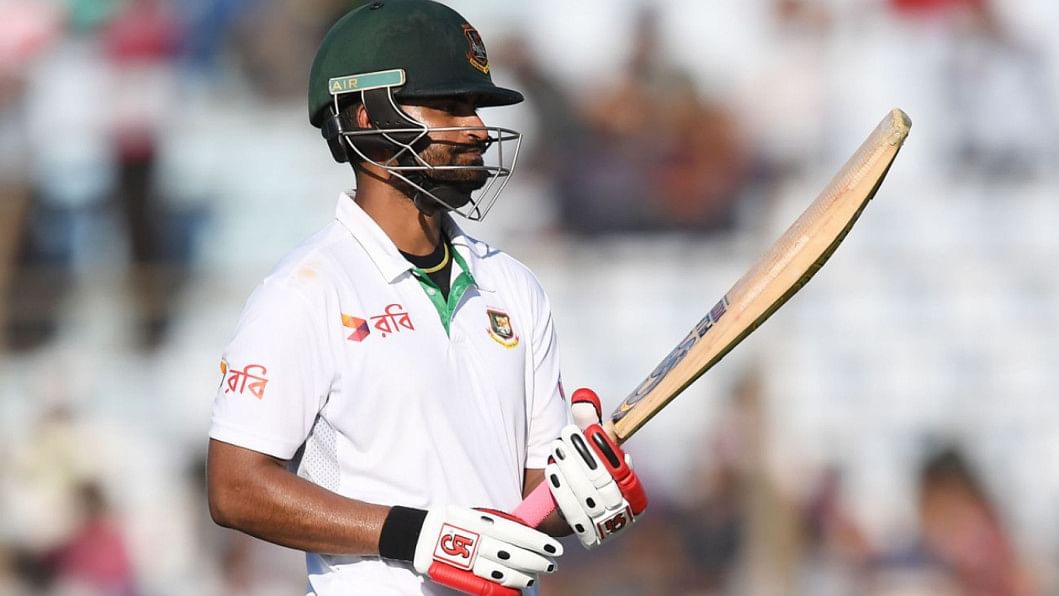 5:35 pm: Another terrific day of Test match cricket came to an end when the umpires removed the bails on day-2. Gutsy and skillful batting, especially from Tamim Iqbal and Mushfiqur gave the home side crucial runs, but the loss of Mushy at the end of the session would lift England's spirits.
For England, Moeen Ali picked up two while Gareth Batty, Adil Rashid and Ben Stokes grabbed a wicket each.
With Shakib batting on 31, Bangladesh would want to overtake England's total tomorrow. However with only Sabbir Rahman, Mehedi Hasan Miraz, Taijul Islam and Kamrul Islam Rabbi left in the dug-out, England may feel optimistic about restricting Bangladesh below 293 on day-3.
The game still remains pretty finely balanced, and England will be looking to make early inroads tomorrow morning…Shakib will be the key wicket, both for the visitors and hosts.
England tour of Bangladesh, 1st Test
Bangladesh:

221/5 (74.0 overs)
England:

293 all out
5;12 pm: With less than three overs left in the day, England got a massive boost when Ben Stokes dismissed Bangladesh captain Mushfiqur Rahim for 48, with the home side at 221 for 5 after 72 overs.
The legcutter from Stokes did the trick, kissed the edge of Mushy's bat and was taken on the juggle low down by Jonny Bairstow…England really needed that wicket to pull things back!
Mushfiqur Rahim c †Bairstow b Stokes 48 (77b 6x4 0x6) SR: 62.33
Partnership: 58 runs, 16.5 overs, RR: 3.44 (Mushfiqur Rahim 27, Shakib Al Hasan 31)
4:35 pm: The fifth wicket partnership of 45 runs in 10.2 overs between Mushfiqur Rahim and Shakib Al Hasan kept the English bowlers at bay with some positive batting. Both of them realized that they couldn't block away and allow the spinner to dictate terms, and therefore they used their feet and tried to attack them whenever possible.
Mushfiqur survived a close call in the 65th over. A sharp in-dipper struck Mushy, and after the vociferous appeal from Chris Woakes, umpire Kumar Dharmasena ruled in the batsman's favour. England captain Alastair Cook went for the review, but was turned down…to the relief of the Bangladesh supporters.
3:50 pm: Gareth Batty picked up a Test wicket after 11 years when he sent back Tamim Iqbal to throw a spanner in Bangladesh's innings in the last session of day-2.
Bowled from around the wicket, the ball had more pace than Tamim anticipated, and took a thin top edge to the keeper. Tamim was aiming to play through the off.
Tamim Iqbal c †Bairstow b Batty 78 (179b 7x4 0x6) SR: 43.57
The 44-run partnership between Tamim and Mushfiqur Rahim in 11.2 overs allowed the runs to flow again after a quiet period in the middle.
2:50 pm: Just when it looked like Bangladesh had won the session, Adil Rashid came back and dismissed Mahmudullah Riyad for 38 against the run of play. The batsman got an edge to a sharp leg-break, and Joe Root at slip took a smart catch inches off the ground.
The third wicket partnership of 90 runs in 29.3 overs between Tamim and Mahmudullah would give plenty of pointers and cues to the batsmen in the dressing room on how to score on this difficult pitch at Chittagong.
Mahmudullah c Root b Rashid 38 (66b 3x4 0x6) SR: 57.57
Tamim Iqbal DRS-ed himself back to life two balls previously, and he has played a fine hand, but England will be going into the break with their tails up.
2:30 pm: Tamim brought up his fifth fifty in five matches against England, and with Mahmudullah giving him good company, the third-wicket stand slowly chipped away at England's first innings total.
The southpaw from Chittagong reached 53 from 133 balls with six fours to his name.
The 82-run partnership in 27 overs would have settled the nerves in Tigers' dressing room, but due to the nature of the pitch, no one really looks settled in the middle. A batsman must apply himself, and ought to keep his guard up at all times in order to survive and score at Chittagong.
With the hot sun beating down, the pitch seemed to ease out a bit as the ball didn't misbehave as far as the batters were concerned. However, spinners could still get good purchase when they bowled at the right pace.
1:10 pm: Bangladesh batters, both Tamim and Mahmudullah found batting quite challenging with English spinners hardly erring in line or length…although the rare loose ball was dispatched, the batsmen could not rotate the strike too often.
The odd was turning sharply, and there was plenty of bounce. Good news…bounce is consistent, and while there was a puff of dust from the pitch now and then, none of the deliveries have kept really low.
12:05 pm: Moeen gets another one, this time with his fifth ball, and the cat is among the pigeons as far as the home side is concerned.
Mominul Haque departs for a three-ball duck. The ball turned and bounced, took the shoulder of Mominul's bat and was pouched at gully by Ben Stokes.
Incredible intrusion of spinning aggression by Moeen…two wickets in four balls…and the umpires decided to go for lunch on the fall of Bangladesh's second wicket.
Mominul Haque c Stokes b Ali 0 (3b 0x4 0x6) SR: 0.00
11:55am: Moeen comes and strikes…and what a beautiful ball it was, it had loop, deceived the batter in air who was committed on the back foot, and struck top of off…the change of bowling works wonders for the visitors!
Imrul Kayes b Ali 21 (50b 3x4 0x6) SR: 42.00
England offie Mooen Ali gave his side the first breakthrough when he sent back Imrul Kayes for 21 to leave Bangladesh at 29 for 1 in 14 overs.
10:56 am: Mehedi got his sixth victim after the review, and ended English resistance at 293 after 106 overs. Stuart Broad was the last man to go, and scored 13 from 37 to frustrate the home side.
SCJ Broad c †Mushfiqur Rahim b Mehedi Hasan Miraz 13 (37b 2x4 0x6) SR: 35.13
The young debutant took 6-80 in 39.5 overs. Shakib bowled 19 overs yesterday and took 2-46. Taijul captured his two wickets on the second day.
The 8th and 9th wicket partnerships gave England 52 vital runs in the context of this match, which already indicates a low-scoring yet riveting contest.
Moeen Ali top-scored with 68. Jonny Bairstow made 52 while Joe Root played a cameo of 40.
10:40 am: A perfect start to day-two for Bangladesh…just what the doctor ordered, early wickets. And Taijul Islam rose to the occasion and delivered the wickets of Chris Woakes and Adil Rashid to the sheer delight of his teammates.
English tail didn't exactly capitulate, thanks to a gritty knock by their leggie Adil Rashid. He hung around long enough to enable useful partnerships, and with Stuart Broad scored 31 runs in 8.2 overs before he was dismissed.
Adil wanted to play a forceful drive on the back foot, but spooned his shot to Sabbir Rahman at short-cover. Taijul got his second wicket of the match.
AU Rashid c Sabbir Rahman b Taijul Islam 26 (54b 3x4 0x6) SR: 48.14
10:05 am: Good morning to all…welcome to day 2 of the first Test between Bangladesh and England from the port city of Chittagong. First ball…and Taijul strikes! Absolutely brilliant, if you are a Tigers fan that is.
Chris Woakes gets an inside-edge, and short-leg does the rest…an out and out spinner's wicket…great start to the day.
CR Woakes c Mominul Haque b Taijul Islam 36 (78b 5x4 0x6) SR: 46.15
Teams:
Bangladesh
Tamim Iqbal, Imrul Kayes, Mominul Haque, Mahmudullah, Sabbir Rahman, Mushfiqur Rahim (Captain, Wicketkeeper), Shakib Al Hasan, Mehedi Hasan, Taijul Islam, Kamrul Islam Rabbi and Shafiul Islam
England
Alastair Cook (Captain), Ben Duckett, Joe Root, Gary Ballance, Jonny Bairstow (Wicketkeeper), Ben Stokes, Moeen Ali, Chris Woakes, Adil Rashid, Stuart Broad and Gareth Batty