Right arm slow?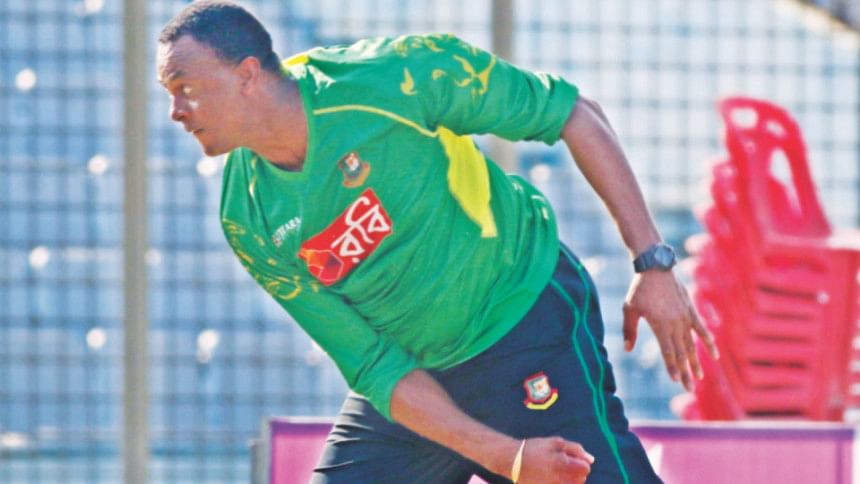 Even if Bangladesh are novices in Test cricket, there is one person in the team set-up who is a bonafide all-time great.
Through the late 80s and 90s he combined lethality with longevity to such an extent that at the time of his retirement, he held the record for the highest number of Test wickets and the most balls delivered by a fast bowler, the second of which stands to this day.
When Courtney Walsh came to these shores in early September as the fast bowling coach it was cause for much excitement as there were then a few up-and-coming pace bowlers in the Bangladesh ranks who could benefit from his vast experience.
But less than two months later the picture has changed with the move from ODIs to Tests. There are only two pace bowlers in the 14-man squad and with the pitch at the Zahur Ahmed Chowdhury Stadium in Chittagong expected to be a spin-friendly one, there is suddenly not a whole lot for Walsh to do.
That set up the scene for an unlikely sight during the home team's practice session yesterday.
Off a four-step ambling run-up, Walsh was bowling what appeared to be off-spinners in the nets.
One can imagine that at the other end of the ground in the media centre, former England captain and opener Mike Atherton -- who is top of the list of Walsh's victims, having fallen to the Jamaican 17 times in 27 Tests -- who is now the chief cricket correspondent at The Times, was thinking 'if only he had bowled that in my day'.