England tour of Bangladesh, 1st Test
Eng end day one on 258 for 7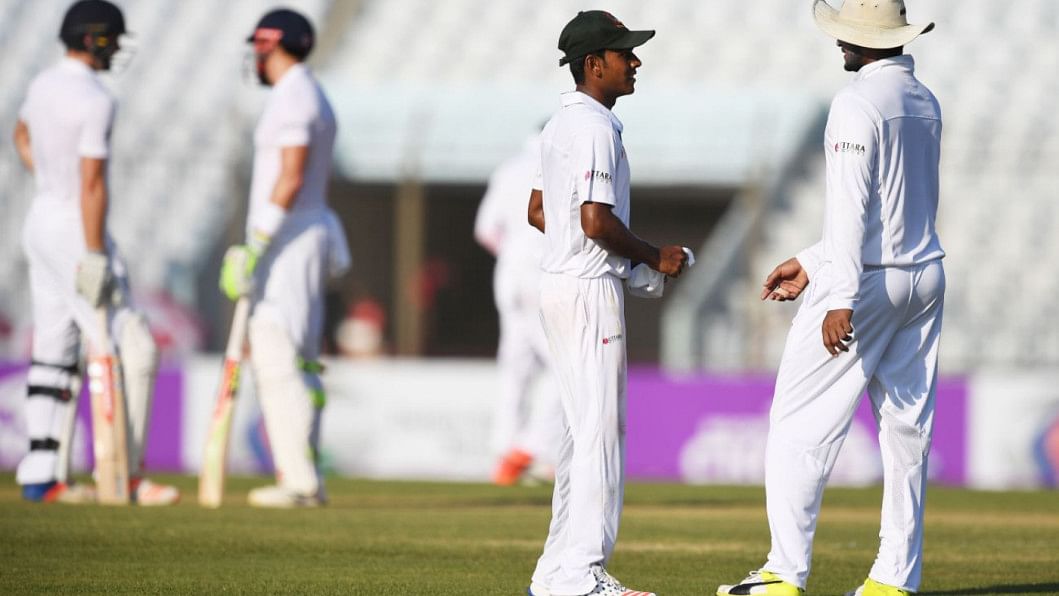 5:04 pm: What a gripping day of Test cricket, and at the end of first day's play, England trudged to 258 for 7. Mehedi Hasan Miraz made the headlines with his incredible bowling, becoming the youngest bowler from his country to pick up a five-for on debut.
Moeen Ali survived five reviews and helped revive England with 68 runs. Bairstow contributed to his team's cause with 52.
Miraz was the stand-out bowler with five wickets for 64 in 33 overs. Shakib took 2-46 in 19.
England tour of Bangladesh, 1st Test
England: 258/7 (92.0 overs)
England won the toss
4:35 pm: Miraz became the youngest Bangladeshi to take a five-for on debut when he sent back Jonny Bairstow for 52 to leave England tottering….
The rookie does it again…captain needed a wicket and Miraz delivers…and his fifth of the match! The quicker delivery from young Miraz skidded on and rattled Bairstow's off stump.
JM Bairstow b Mehedi Hasan Miraz 52 (126b 8x4 0x6) SR: 41.26
4:20 pm: With England in trouble, Jonny Bairstow and Chris Woakes batted judiciously to defy the Bangladesh bowlers, and were aided to some extent by the defensive field set by the home captain.
The seventh-wicket partnership of 33 runs in over 12 overs helped settle the nerves in England dressing-room, considering their tail was exposed after Moeen's departure.
Bairstow reached his fifty in 111 balls with eight fours to his name.
3:30 pm: Miraz gives Bangladesh the prized scalp of Moeen Ali post-tea to leave England in a spot of bother at 194 for 6 in 68 overs in the first Test at Chittagong. The debutant strikes with a jaffer, nothing much the batsman could've done…the ball came from around the wicket, drifted in at off, Moeen pressed forward and got the outside edge to the keeper.
Big wicket…now can the Tigers mop up the English tail?
MM Ali c †Mushfiqur Rahim b Mehedi Hasan Miraz 68 (170b 8x4 1x6) SR: 40.00
3:03 pm: Moeen Ali kept one end secured, and ensured the runs flowed as well in due time. The Moeen-Bairstow stand crossed 60, and helped to keep things even in the immensely gripping post-lunch session.
Bangladesh managed to get couple of post-lunch wickets, but the missed chance of Bairstow is looking quite serious in the context of this match. Post-tea, hosts will be looking to make inroads into the English tail, with Woakes, Rashid, Batty and Broad to go.
2:20 pm: Moeen Ali consolidated with a mixture of solid defence and selective aggression after the fall of Ben Stokes's wicket post lunch. He used his feet to the spinners to keep them at bay, although the odd ball turned viciously now and then.
The England batsman reached his fifty in 127 balls, and had struck six fours and a lovely six in his innings…job, only half done for Moeen, he needs to bat out the session.
Bangladesh missed a golden opportunity to tighten the screws on England in the 49th over. Jonny Bairstow was reprieved as Sabbir Rahman couldn't get down in time to complete the catch at slip. Taijul Islam is indignant for good reason…
The ball took a healthy edge, went low and struck Sabbir's sheen…will Tigers rue this miss, only time will tell…
1:30 pm: Stokes tried to throw caution to the wind, had struck Shakib for a six earlier but the Tigers allrounder got back in the best way possible…a wicket to his name!
A real ripper from Shakib, perfectly flighted, it dipped late in front of a delayed forward press, sprang through the gate and struck top of off…brilliant bowling from the maestro, who now is quite composed about his responsibilities as the leader of the spin-attack in Test match cricket.
BA Stokes b Shakib Al Hasan 18 (34b 0x4 1x6) SR: 52.94
12:57 pm: Mehedi does it again…and it is the big-fish he snared…Joe Root goes. The England batsman played for the turn, got a thin nick and the ball and took a deflection off Mushfiqur's knee into the grateful hands of slip!
The heat is on as far as the visitors are concerned…
JE Root c Sabbir Rahman b Mehedi Hasan Miraz 40 (49b 5x4 0x6) SR: 81.63
12:40 pm: A fascinating first session comes to a close…Bangladesh would go into lunch in the driver's seat after their spinners kept the English batters at tenterhooks and spun a web around them.
England experienced the tough conditions of sub-continent pitches after electing to bat first on day one. They knew what was coming, but their captain Alastair Cook wouldn't have envisioned 21 for 3. Mehedi Hasan Miraz, the debutant took two wickets, while the rest of the bowlers kept up the pressure with their disciplined performance.
The visitors will look to Joe Root and Moeen Ali to consolidate further and create the platform for a big first innings total…however, the next two sessions with the sun beating down will test their technique, temperament and, probably more importantly their fitness.
11:40 am: Joe Root and Moeen Ali stopped the rot, and batted sensibly in their fourth-wicket stand that reached 39 runs in 11 overs.
Root looked in good touch, and he used his feet to counter the threat from the Bangladesh spinners quite smartly.
Here's Naseer: "Do not judge England's performance by what has transpired so far, England are slow starter in Sub-continent, on their last tour to India they were outplayed, but they have come back and won the series, they are quick learners, and Root is in the crease with plenty of batting to come, they are supposed to adjust quickly, as they are a side with good depth and flexibility."
11:05 am: Miraz strikes again…what a game for the rookie…and this time he sends back Gary Ballance for 1 to the delight of his teammates. Incredible scenes at Chittagong, especially if you are a Bangladesh supporter!
The round-arm delivery from Miraz struck pad first, Mushfiqur Rahim went for the review and it was successful, the ball was smashing the stumps.
GS Ballance lbw b Mehedi Hasan Miraz 1 (7b 0x4 0x6) SR: 14.28
10:55 am: Shakib Al Hasan got the big wicket, that of Alastair Cook in the 11th over to send the visitors reeling under the hot sun at the port city.
Cook tried to play the sweep, over balanced and played onto his stumps…he was undone by the sharp spin and aggression of Bangladesh's close field. Tigers on a roll…
AN Cook b Shakib Al Hasan 4 (26b 0x4 0x6) SR: 15.38
10:40 am: After a cautious start, England were rocked in the tenth over when debutant Mehedi Hasan Miraz bowled Ben Duckett for 14.
Duckett was offering up his stumps as a target, in exchange for room to play his shots, and he's paid the price…beaten off the deck by another delivery that gripped and turned!
BM Duckett b Mehedi Hasan Miraz 14 (35b 2x4 0x6) SR: 40.00
Earlier, England captain Alastair Cook won the toss, and didn't hesitate in making his decision…bat first was his answer. Bangladesh skipper Mushfiqur Rahim admitted he would have batted first, considering the pitch is dry and may turn earlier than anticipated.
Bangladesh have three debutants in their team: Sabbir Rahman, Mehedi Hasan Miraz and Kamrul Islam Rabbi.
Ben Duckett is confirmed as Cook's ninth opening partner since Andrew Strauss' retirement, as is the return of Gareth Batty after an 11-year absence from Test cricket. Cook, meanwhile, becomes England's most-capped player.
Teams:
Bangladesh
Tamim Iqbal, Imrul Kayes, Mominul Haque, Mahmudullah, Sabbir Rahman, Mushfiqur Rahim (Captain, Wicketkeeper), Shakib Al Hasan, Mehedi Hasan, Taijul Islam, Kamrul Islam Rabbi and Shafiul Islam
England
Alastair Cook (Captain), Ben Duckett, Joe Root, Gary Ballance, Jonny Bairstow (Wicketkeeper), Ben Stokes, Moeen Ali, Chris Woakes, Adil Rashid, Stuart Broad and Gareth Batty