I will remember this: Mehedi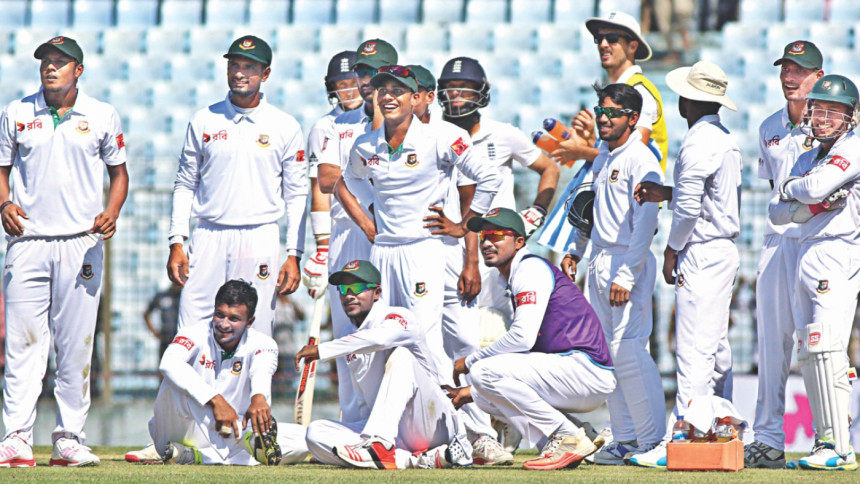 He walked into the media room and, quite unusually for a player coming to meet the press after his first day as a Test player, Mehedi Hasan Miraz flashed a smile to the assembled media personnel.
"How is everyone?" he asked to the slight bemusement of his comparatively jaded audience yesterday.
There was of course reason for him to be so happy. He had after all, at 18 years and 361 days, become the youngest Bangladeshi to take five wickets on debut and, with three England wickets left to take, might well overtake Shohag Gazi's high mark of six for 54 when play resumes today for the second day of the first Test at the Zahur Ahmed Chowdhury Stadium in Chittagong.
"I am actually feeling really good. I will remember this day and this match for the rest of my life," said Mehedi. "I know that I am very lucky to take five wickets against England."
Although he is young, his cricket and general outlook on the game reveals a mind older than his physical age. When asked how England were able to recover from the precarious position of 21 for three to end the day on 258 for seven, he answered like a veteran.
"Actually, in longer-version cricket, no matter how bad the situation is there will be one partnership or another," he said. "There will be a partnership of 50, 70, 100. Actually I was bowling a little differently during the [Joe] Root-[Moeen] Ali partnership either side of lunch -- I was bowling over the wicket. But Mushfiq[ur Rahim] Bhai told me that if I bowl on the stumps, I will get success -- I will be able to get leg-before and bowled dismissals."
His pedigree as a longer-version cricketer comes across loud and clear. When he was selected in the national squad he said that he always wanted to make his international debut in Test cricket.
He also seemed quick to suss out the difference between the domestic and international level, and thanked his Khulna captain and domestic spin partner, former national left-arm spinner Abdur Razzak  for helping him in that regard. "There is a big difference in quality. You have to be patient; people make fewer mistakes here. Here they identify the good balls and bad balls very quickly, and are quick to punish the bad balls.
"I want to really, really thank Raj [Razzak] Bhai. He told me to continue doing what I did in longer-version [domestic first-class]. He said 'bowl in one area and bowl 30-35 overs. Don't try too many variations. If you keep bowling in one area no one will be able to play you."
He also had special words of appreciation for Sohel Islam, the specialist spin-bowling coach who has been guiding him from the Under-15 level to this day. "I always stay in touch with him and discuss how to develop further. I want to thank him for that. I am feeling very happy, and I believe he is too."
Regarding the match, he believed that Bangladesh batsmen -- including him, as an all-rounder -- were more accustomed to playing spin on such a turning wicket and so they should be able to cope well in the first innings if they apply what they practised.