'His strength is his enthusiasm'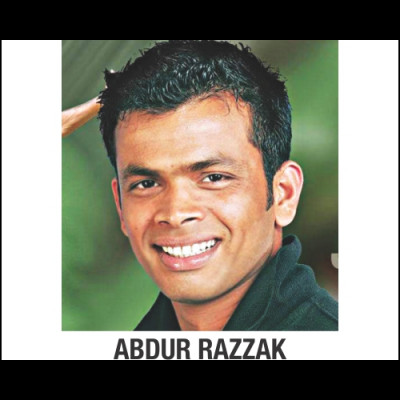 "We have just seen his brilliant bowling on his first day of Test cricket but I am confident that the cricket world will also enjoy his fielding and batting at the highest level of the game. He's not a good bowler or good batsman; he is a good cricketer," veteran left-arm spinner Abdur Razzak said in one breath while speaking about Mehedi Hasan Miraz's dream debut in the Test format against England in Chittagong yesterday.
After the day's play, five-star Mehedi did not hesitate in thanking his Khulna captain, branding Razzak a mentor to him, saying the experienced campaigner's advice during the National Cricket League helped him a lot.
However, Razzak was unsurprised by the 18-year-old's magnificent debut.
"It would not be fair to say that I expected such dream debut. It's a big thing to claim five wickets on debut but he has the ability to do so and I am not completely surprised because I had the opportunity to watch his talent closely," said Razzak.
"Longer-version cricket is nothing new to Mehedi as he has played in the National Cricket League for the last few seasons with utmost sincerity, so he had every chance to make his presence felt in the Test arena," he added.
When asked what Mehedi's biggest strength as a 'good cricketer' was, Razzak responded: "I have hardly seen such an enthusiastic cricketer."
Queried about what his expectations were from the budding youngster, Razzak was a little more subdued and requested everyone not to put any undue pressure on his shoulders.
 "It's very difficult to predict anything in cricket. There have been so many examples that a player had an outstanding debut but faded away from the international scene very quickly. However, it would be a really big loss for Bangladesh cricket if Miraz does not play for the country for at least ten to fifteen years."