As good as a tune-up gets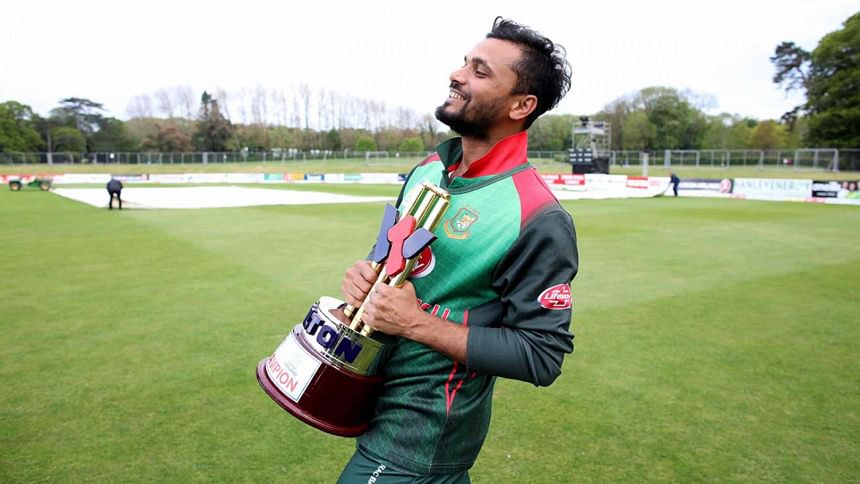 It would have been natural for Bangladesh fans to have their ears strained in unsavoury anticipation of the sound of the penny dropping when the Tigers took on West Indies in the tri-series final on Tuesday.
Mashrafe Bin Mortaza and his team had easily proven themselves to be the strongest team of the three -- hosts Ireland being a distant third -- as they had not been pushed in the slightest in the group matches when chasing 261, 292 and 247. However, Bangladesh had been in a similarly superior position before tournament finals in the past, only for them to lose the plot at the crunch point.
In that light, Bangladesh's rousing success on the back of an astonishing innings from unlikely hero Mosaddek Hossain in the tri-series will not only provide succour in the form of a maiden international tournament trophy but has also put the Tigers in the ideal mental space for the real challenge -- the 2019 World Cup in England and Wales starting from the end of this month.
It was not just about the final; consider the ducks that the Tigers managed to line up in order to feast on their maiden trophy. Heading into Ireland there were major question marks over the scale of contributions from the cricketers outside Bangladesh's hallowed Big Five of Mashrafe Bin Mortaza, Shakib Al Hasan, Tamim Iqbal, Mushfiqur Rahim and Mahmudullah Riyad. There was also serious doubt about whether the batting department could match the scoring rates of the likes of England and India when the World Cup would be played on flat batting tracks.
In five matches (one of them rained out without a ball bowled) over 10 days, those doubts have been emphatically quashed.
Tamim Iqbal's opening partner was one of the contentious selection calls heading into the World Cup and both candidates for the position have impressed whenever called upon in Ireland. Soumya Sarkar hit three half-centuries in three innings and more importantly, given Tamim's current role of guiding the innings towards a big score by batting till the 40th over, he scored runs at a strike rate of 109.65. When Soumya was rested and Liton called upon, he kick-started Bangladesh's chase of 292 against Ireland with a 67-ball 76. On a wicket that was quite similar to what the Tigers will face in the World Cup, Bangladesh aced that chase in just 43 overs, a rate comparable to what would be required in the World Cup run-fests.
Some may say that it came against a pretty weak and misfiring Ireland attack, but Bangladesh had earlier shown their fast-scoring mettle in their two-group matches against the West Indies on pitches that were much more sluggish against a pretty good attack. Those matches were also a triumph for Bangladesh's bowling attack because they made scoring seem much harder than it was.
Most impressively, when push came to shove, in the rain-affected final, the deck seemed to be stacked against the Tigers as they were set a target of 210 from just 24 overs -- precisely the kind of reversal that would have left them wanting in the past. But it gave a window into their current bullish mindset that they put hardly a foot wrong -- from Soumya and Tamim's 59-run stand in just 5.3 overs, through Mushfiqur's 22-ball 39 and finally Mosaddek's 24-ball 52 blitz.
It capped off a series where five of Bangladesh's top seven -- Soumya, Mahmudullah, Liton, Mushfiqur and Mosaddek -- scored runs at a strike rate of 100 or higher. Mosaddek's salvo, in particular, lent the whole campaign an especially auspicious glow as his fast-scoring abilities were most in doubt, and so his match-winning knock now makes Bangladesh's 15-member World Cup squad look as complete as can be imagined.
Last and in no way least, the final was won without Shakib as the all-rounder was nursing a back injury. That, more than anything, speaks to the current rude health of the squad, which is the biggest boon the Tigers will take into the World Cup.