'A lot to prove' in dead rubber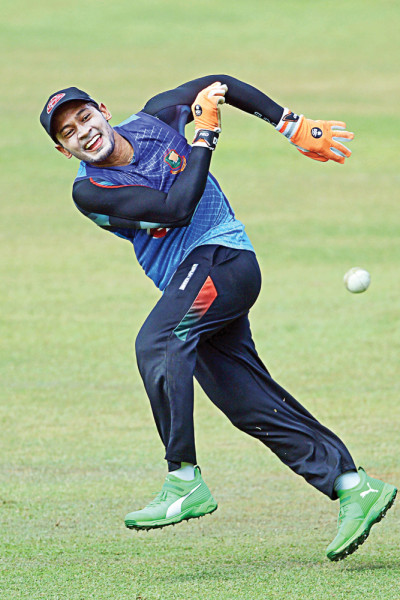 When Bangladesh stand-in captain Tamim Iqbal walked into the media room of the R Premadasa Stadium in Colombo yesterday, there was a smile on his face, probably in anticipation of the kind of questions that would be thrown at him ahead of the third and potentially face-saving ODI against Sri Lanka today.
Much like his own form, the Tigers are struggling to recover from a series of failures, having already lost the three-match series 2-0 and now desperate to avoid the humiliation of a whitewash.
Tamim said that it would be very important to finish the series on a positive note, adding that a 2-1 result would be far more satisfying than being whitewashed.
"I think we have a lot to prove to ourselves, although we have lost the series. So, the series will be 3-0 or 2-1, the difference will be that we will be able prove something to ourselves. Of course, we couldn't play to our potential in the first two matches. But if we could win this match by playing good cricket, it's very important for our own satisfaction. Many people are watching us play. They have expectations from us, and we have to play well for them," Tamim told reporters yesterday.
Although the 31-year-old could not give any specific reasons for the failures in the first two ODIs, he did say that his team were not up to the mark in all three departments of the game and informed that it would be important for everyone to step up for the last game.
Meanwhile, the Bangladesh bowling department was unable to pick up early wickets, which has been a feature of their bowling since the ICC World Cup and has allowed opponents to cash in with steady starts.
Tamim also pointed out the deficiency and said that it is imperative for the likes of Mustafizur Rahman, Shafiul Islam and even Mehedi Hasan Miraz to provide early breakthroughs considering, Sri Lanka are rely heavily on their top order.
As far as his own form goes, the dashing left-hander managed to score just one fifty in his last 11 innings and was bowled in the last six innings, including the first two ODIs. Tamim admitted that he tells himself every day that today would be his day, but somehow it is not going his way.
There were also questions about the roles the senior plyers will have to play to guide the side and ensure that the dressing room remains relaxed after a string of negative results.
Tamim urged the experienced campaigners like himself, Mahmudullah Riyad and Mushfiqur Rahim to provide the assurance.
"Normally, when the team isn't doing well, everyone looks to the seniors as they have played so many matches and they have a lot of experience to effect a turnaround. I think, as captain… forget about being the captain… as an individual player I have thought about this. The truth is when the team doesn't play well, you look to these players who have been playing for the national team for a long time.
"They have been scoring runs for five-six years. It could be me, Mahmudullah or anyone. It's disappointing that I couldn't do that well. When the team needed us, we should have stepped up. One thing I have said and we could try is that we can try to play well. But sometimes, there are things out of your control. I always believe in one thing: that is not [going to last] forever. This drought will end and I will start scoring runs again," said an optimistic Tamim.