'You will forever remain among us as our favourite Mashrafe bhai'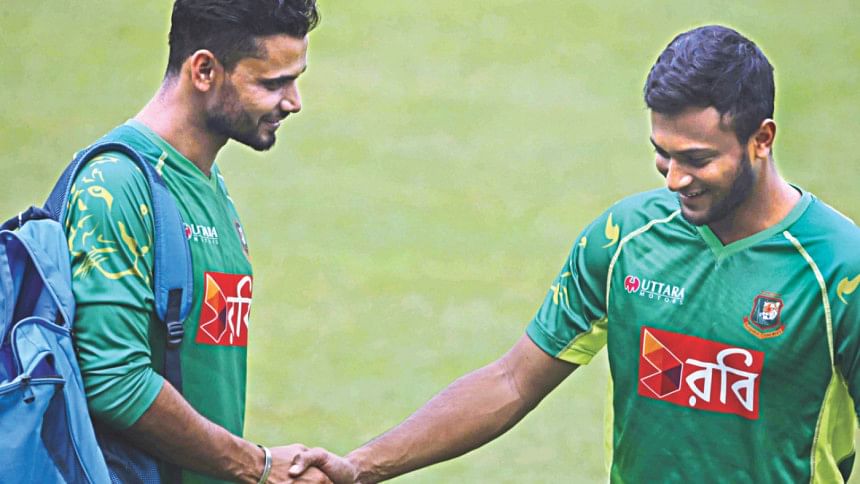 Bangladesh ace all-rounder Shakib Al Hasan paid tribute to ODI captain Mashrafe Bin Mortaza, who is set to play his final ODI as captain of the Bangladesh team when the Tigers take on Zimbabwe today. Shakib wrote on a Facebook post that although Mashrafe will be stepping down from captaincy, he will continue being the cricketers' big brother.
Shakib paid a glowing tribute to the lion-hearted Mashrafe although he will not be able to play in Mashrafe's final game as captain due to currently serving an ICC ban.
"You epitomize what a true leader and warrior is meant to be. Despite all the obstacles which came your way, you are always encouraging us to believe in ourselves and play with heart and pride. It has been an incredible journey and you have been nothing short of brilliant," Shakib wrote on Facebook.
The all-rounder also paid tributes to the performances that set Mashrafe apart and for leading the country. "You have always motivated and inspired us with your individual brilliance and guided us as a team, always leading from the front. Thank you for always representing us and our flag with such humility, honor, and dedication.
Shakib also noted that whatever comes, Mashrafe will continue to be a shield and support for the cricketers. "Maybe you are giving up the role of captaincy but you will forever remain among us as our favourite Mashrafe bhai. We wish you all the very best for always giving us your very best," Shakib concluded in his post.