'Don't create unnecessary hype'
It was the last day of Bangladesh's training camp before the Tigers depart for Ireland for the tri-nation series which will be followed by the ICC World Cup in the UK with a lot of expectations this time around from supporters.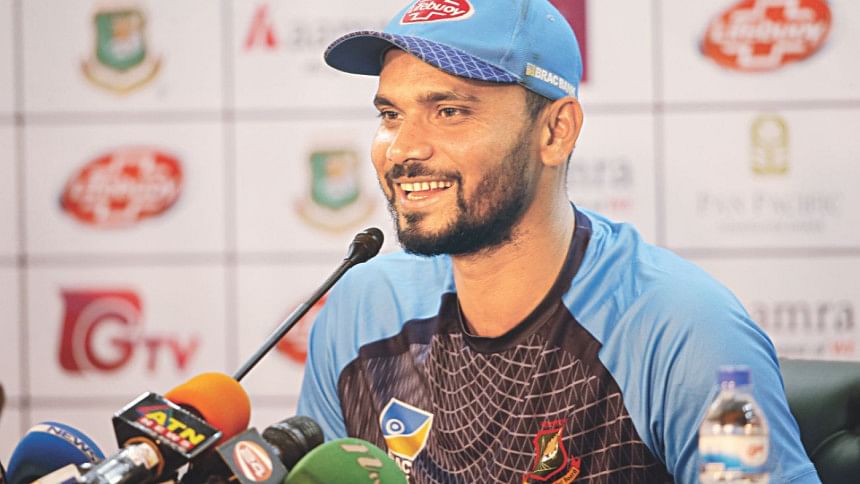 It was the last day of Bangladesh's training camp before the Tigers depart for Ireland for the tri-nation series which will be followed by the ICC World Cup in the UK with a lot of expectations this time around from supporters.
It was a jam-packed press conference area at the Sher-e-Bangla National Stadium in Mirpur, full of curious journalists eagerly awaiting the final official press conference at home of Tigers captain Mashrafe Bin Mortaza, and as it was highly anticipated it lasted for nearly forty minutes.
From questions about expectations of reaching the World Cup semifinal to their strengths and weaknesses, or even whether it would be his last World Cup appearance, there was one particular thing that was noticeable. Mashrafe never looked over-excited and instead downplayed the extra hype with a splash of realistic sentiments.
"It has nothing to do with my personal desire because if we can do well, everyone will be happy and I will also feel good. I never want to take extra pressure as I am always a big believer of luck and at the same time we also have to work hard. It is important whether we are prepared for it. Many of the best teams have not won the World Cup and a few haven't even reached the semifinal.
"We do not have such pressure of winning the World Cup or reaching the semifinal as we are looking forward to play our best cricket. If you ask all the former great players or analysts, no one would term us as favourites. If we can do well here the world's perspective of us will totally change as it has already started to change over the years and from that perspective we would obviously want to do well.
"And the thing you guys are saying -- that it's the best team -- that is not important as we were unable to win the Asia Cup and the Champions Trophy with the same team not so long ago. It is not necessary to create such unnecessary hype as it's the same team that played two years ago and there has not been any extraordinary changes to say that they are the best. Those who do well on the field, will do well," a realistic Mashrafe replied when asked about his personal expectations.
He also added that if the Tigers were able to win the Asia Cup last year it could have given an idea of how to win big tournaments, which they have been unable to do due to lack of the requisite mental strength.
Meanwhile, the inspirational cricketer also pointed out that it would be a big challenge for the untested fast bowling department, which hasn't done well in the Champions Trophy in the UK back in 2017.
"Actually it will depend a lot on the type of wickets we are going to play there as, if you have noticed despite having such fast bowling attacks as Australia, South Africa and England, they are conceding 350 runs, and those scores have also been chased.
"We do have the ability restrict the opposition below 300 but yes, we don't have the extra pace. But it's also important to have the variations along with the pace. So we have to prepare accordingly. We don't have a wrist spinner, and that is a disadvantage, we do have Shakib [Al Hasan] and [Mehedi Hasan] Miraz in the spin department. Mustafizur [Rahman], Rubel [Hossain], [Mohammad] Saifuddin and I am also there in the fast bowling department and we are able to handle the pressure. We have to use the gamut of our ability," he said.
Mashrafe also backed the likes of Soumya [Sarkar], Liton [Das] and Sabbir [Rahman] to play their natural games but he also added that it would be important not to throw wickets away and make the most use of it.
HIGHLIGHTS
Since expectations have risen, this time around many are hoping that Bangladesh will reach the semifinal of the ICC Cricket World Cup. Although Mashrafe Bin Mortaza said that this is not an impossible task, the Tigers' skipper did add that it will be a very tough challenge.
Mashrafe confirmed that this will be his last World Cup as a player. It will be his fourth World Cup appearance.
The upcoming World Cup matches in the United Kingdom will be high scoring affairs and so, Mashrafe feels that the Tigers will miss a wrist spinner to get breakthroughs, unlike the other teams.
There were talks over whether the Tigers' team management would impose a guideline over social media on the cricketers during their World Cup campaign. And although Mashrafe is against imposing any team rule over the usage of social media, he did urge that it would be better for the team if the cricketers focused only on their game rather than on social media.
The chief selector mentioned before that there is still a chance for them to make a few changes to the previously announced 15-member World Cup squad, where they included four back-up players, swelling the squad to 19 ahead of the tri-nation series in Ireland.  However, Mashrafe informed that the current 15-member World Cup squad will be prioritised while adding that he has faith in those players.
Mashrafe pointed out that it is important to retain wickets while batting in the first ten overs. The last ten overs both with bat and ball will also be crucial if Bangladesh are to win enough matches in the tournament.